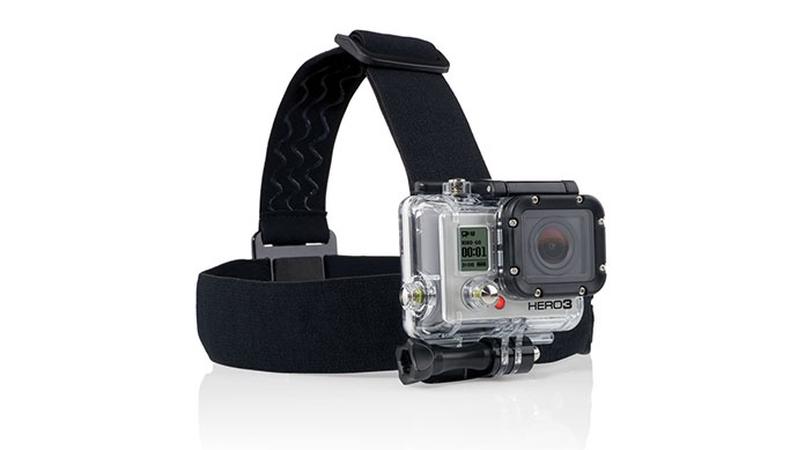 What It Is
Mounts for the GoPro Hero3 Action Camera
What It Does
Lets you capture footage in even more unusual, out-of-the-way places.
Where to Buy It
http://gopro.com/camera-mounts
What It Costs
Prices vary.
We recommended the GoPro Hero3 Black Edition camera a few months ago as a way to capture stunning action while it happens, wherever it happens. The camera is shielded against the elements and comes with a remote control for getting shots you could never complete under normal circumstances. So if you've been creating dazzling videos that show off your daring and physical sides in addition to your creative side, you're probably ready for the next step. GoPro, recognizing that users of this camera won't be satisfied with boring old camera mounts, have developed a series of them that share the Hero3's yen for excitement and danger. And they'll only be able to improve your own productions.
Among the coolest of these are the ones that give your audience the opportunity to see exactly what you do. The Head Strap Mount ($14.99), Helmet Front Mount ($12.99), Vented Helmet Strap Mount ($14.99), and the NVG Mount ($29.99) let you position the Hero3 right on the top of your noggin, so you get amazing footage while you keep your hands free. These definitely give you the most flexibility in terms of where you go and what you do.
Not that the body mounts stop there. Want a view of the action below head level? Thrust viewers into the center of the action with the Chest Mount Harness ($39.99), with which you can strap the camera right to your torso. With the Wrist Housing ($49.99), you can wear the Hero3 like a watch, giving you the most freedom of movement for changing angles on the fly.
GoPro also makes mounts optimized for specific sports or activities. The Roll Bar Mount ($29.99) is ideal for securing the camera to go-karts, bike frames, ski racks, and the like. Attach the Hero3 to the front of your bicycle, ski poles, and more with the $19.99 Handlebar/Seatpost Pole Mount. Or, if you want people to know exactly what it's like when you catch some waves, Surfboard Mounts ($19.99) work with traditional surfboards, stand-up paddle boards, kayaks, and so on.
Looking for more general mounts? GoPro has those, too. With the Suction Cup ($29.99), Tripod Mount ($7.99), Curved + Flat Adhesive Mounts ($19.99), and Side Mount ($12.99), the Hero3 can be anywhere you need it to be. The Frame ($39.99) isn't waterproof or designed for extreme conditions, but it's light and low-profile. For $19.99, you can buy additional camera tethers that will protect your Hero3 in almost any weather or high-speed situation.
About the only thing these GoPro mounts don't guard against is boring video. But if you have a Hero3 camera and the right adventuresome spirit, we have a feeling that won't be much of a problem.