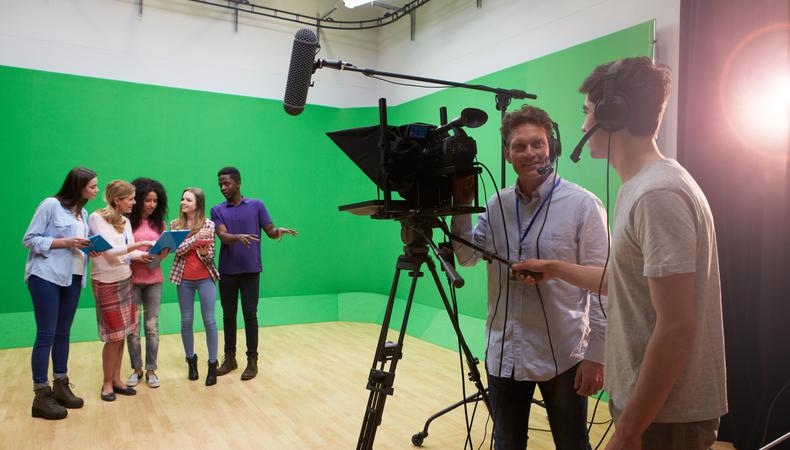 When it comes to getting ahead of the Hollywood crowd, a film school degree is one of the smartest ways to go. Pursuing higher education will provide you with knowledge and hands-on experience that can give you a boost post-graduation. Some of the industry's most acclaimed directors, writers, cinematographers, and producers are graduates of the top film schools in the country. But a bachelor's degree, no matter the field of study, is going to be quite expensive—leaving many prospective students behind. Thankfully, several organizations have created an array of scholarships, grants, and awards that can help high school students of all economic backgrounds attend the college of their choice.
Are you a prospective filmmaking student? Below are six film school scholarships that should definitely be on your radar. (Be aware that some have changed deadlines and requirements in light of COVID-19.)
Congressional Black Caucus Foundation Visual Arts Scholarship
This nonprofit offers several scholarships for prospective students, as well as one exclusively for the visual arts. Here, the visual arts scholarship is reserved for students who are majoring in video production, illustration, graphic design, photography, and more. In order to be eligible for the scholarship, applicants must be an African-American or black U.S. citizen in a district represented by a member of the Congressional Black Caucus, a current full-time student at an accredited academic school, and maintain a minimum 2.5 GPA. For more information, visit cbcfinc.org.
Women in Film Scholarship Program
The Women in Film Scholarship Program offers women of all ages and backgrounds the opportunity to study film at a four-year college. The scholarship, which varies by the year, is offered to female students who are currently studying at major film schools throughout the country. The goal of the program is to maintain a strong female voice in the lens of film, television, and the media. For more information, visit womeninfilm.org.
The National Academy of Television Arts and Sciences Scholarships
The National Academy of Television Arts and Sciences (NATAS) offers five separate scholarships for high school seniors who intend to pursue a career in the film and television industry. Each student is awarded $10,000. NATAS also offers regional scholarships throughout the country. For more information, visit theemmys.tv/scholarships.
Barbara Caras Memorial Scholarship for Film Students
Exclusive to students based in Florida, the Barbara Caras Memorial Scholarship for Film Students gives out five $2,000 scholarships to students studying visual arts every year. In order to be eligible, students must be majoring in film, computer animation, creative writing, illustration, or motion design, attend an accredited Florida college, reside in Sarasota or Manatee counties, and maintain a 2.75 GPA. For more information, visit filmsociety.org.
Irene Runnels-Paula McStay Scholarships
The Irene Runnels-Paula McStay scholarship program offers two $5,000 scholarships each year to students in Texas. In order to be considered, students must be attending a public or private Texas school, have completed a minimum of 75 hours of coursework, maintain a 3.0 GPA, and be a full-time student with a minimum of 12 hours per semester dedicated to film, radio, broadcasting, advertising/communications, or public relations. For more information, visit allwomeninmedia-dfw.org.
The Gordon Hay Scholarship Fund
Every year, the Gordon Hay Scholarship Committee awards one student who is pursuing a nonperformance career within the arts field with $5,000. Eligible students can be high school seniors or college first-years or sophomores in the greater Charlotte, North Carolina, region. Students should be pursuing an undergraduate degree in film, directing, choreography, stage management, playwriting, music composition, or set, costume, lighting, or sound design. For more information, visit blumenthalarts.org.
This story originally appeared in the May 14 issue of Backstage Magazine. Subscribe here.