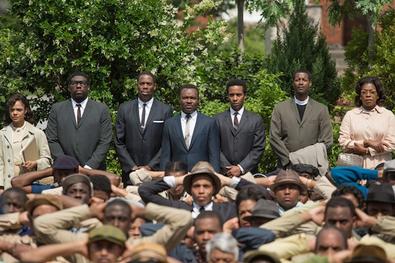 What better way to close out a solid 2014 than with some amazing films? Coming up this month are films like "Selma," the Martin Luther King Jr. biopic; new work from Tim Burton and Nicolas Cage; Reese Witherspoon in her most transformative role to date; a stage-to-screen adaptation of one of the theater's most beloved composers and lyricists; and a contemporary reboot to a musical classic.
"Wild," Dec. 3
Starring Reese Witherspoon in her rawest role yet, "Wild" follows the story of the real-life Cheryl Strayed, who decides to hike on the Pacific Crest Trail from Mexico to Canada when her life begins to fall apart. The film, directed by "Dallas Buyers Club" helmer Jean-Marc Vallée and based on Strayed's memoir, sees Witherspoon (also a producer) thrust into the outdoors while audiences bear witness to the actor's and character's remarkable journey. Laura Dern plays a supporting role as Witherspoon's mother.

"The Pyramid," Dec. 5
Some of the most compelling horror films are the ones rooted in actual events, for example, the deaths of archeologists who after opening King Tutankhamen's tomb were said to be cursed. For this film, starring "American Horror Story" actor Denis O'Hare alongside Ashley Hinshaw, James Buckley, and others, centers on an excavation team who discover a strange three-sided pyramid in the Egyptian desert and find themselves in the midst of a sinister presence when they decide to go inside. Grégory Levasseur ("The Hills Have Eyes") directs.

"Dying of the Light," Dec. 5
For Nicolas Cage fans, December is the month to see some new work from the actor. Starring opposite Anton Yelchin, Cage plays Evan Lake, a veteran CIA agent who's forced to retire when he's found to be in the early stages of dementia. But when his his protégé (Yelchin) discovers his nemesis might still be active, Lake acts as a rogue agent to bring him down for good.

"Pioneer," Dec. 5
Based on a true story, this indie film directed by Erik Skjoldbjærg and starring Wes Bentley ("The Hunger Games"), Stephen Lang ("Avatar"), Aksel Hennie ("Headhunters"), and others, is set in the beginning of the Norwegian Oil Boom in the 1980s. Professional diver Peter (Hennie) becomes dangerously obsessed with reaching the bottom of the sea to retrieve the gas and oil deposits discovered there and slowly begins to lose his grip on the larger power struggles at play. With a hefty profit to be made, Peter soon realizes his life might be on the line.

"Top Five," Dec. 12
Actor-comedian Chris Rock is doing triple duty in a film that sees him writing, starring, and directing. Rooted in the reality of the life of celebrity and comedy, Rock plays Andre, a famous funny man who's about to be married. Rosario Dawson is cast as a reporter writing a story on the comedian and Gabrielle Union plays his high maintenance reality TV star wife-to-be. Kevin Hart, Tracy Morgan, JB Smoove, and Cedric the Entertainer support.

"Exodus: Gods and Kings," Dec. 12
For Ridley Scott's latest, the prolific, Oscar-nominated director is turning to the Bible for inspiration, telling the story of Moses (Christian Bale) and his fight to free the Jewish people from slavery while under the rule of Egyptian pharaoh Ramses (Joel Edgerton). The film also stars Aaron Paul ("Breaking Bad"), Sigourney Weaver, Ben Kingsley, John Turturro, and others.

"Inherent Vice," Dec. 12
Five-time Oscar-nominated director Paul Thomas Anderson has adapted Thomas Pynchon's novel about a Los Angeles detective during the drug-addled era of the '70s and his search for his missing, former girlfriend for this part crime comedy, part noir film. This star-studded cast features the likes of Joaquin Phoenix, Josh Brolin, Reese Witherspoon, Owen Wilson, and Benicio Del Toro.

"The Hobbit: The Battle of the Five Armies," Dec. 17
Martin Freeman, Ian McKellen, Benedict Cumberbatch, Cate Blanchett, and Orlando Bloom all reprise their roles for the latest installment of the epic fantasy story based on the books by J.R.R. Tolkien. In this film Bilbo (Freeman) and his friends must stop Smaug (Cumberbatch) from destroying all of Middle-Earth.

"Night at the Museum: Secret of the Tomb," Dec. 19
The third installment of the "Night at the Museum" films has security guard Larry Daley (Ben Stiller) globetrotting to save the magic that brings the museum to life once the sun goes down. Audiences will also get to see Robin Williams in one of his final roles as Teddy Roosevelt. Supporting actors will be played by Owen Wilson, Ricky Gervais, Ben Kingsley, Rebel Wilson, Dan Stevens, Mickey Rooney, Steve Coogan, and others.

"Annie," Dec. 19
This reboot of the classic musical stars Quvenzhané Wallis ("Beasts of the Southern Wild") as the titular character and Jamie Foxx as the modern-day Daddy Warbucks, Will Stacks. Cameron Diaz plays mean foster mother Miss Hannigan.

"The Gambler," Dec. 19
Oscar-winning screenwriter William Monahan and Backstage cover star Mark Wahlberg team up again for this remake of the film about an English professor with a gambling addiction. The usual cocktail of high stakes and smokey casino scenes is transformed with a stellar performance from Wahlberg and a supporting cast that includes Jessica Lange ("American Horror Story"), John Goodman, and Brie Larson.

"Two Days, One Night," Dec. 24
Oscar and 2014 New York Film Critics Circle winner Marion Cotillard stars in this Belgian film about a woman who will lose her job if she fails to convince her colleagues to turn down bonuses they all accepted despite knowing she'd be dismissed. "Two Days, One Night" was nominated in the Cannes Film Festival for the Palme d'Or and won the Grand Prix at the International Cinephile Society Awards.

"Into the Woods," Dec. 25
This much-anticipated, star-studded film takes the fantastical musical from the legendary Stephen Sondheim and brings it to the big screen. Combining some favorite fairy tales including Jack and the Beanstalk, Little Red Riding Hood, Cinderella, and Rapunzel, the Rob Marshall-directed ("Chicago") film stars Meryl Streep, Anna Kendrick, Johnny Depp, Emily Blunt, Chris Pine, Christine Baranski, James Corden, and others.

"Big Eyes," Dec. 25
Starring Oscar nominee Amy Adams and Oscar winner Christoph Waltz, "Big Eyes" is based on the true story about painter couple Margaret and Walter Keane. During the 1950s Margaret's work garnered much attention for her signature doe-eyed portrayals of people. For most of her career her husband took credit for her work, until she took him to court and challenged him to a paint-off to prove the true artist. The latest film from Tim Burton also stars the perfectly cast Burton-esque Krysten Ritter, and Jason Schwartzman, who casting director Jeanne McCarthy said to Backstage, gave a rare audition because he wanted to work with Burton so badly.

"American Sniper," Dec. 25
Clint Eastwood directs this film starring Bradley Cooper about Chris Kyle, the real-life Navy S.E.A.L. who did four tours in Iraq and has been deemed the deadliest sniper in U.S. military history. When he returns home to his wife (Sienna Miller) and children, the dedicated soldier struggles with leaving the war zone behind.
"Selma," Dec. 25
This Martin Luther King Jr. biopic stars David Oyelowo with an amazing supporting cast that includes Oprah, this week's cover star Alessandro Nivola, Tim Roth, Cuba Gooding Jr., André Holland, Lorraine Toussaint, Martin Sheen, recent Gotham Award winner Tessa Thompson ("Dear White People"), and others. The film's written and directed by Ava DuVernay and chronicles the civil rights marches that changed the face of America.

"The Interview," Dec. 25
James Franco and Seth Rogen team up for the comedy that might have prompted North Korea to allegedly hack into Sony Pictures, which led to the leak of unreleased films like "Annie," "Mr. Turner," and "Still Alice." However "The Interview," which follows a fictional CIA plot to assassinate Kim Jong Un, the country's current dictator, wasn't illegally released. Rogen is played dual roles for the film acting as co-star alongside Franco and co-director alongside Evan Goldberg, with whom he also helmed "This Is the End."

"A Most Violent Year," Dec. 31
Oscar-nominated screenwriter J.C. Chandor is taking a seat in the director's chair for this film starring Oscar Isaac and Jessica Chastain ("Zero Dark Thirty") about an immigrant fighting to protect his family and his business in 1981, New York City's most violent year to date. David Oyelowo, star of "Selma," plays a supporting role; also supporting are Alessandro Nivola and Albert Brooks.

Inspired by this post? Check out our film audition listings!