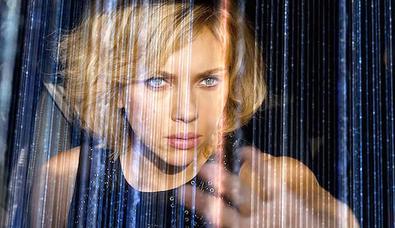 Summer is the ultimate season for the beach, the sun, and…of course, the movies. Take a break from summer to escape to the movie theater this month. Here are nine great films coming out in July!
"Tammy," July 2
"Tammy" stars the hilarious Melissa McCarthy as Tammy, a woman with a stroke of recent bad luck. She's just caught her cheating husband and been fired from her thankless job. Tammy wants to start fresh but needs to rely on her grandmother (Susan Sarandon) for money and wheels. Tammy and her grandma head out on a hilarious adventure to Niagara Falls. With appearances from Allison Janney, Sandra Oh, and Kathy Bates, this film is sure to kick off July with a lot of laughs.
"Earth to Echo," July 2
In "Earth to Echo" three best friends are about to separated due to a construction project causing their families to move. A few days before the big move all of the friends' cell phones begin acting strangely. They soon discover their cell phones have provided them with a map and their last night together is the start of a crazy adventure. The map leads them to find a small alien needing their help to find his way back home. "Earth to Echo" is a great film for the whole family to see.
"Deliver Us From Evil," July 2
"Deliver Us From Evil" is a film documenting the book "Beware the Night" written by former New York police officer Ralph Sarchie, a cop turned demonologist. Demonic horror films always promise to scare—especially for those who believe. In this film Sarchie (Eric Bana) joins forces with an unconventional priest to battle demonic possessions that are terrorizing their city.
"Dawn of the Planet of the Apes," July 11
"Dawn of the Planet of the Apes" is a sequel to the 2011 film "Rise of the Planet of the Apes." The world is beginning to see the rise of a nation of apes lead by Caesar. Many humans have been wiped out due to the release of a nasty virus a decade earlier, but a few survive and a battle erupts between the humans and the apes, to which the victor will rule as the dominant species.
"The Purge: Anarchy," July 18
"The Purge" is a night in which all crime is made legal for 12 hours and all emergency services are suspended. "The Purge: Anarchy" is the sequel to that, which follows five characters—a couple whose car broke down on the way home to their kids, a man intent on extracting revenge against the man the murdered his son, and a mother and daughter whose home is attacked. Together they all try and survive the dangerous night.
"Sex Tape," July 18
"Sex Tape" stars Cameron Diaz and Jason Segal as a married couple trying to spice up their sex life, which they attempt to do by making a sex tape. Due to a series of unfortunate events, the tape is sent out on the Internet to all of their family and friends. The two set out on an adventure to try and destroy the tape and prevent anyone else from seeing it. Things take a comedic turn as the journey to track down and destroy the tape proves to be rather challenging.
"Hercules," July 25
Hercules, the son of Zeus, has his life tested when the King of Thrace and his daughter need his help defeating a tyrannical warlord. Hercules (Dwayne Johnson) has lost his family and already completed his twelve labors. The world needs the help of a god and Hercules is put to the test in this action flick.
"Lucy," July 25
"Lucy," the highly anticipated thriller, follows Lucy (Scarlett Johansson) who is forced to work as a drug mule for the mob. The drug implanted into her body leaks into her system and turns her into a super human. She can now access much more than the assumed 10 percent that humans are rumored to use. However, Lucy is frightened as she begins to lose the qualities that make her human.
"Magic in the Moonlight," July 25
Director Woody Allen brings us "Magic in the Moonlight," a comedy starring Emma Stone and Colin Firth. Stanley (Firth) is a magician and illusionist brought to the French Rivera in the 1920s to unmask Sophie (Stone), a possible fraud spiritualist who could be exploiting a wealthy family. When the two meet Stanley has difficultly disliking her and the two grow to seem rather smitten with each other.
Inspired by this post? Check out our film audition listings!