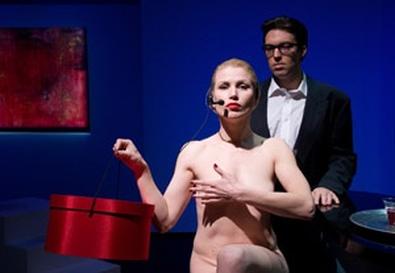 A strong directorial vision adds to a strong script—which, for you purists, we won't call a play. Neil LaBute's series of potent statements about how badly men think of women—and, as it turns out, how badly women behave toward men—is writing on the finer side about ourselves at our worst. The prose sounds rarefied until one hears exactly what we think of each other, as if cartoon bubbles floated over our heads, in the most profane words. Frédérique Michel's direction adds contrasting grace and beauty, paired with the glorious production design by Charles Duncombe—who provides "art talk" text in addition to LaBute's words.

Michel and Duncombe set the script at an art gallery opening, at which four men (Troy Dunn, David E. Frank, Dave Mack) wander, drink far too much, and gawk. There are paintings, by Cameron Jordan, on the walls. Kudos if you find yourself looking at the paintings during the play. The men onstage are focusing on three other exhibits: three unclad women (Kye Kinder, Heather Leigh Pasternak, Vera Petrychenka) allowed only a red satin hatbox apiece to somewhat cover the nether regions. Truth be told, each is a gorgeous specimen, soigné in chignons and perfect skin. Wondering whether the nudity is necessary to the production, wondering whether our reactions to the nudity are part of the thought processes of seeing theater, are part of the experience. Meanwhile, the men vilify and objectify women.

Think women fare better here? Two waitresses (Cynthia Mance, Katrina Nelson) prove no less ignoble. One swears she'll take the first man who asks; he merely approaches, and she disdainfully tells him to eff off. Jazz plays; the men nod knowingly, though we know each has not a clue about the music's intricacies. They lounge on ugly brown leather sofas, most likely Duncombe's witty statement but perhaps all that was left in a 99-Seat budget.

Every once in a while one should see a play about mankind at its basest. It makes us appreciate the highs to which we aspire—or indeed merely that we have survived.

Presented by and at City Garage Theatre, Track 16, Building C1, Bergamot Station, 2525 Michigan Ave., Santa Monica. Jan. 6-Feb. 26. Thu.-Sat., 8 p.m.; Sun., 4 p.m. (310) 319-9939. www.citygarage.org.