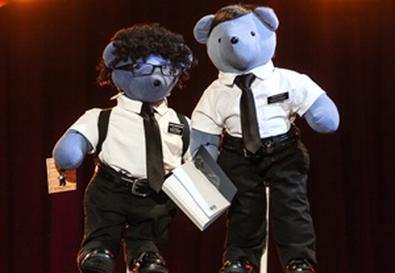 Broadway fans and teddy bear collectors came together once more on March 18, at the 15th and final edition of The Broadway Bears, an annual auction of handmade, theatrically costumed teddy bears. The grand finale raised a record-high $198,300 to benefit
Broadway Cares/Equity Fights AIDS
, the nonprofit AIDS fundraising and grant-making organization that relies on the talent, resources, and generosity of the American theater community.
Each year, the bears were designed and costumed to represent iconic theatrical characters, then autographed by the performers known for those roles. The 15 Broadway Bears events raised a cumulative total of $2,048,427, with 643 bears auctioned since 1998. The previous single-year fundraising record was set in 2002 with $170,000. Since 1988, BC/EFA has raised more than $195 million for services for people in the U.S. living with AIDS and other critical illnesses.
Despite its success, The Broadway Bears took its final bow this year. Producer Scott T. Stevens told Back Stage that the fundraiser was originally intended as a one-time event, with 20 teddy bears donated from the North American Bear Company. But the popularity of the idea and its effectiveness in raising money for BC/EFA gave the event a life of its own for another decade and a half, until Stevens completely exhausted his supplier's stock of fabric bearskins, which were donated by the company for designers to stuff and decorate.
Even though it is bittersweet to see the initiative he created for Broadway Cares come to an end, Stevens said that he looks forward to working on new fundraising projects for the organization.
"You don't want to be like a sitcom that they say ran too many years," Stevens said. He laughed and added, "I've got other things that I would like to produce that don't involve stuffed animals, believe it or not. We always have something going on."
Actor Bryan Batt ("Mad Men") hosted the final auction at B.B. King Blues Club & Grill in New York City, with Lorna Kelly as auctioneer. Danny Burstein, Jeremy Jordan, Norm Lewis, Andrea McArdle, Laura Osnes, and Patrick Page were among the Broadway stars who attended to show their support.
The top bid for the 2012 auction went to a re-creation of horse Joey from the Tony Award-winning "War Horse," which commanded $20,000. The item was based on the Handspring Puppet Company designs used for the Broadway production, and it even included its own bear "handlers."
A re-creation of Simba from "The Lion King," complete with lion-head headdress and signed by director Julie Taymor, was auctioned for $18,000. The high bid for a J. Pierrepont Finch bear was $11,000, signed by Daniel Radcliffe, Darren Criss, and Nick Jonas, the actors who have stepped into the character's corporate-climbing shoes in the Broadway revival of "How to Succeed in Business Without Really Trying." Bears inspired by "Priscilla Queen of the Desert," "Follies," "Cats," Wicked," and "Hugh Jackman: Back on Broadway" were among the other items receiving high bids. A pair of bears representing Mormon missionaries Elder Cunningham and Elder Price from "The Book of Mormon," a Frankie Valli bear from "Jersey Boys," and a bear representing the titular characters of Disney's "Newsies" each raised $3,600.
"Led by BC/EFA producer Scott T. Stevens, an extraordinarily talented team of Broadway designers, costume shops, and wardrobe personnel designed, costumed, draped, dressed and frocked, painted, outfitted, stuffed and lipoed, shod and hatted, feathered, tattooed and armored, bedecked and bedazzled these furry masterpieces, giving of their time, energies, and amazing talent over 15 years to create this unique and delightful fundraising event," Broadway Cares Executive Director Tom Viola said in a statement. " 'The Broadway Bears' truly reflects the creative vision, sheer artistry, and technical skill that is the hallmark of all of Broadway."