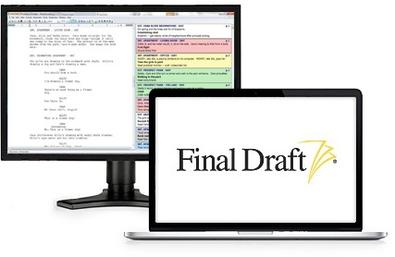 What It Is
Final Draft
What It Does
Simplifies the writing of scripts, screenplays, and more.
Where to Buy It
http://www.finaldraft.com
What It Costs
New (Mac or PC): $249.95
Final Draft Educational (Mac or PC): $129.95
Final Draft 8 Upgrade (Mac or PC): $79.95
Final Draft Writer (iPad): $49.99
Final Draft Reader (iPad and iPhone): Free
Dramatic writing is not easy. In addition to crafting a compelling story and characters, you also need to make your script convey all the passion, laughter, and magic of the live performance to the reader—so it will actually get produced. So why not worry about the externals as little as you can get away with? For that, Final Draft is ideal.
Taking you well beyond the capabilities of a regular word processor or even other, similar tools like the Mac-oriented Scrivener, Final Draft facilitates brainstorming story ideas and hammering out structure in the pre-writing phase, before helping you move on to adding notes and "panels" (quick, one-paragraph views of crucial pages) before you easily plug in scene titles, character names, and more. Keep track of who's doing what with the Scene Properties Inspector by using colors to link threads of character and plot. You can even scope out previous drafts of your script if you want to go back and revisit old ideas, or pass off your work to someone else for editing and revision.
Final Draft helps you format your work using more than 100 templates optimized for film, television, theater, and more, and provides additional tools depending on your specific project: A 30-minute sitcom will look different from a one-hour drama, which won't resemble a stage musical, and you can automatically generate cast and location breakdowns to leave no question of who you need and where you need them.
The biggest speed bump you'll find with Final Draft is its cost. If you're a new customer, you'll have to shell out a punishing $249.95 for it. Luckily, there are ways to bring the price down. If you're a student or a teacher, you can pay a more reasonable $129.95, and upgrading from a previous version of the software is only $79.95. Another plus: If you buy the software now, you'll get a free upgrade to the next version, which is slated for release in early 2014 and promises interface enhancements, watermarking, character highlighting, and more. If you can get by with a bit less functionality, Final Draft Writer for iPad runs only $49.99, and Final Draft Reader, for checking out scripts on your iPad or iPhone, costs nothing.
Sometimes products become industry standards for a good reason—Photoshop has proved this—and Final Draft has more than earned its pride of place among entertainment professionals. It'll help you organize, arrange, and execute everything your script needs to succeed on the page as well as the stage. Everything, that is, except the artistry and creativity. You'll have to supply those yourself.