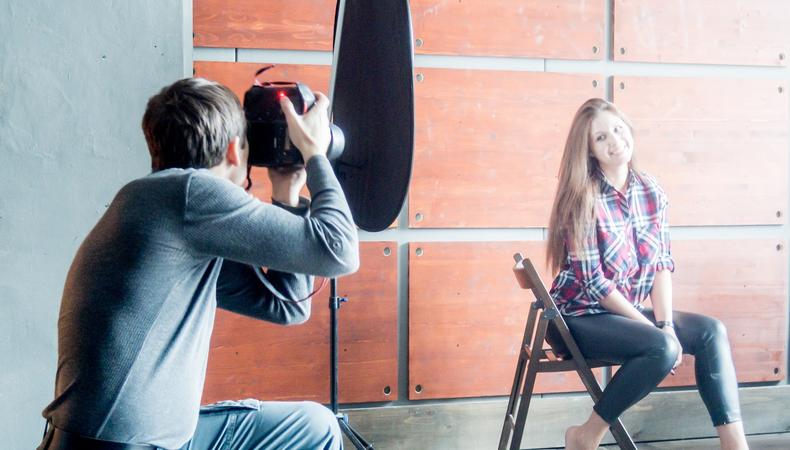 As with finding that someone special in your life, it can take time to find the right photographer to create eye-catching commercial photos. Hopefully, you have already read my article on how to create strong commercial photos
Just because someone is a great technician and can create beautiful photos does not mean that they are necessarily the perfect photographer for you. Before you begin searching for the photographer, make sure you have already know exactly what types of shots you need that will sell you well, have the ability to create and show believable emotions on cue, understand what wardrobe is best for each shot and where the photos should be taken (in a studio or on location).
Once you have everything completed, you should begin your search. There are many avenues you can take to find shooters. Here are a few suggestions:
1. Ask your agent for recommendations
2. Talk with other actors and commercial models and ask for names of people they like
3. Search for photography meetup groups in your area and attend some meetings
4. Visit www.aaaa.org to find commercial or assistant photographers
This will not replace shooting with a professional photographer, but if you want to try out some of your commercial ideas, find a local college or university in your area and talk with the photography teacher. Ask if there are any students interested in doing some commercial test shots. This is a great way to see if your ideas work and if you are giving believable expressions and emotions. Even if you can't use the photos, it will still be a great experience to be photographed in front of the camera. Just make sure the student signs something that states that he/she can only use the photos for promotional purposes only.
Once you get the names of a few photographers, see if you can arrange a meeting at his or her studio. Not all photographers talk with talent prior to the shoot, but it can be incredibly helpful to make a personal connection before you hire someone.
Ask the photographer how she sees you being cast. What types of ads should you be considered for? Ask the photographers if all of the shots are done in a studio or if some of your photos can be done on location.
Look at the photographer's work. Even if you don't know anything about photography, you can see if the talent jumps of the page. Do they look in focus? Are there shadows or things in the shot that take the attention away from the talent? Even if the shots don't look like ads, that's OK. By having done your homework, you will explain and show the photographer what you want to shoot. Listen to the photographer's thoughts about the shots you want to produce and determine if this is someone with whom you want to collaborate.
The most important thing to take into consideration before hiring someone is making sure you feel comfortable. No matter how good the photographer might be, if you can't relax and be calm with him, the camera will capture your uneasiness. Most great photographers are also great therapists. They see your fears and know just what to say to get you to a place where that nervous energy is used in a positive way.
As in any relationship, it can take time to find the right person. But when you do, it is a wonderful experience.
Aaron Marcus is an author, acting and modeling career coach, and has been a full-time actor and commercial model for over 30 years. Aaron will be giving a talk and having a book signing for his new book "How to Become a Successful Actor and Model" at NYC's Drama Book Shop at 5 p.m., Dec. 5.
Got your best commercial shots already? Use them to apply for our modeling listings! And for more great photo advice, watch the video below.
The views expressed in this article are solely that of the individual(s) providing them,
and do not necessarily reflect the opinions of Backstage or its staff.