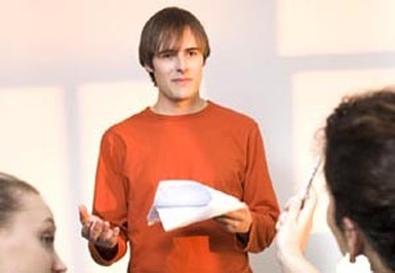 "It's the most wonderful time of the year
When casting comes stalling
As actors are bawling
'Why is my calendar clear?'
It's the most wonderful time of the year"
Let me explain.
My adulterated Andy Williams brings to question: When is the best time of year for seeking an agent?
Now.
For unrepresented actors—or those wishing to change agencies—this is the most wonderful time of the year for finding your champion. (Plus another point in the talent rep's calendar.) But first let's revel in the cornucopia of opportunity for representation presented as gifts that exists between Turkey Devotion Day and the heralding of holly instead of headshots.
The regionals and Broadway castings have gone through their first rounds of the season (August through October). Episodics are on hiatus. Pre-production of films will begin after the start of the New Year. And talent reps are bracing for pilot season—reviewing their roster, pondering if they have enough young, hot, sexy TV talent that producers and America will devour in vain glee via an all-you-can-eat eye candy buffet.
November to December is one of two turns in the talent reps' calendar when they have a bit of time on their hands for pursuing unsolicited headshots. When else does this happen?
June to mid-August.
Pilot season is over. Casting for regional theater and summer stock has ended. Film and TV casting won't pick up again until summer swelters in August. Regional theater resumes casting in late July. So May, June and July are anemic as far as activity between casting and talent agencies.
During either of these two sluggish semesters (November–December or June–August), agents, aside from sitting at their desks surfing the web, are seeking new clients as they clean house (i.e., dumping troubled and/or lackluster product). During these casting doldrums agents have time on their hands—which is often taken up by anxious clients asking their reps, "Where are my auditions?" You would think these inquiring actors would know that year-after-year this is hibernation season for casting.
It's cyclical folks.
So place an annual reminder in your mobile device's calendar marking these two seasonal industry slowdowns as the best times for anyone without representation (or represented actors seeking a change) to seek their champion. It's agent-hunting season.
There's no better time for trumpeting yourself to talent reps—fully prepared with an effective audition, revamped marketing materials and well-honed interview skills. In anyway you can, get yourself in front of agents. Somewhere.
Now.
It's the most wonderful time of year (well... out of two). Go get 'em.

Paul Russell's career as a casting director, director, acting teacher and former actor has spanned nearly thirty years. He has worked on projects for major film studios, television networks, and Broadway. He is the author of "ACTING: Make It Your Business – How to Avoid Mistakes and Achieve Success as a Working Actor." For more information, please visit www.PaulRussell.net.