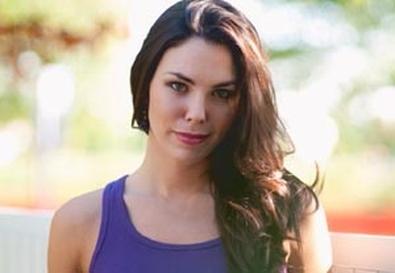 Every actor know that your headshot is what gets you in the door—it's what sells you. It shows your theatrical range and personality. Not only do you want your picture to be a
true
representation of yourself, but the
best
representation.
How hard could it be to get a picture like that, right? No pressure at all!
For me, finding the "perfect headshot" has become quite a journey. It started about a year ago, when I first decided to get into acting.
Rather than doing research or finding someone who actually
specialized
in headshots, I went to a photographer I knew. He'd taken many photos of me when I was younger, and I always liked his work. His style can best be described as what you would get from a glossy glamour shoot, or a high school yearbook photo.
I had no idea what kinds of headshots were "in" these days. But I trusted him to do the right thing.
Needless to say, my pictures turned out, well,
o-k
. Were they horrible? No. Did they look me? Yes. Were they the
best
representation of me?
Uhhhh, not really.
I showed the negatives to everyone I knew, or barely knew (including practically strangers on the street), and asked their opinion. My parents were in shock, of course—here was their baby girl all dolled up. My mom said I could be on the cover of a magazine!
Proud of my first professional headshot, I started using it at auditions and sending the photo to agents. In one case, the feedback was immediate.
Putting the photo down and removing his glasses, the casting director looked up at me impatiently. "You look
sooo
much older in this photo. Geez! You are using
this
to market yourself? It's all wrong! You should be auditioning for younger roles.
Next
."
As for agents, well, the complete lack of response pretty much said it all. So I started looking around for a better shot.
Before wasting any more money, I spent a couple of months just researching, researching, and researching some more. I was determined to find the best, and get
exactly
what I wanted this time.
I finally chose a wonderful photographer that does amazing fashion work and lots of lighting tricks. When I saw his other headshots, I was in awe. "I want mine to look like that!" I thought.
We set up an appointment a month in advance, and spent time practicing my looks in the mirror, finding the perfect 'headshot tops' by studying other photos. I was so excited when I arrived and ended up having a great time at the shoot. Within days the negatives arrived, and I was thrilled. They were a very far stretch from what I had before, and I really liked the way I looked.
I proudly showed them off to family, friends, and especially my agent. I awaited their response, expecting positive feedback, but... nothing. No one liked them.
To a person, they said the pictures didn't look like me. Again I heard, "You could do better."
Ugh
! What do they mean, do
better
?
My agent said I did not get my money's worth. That there weren't enough different looks or poses to choose from. One casting director looked at my picture, cocked her head to the side, and said, "Interesting...
Next
!"
Back to the drawing board.
I'd spent so much money on the first two shoots that I was not about to dish out another pretty penny for more 'experimental' shots. Instead, I hooked up with a good friend of mine who was studying photography. I asked if she would be willing to do my headshots as a favor. She agreed.
Once again I spent weeks searching for examples and styles of headshots I liked. A few days before, I brought the images to her so she could replicate the looks with me. We spent a couple of hours shooting, joking around, and really just enjoying ourselves.
On the contact sheet, my expressions were great. Everyone loved them—including my agent.
Finally
, I thought. I've found the right mix.
When I had the photos printed, however, the image quality was terrible. Since my friend was only a student, she'd made some rookie mistakes. When I showed the final prints to my agent, he laughed and said only, "You get what you pay for."
I was completely flustered. What should I do? One photographer took beautiful photos, but they weren't 'industry style.' A second one knew what to do, but was not be able to capture 'me.' A third captured 'me' beautifully, but didn't have the skills to create a good enough image. It was the actor's version of Goldilocks, but without the image that was 'just right.'
Nearly defeated, I called another photographer with whom I had once worked on a fashion shoot and asked if he would take my headshots. I prayed that the
fourth
time would be the charm.
I really like this guy, and felt confident that we would work well together. I was ready to start submitting to agents again, and I desperately wanted a shot that would grab their attention.
But it was not to be.
In a perfect storm of events, the makeup artist was late and the photographer had to leave early. We only had one hour for hair, makeup, wardrobe, and the shoot. Ack!
Everything felt rushed and uncomfortable. We didn't have time to sit down and discuss what I really wanted. In the end, the pictures came out too airbrushed and glam-looking, so the selection of useable photos was very limited.
At long last, I had to get the drive for a perfect headshot out of my head.
Instead, I took a couple of months to focus more on my craft as an actor. I took classes, auditioned, and even booked a few roles. At the same time, I occasionally traded notes with other actors, and networked with photographers and makeup artists. I started doing lots of trade work to feel out what was good for me. I needed to get comfortable in front of the camera, learn my angles, and try different lighting, poses, and makeup styles.
While most of the shots were fashion-oriented, it was great just being in front of the camera and letting my real expression shine through.
I learned some important lessons. Most importantly, you can't put so much pressure on yourself. You invest so much time and money in a photo session that you get scared to mess it up. And stress will show in your face and in your body language. Pictures don't lie.
Through it all, I acquired enough shots to mix and match what I need for mailings and auditions. I haven't found my 'perfect shot' yet, but I believe with time and experience I will. Now, I don't mind paying for shoots, or doing them for free. What matters is finding a photographer that with whom I am comfortable, and simply enjoying the process.
Trial and error is what helps you learn and grow as an actor. Every new experience is a chance to grow. I'm starting to look at my headshots the same way.
Originally from the Washington, DC area, Shana Alexa is currently auditioning in New York, Philadelphia, and Baltimore. She was a competitive figure skater for 10 years before getting into acting. She holds a bachelor's degree in Fashion Design and Merchandising. Credits include the TV shows "Wicked Attraction," "The Bureau," "As The World Turns," and a documentary airing on MSNBC about Patty Hearst. She can also be seen in ads currently at CarMax stores nationwide. She can be reached at Shana.ShanaA@gmail.com.