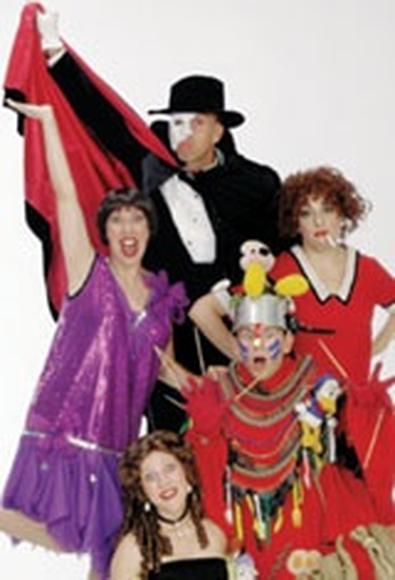 As we always do once a year, Back Stage takes a look at today's musical productions with an eye toward filling you in on what you need to know in order to get cast in one of them. This year, 39 shows either currently running, about to be running, or announced to be running soon on and Off-Broadway or on tour. Vocal requirements, character types, age ranges, musical sensibilities, how to comport yourself properly at an audition, and many other helpful hints are offered by casting directors, musical directors, and other creative personnel involved with each show. Current info on audition scheduling is also included. Remember that if nothing is immediately scheduled, Equity does require that semi-annual chorus calls and annual calls for principal auditions be held for all Broadway musicals. And most shows maintain ongoing casting files and schedule auditions whenever replacements are needed. So don't forget to check Back Stage every week to find out who is casting what -- and when.
Forbidden Broadway: 20th Anniversary Celebration
Off-Broadway Opening: Feb. 25, 1982.
No auditions at present, but posted about every four months.
"There are two talents that an actor needs equally in order to be cast in 'Forbidden Broadway,' " notes Gerard Alessandri, creator of the long-running show now Off-Broadway at the Douglas Fairbanks Theatre. "They need to be funny and have excellent, versatile musical-theatre singing voices. The innate comedic ability is, of course, crucial, and their instincts need to be on target. This does not mean that they should be broad or ever push the comedy. They need to approach it from a well-honed acting point of view, playing the various show parodies as if they really were trying to perform in the actual shows, except with that little extra glint that pushes it slightly over the line. This takes a well-trained actor with a good sense of humor and a willingness to map out every moment and ground it in a kind of heightened realism."
As for performer type, Alessandri explains, "We usually look for interesting looking -- attractive, but with a unique look -- and young, 25 to about 35, talent of any race or background that can handle the versatile requirements and sing all the various types of show music we use. The actors also have to have a willingness and sense of mischievousness to go along with the naughty thumb-your-nose nature of the show, and also show an eagerness and sense of playfulness to fly by the seat of their pants as they embark on a topical show that constantly changes. The only way to find out if they can go along with and enjoy the many costume, lyric, and order changes is to actually have them do the show for a number of months."
For good auditioning and possible casting, Alessandri asks for "a legitimate or classic show ballad that shows off their vocal strength, and then a comic song. We usually let them go through one or both of the whole songs so we can hear how strong the voice is. If we think they are a possibility for 'Forbidden Broadway,' we do ask if they have any kind of imitations, to hear if they have any ear for voice imitation or accents. We often do ask them to wing a little side from the show. If we are truly interested, we then send them home with songs to actually practice and learn, and then come back and perform those numbers."
Mistakes to hurt your chances, according to Alessandri, include being unsure of a song, not bringing extra material, and a sullen or "cool" attitude. Still, Alessandri is often willing to see actors he's turned down earlier: "Not everything is perfectly clear the first time -- and people change."
-- Roger Armbrust
BackStage.com members: To read the rest of this terrific feature, click here.
Not a member yet? Click here for information on how to receive all the benefits of BackStage.com.