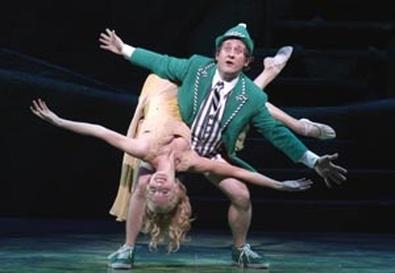 Lightning has struck twice at the St. James Theatre. First Arthur Laurents took his perfectly fine production of "Gypsy" in the Encores! Summer Series and elevated it into a stunning work of art. Now the folks behind Encores! concert version of "Finian's Rainbow" have taken that pleasant if problematic presentation and transformed it into a magical production that should enchant both lovers of the Golden Age musical and those who favor more-contemporary fare. Personally, I would have called such a thing impossible. But this "Finian's Rainbow" is for everybody, and I hope it runs forever.

The concert staging was burdened by some miscasting and an uncomprehending adaptation of the Yip Harburg–Fred Saidy book by house scribe David Ives that seemed vaguely embarrassed. Wisely, the producers jettisoned it and brought in Arthur Perlman, a respected book writer in his own right and a Harburg aficionado. Perlman has restored the politics, worked overtime to maintain narrative cohesion, disciplined the whimsy, and kept the emotional stakes high. He and director-choreographer Warren Carlyle make sure there isn't a single wasted moment. The show flies giddily by, touching lightly but tellingly on issues of class and racial prejudice while making us care about its story and characters. These include a community of oppressed sharecroppers battling a wealthy and bigoted Southern senator; lovers Woody Mahoney and Sharon McLonergan, he a headstrong community organizer and tobacco farmer and she a tart lass from Ireland dragged to the fictional state of Missitucky by her pixilated father, Finian, in pursuit of wealth; and Og, a leprechaun whose magical wishing pot of gold Finian has stolen, thus slowly turning Og into a mortal.

Cheyenne Jackson and Kate Baldwin as the lovers were high points of the concert version, and they've only gotten better here. His easy grace has been fortified with grit and a sly wit, while she has discovered strength in stillness. Both still sing gloriously. Jim Norton's delightful Finian remains the show's emotional center, with all traces of musical-comedy saccharine now purged from his relationship with his daughter. An immeasurable boost comes from the addition of the scintillating Christopher Fitzgerald, who understands and delivers the exact level of stylization needed for the otherworldly Og. David Schramm makes a fine bigoted senator, and Chuck Cooper scores big as that same senator after Sharon inadvertently wishes him into a black man. The estimable Terri White repeats her tiny role as a sharecropper and still brings down the house with her galvanizing rendition of "Necessity," a specialty turn that Perlman has now neatly tied to the story.

Carlyle's intelligent direction creates an organic community of individuals and makes sure that every number reinforces and supports the show's themes and story. As wonderful as the Harburg–Burton Lane songs are—and there isn't a single clinker—they don't constitute a dramatically integrated score in the Rodgers and Hammerstein style. But Carlyle consistently imposes dramatic purpose where none is on the page, pulling an antic and scattershot show into dramatic focus. His choreography does the same. Watch the opening of "When the Idle Poor Become the Idle Rich" for its evocation of community and the simple yearnings of poor but hard-working people.

The show's only misstep is John Lee Beatty's cheap-looking unit set that appears to be covered in unattractive green burlap. It's as earthbound as the production is buoyant. But unlike many a contemporary Broadway musical, "Finian's Rainbow" is not about physical opulence. It's about the interplay of words and music, satire and romance, political commentary and whimsical fantasy. It's adult and childlike all at once, and it is not to be missed.



Presented by David Richenthal, Jack Viertel, Alan D. Marks, Michael Speyer, Bernard Abrams, David M. Milch, Stephen Moore, Debbie Bisno/Myla Lerner, Jujamcyn Theaters in association with Melly Garcia, Jamie DeRoy, Jon Bierman, Richard Driehaus, Kevin Spirtas, Jay Binder, Stageventures 2009 Limited Partnership at the St. James Theatre, 246 W. 44th St., NYC. Oct. 29–Jan. 17. Tue.–Thu., 7 p.m.; Fri. and Sat., 8 p.m.; Wed. and Sat., 2 p.m.; Sun., 3 p.m. (No performance Fri., Oct. 30.) (212) 239-6200, (800) 432-7250, or www.telecharge.com. Casting by Jay Binder/Nikole Vallins.