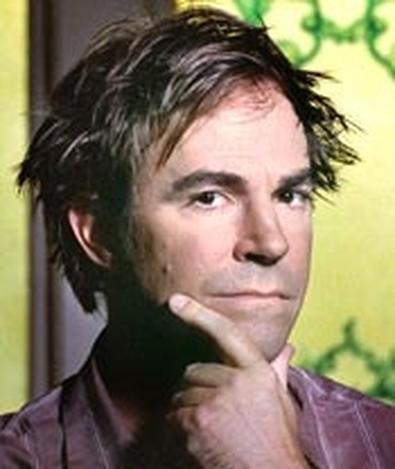 For someone who was told "unequivocally that I should get out of the theatre and save myself a lot of pain," Roger Bart isn't doing half bad. Twenty-three years after hearing that evaluation at the URTA auditions as a college senior, Bart can look back at a Tony-winning performance in You're a Good Man, Charlie Brown and a Tony-nominated turn as the outrageously campy Carmen Ghia in The Producers, plus indelible characters like George, the creepy pharmacist on Desperate Housewives. Next up is Dr. Frankenstein in the Broadway production of Mel Brooks' Young Frankenstein.
Though it's inspired by Brooks' 1974 movie, a broad parody of horror flicks, "we're not sending up the film," Bart says. "We're a horror musical. This is the story Mary Shelley wrote about what happens when a man plays God. It's about fathering. There are some serious elements here. There's some edge. My character takes a journey from being a man ruled by intellect to being a man ruled by emotion as well as intellect. His love for Inga and his creation of the monster have changed him.... Of course, being on stage for more than two hours without a break requires a lot of stamina, but that's also the thrill. I'm the engine of the show. So my type-A controlling personality gets to control the pacing like a maestro. Up to this point, I've been cast as the sidekick, the second banana, but mostly clowns. My goal has always been to play the clown with depth. Now I do. I also get to kiss the girl."
Bart's Frankenstein is at once nebbish and singing, dancing mad scientist, but pulling off the signature Brooks combo isn't as easy as it appears. "It's not simply about breaking the fourth wall, staring at women's breasts, and mugging," Bart says. "That cheapens the material and makes it look stupid. And it's not. The key to doing Mel Brooks — and if you do one Brooks part well, you can do them all — is to understand the rhythms of vaudeville and Yiddish theatre. You also have to be completely honest and not know you're being funny. But then that's true of all comic acting."
One challenge he faces is the inevitable comparisons to Gene Wilder's acclaimed performance in the film. The audience comes wanting to see a facsimile, Bart says. "There are Gene Wilder moments that I do, but I'm not impersonating him. I reference him in the same way Nathan Lane referenced Zero Mostel in The Producers. It's not compromise; it's homage."
The highly intelligent Bart, who says he initially saw himself more as entertainer than actor, takes a common-sense approach to his career. On setting goals, he says: "I find nothing wrong with giving yourself a realistic deadline and then making an assessment when the time comes. Of course, these are personal decisions based on your ambition, your feelings about your day job, and what makes you happy. For myself, I figured if I were not making my living as an actor by the time I was 30, I'd do something else."
Being vs. Doing
Fortunately, he didn't have to: He was surviving as an actor by 28. But it wasn't inevitable. Raised in various New Jersey towns, Bart, 45, says nothing in his early years suggested he would become an actor; he neither went to the theatre nor expressed any interest in it. He was a good musician and singer and played in a rock band, and though his uncle is Peter Bart, current editor-in-chief of Variety and an executive at Paramount Pictures in the late 1960s and early '70s, "he was sort of removed from us," Bart says. "We've become very close in the last 10 years. I've become the son he never had, and I'm the only one in the family besides my uncle who's in the business."
Bart's mother was a teacher and his father a chemical engineer who graduated from MIT at 20, and while Bart thinks there's a connection between math, music, and comedy — all require timing and precision, he says — his foray into acting had a more immediate goal: "It was a place to meet girls who liked me," he says. "My grades weren't that good, and when it was time to apply for college, I wasn't quite sure what to do, but I approached it logically. I was a good athlete and I was creative, so I figured I'd study acting."
At Rutgers' Mason Gross School of the Arts, where he majored in acting, Bart says he learned a great deal — though he realized it only in retrospect. The teachers, he says, "were hard on me. We studied Meisner technique, with its emphasis on being very truthful. My ability was clowning, and at 18 or 19 the concept of just 'being' was very difficult for me. I thought I was far more interesting 'doing.'"
But the training paid off. Almost immediately after graduating, Bart landed a role on Broadway in Big River. Other shows and tours followed, though he continued to supplement his acting with bartending. "It was such a paradox," he says. "When I got work, I was considered good, but it didn't lead to anything. My parents talked about my considering alternative careers. That scared me so deeply, it only strengthened my resolve." He adds, "When I got the Tony, my father thought it was a good time to leave acting and do something else."
His artistic turning point, he says, was Hartford Stage's 1991 production of William Finn and James Lapine's musicals March of the Falsettos and Falsettoland, in which he played Whizzer. "It was the first time I understood the relationship between the audience and actor. Rather than feel a compulsion to entertain, I allowed myself to be an open channel through which the audience experienced the text. Martha Graham used to say that's what good performance was. It was for me a transcendent experience, a marriage of my life and the character's. And I realized that I really didn't have to do very much. In fact, the best thing was to interfere as little as possible." Bart also credits his maturity — what he calls having a more "textured life" — with allowing him to "just be" on stage, something he couldn't fathom as a younger man.
But auditioning for Brooks was the watershed. Bart had never met the comedy legend and certainly never imagined he'd be working for him. "In fact, I didn't audition for Ghia at first. I was sent in to read for Franz Liebkind. After reading the sides, Mel said, 'He's too small,'" recalls Bart, mimicking Brooks' rapid-fire rasp. "So I started walking out, and then Susan [Stroman, the director,] came after me, giving me the sides for Ghia, saying Mel wanted to hear me read for that." Not only did Bart nail it and win the role; he reprised it in the film and was later cast as Leo Bloom, one of the leads.
With Young Frankenstein, history repeated itself: "I read for Igor, and truthfully, when I was offered the chance to play Frankenstein, I said I had to think about it. I have a great fondness for Igor. It's easy for me to play. He's the court jester, the classic clown. I'm comfortable with it." Though playing the lead was outside his comfort zone, it didn't require much arm-twisting to make him appreciate the opportunity.
Stroman, directing again, is certainly happy about it. "Roger can do it all: sing, dance, and be funny," she says. "He's a bridge between two worlds: the leading man and the character actor. Dr. Frankenstein has to be both. He needs the sexuality of a leading man, which Roger has. But he also has to be crazy. And Roger is the mad scientist. You see it in his eyes. I love working with him. He is a fearless actor, open to suggestion and open to failing. He's smart and gracious to his fellow actors, which is so important in creating a musical."
Stage vs. Screen
But despite Bart's stage successes, it's Desperate Housewives that put him on the pop-culture map. Breaking a cherished axiom of acting, he says of playing the evil George, "I neither had to like him nor understand him; I just had fun with him.... I was only going to do three episodes, but it turned into 13. The writers started writing for me. And I loved every second of it, making audiences squirm, playing a totally unappealing man with no sexuality. In Hollywood I started to be known as the actor to play the creep. I was told, 'This is going to be your Gilligan's Island. You'll never work again.' So I'm glad I'm not doing TV now. The media needs time to recover. But I would very much like to do a TV series again. Something offbeat like Monk."
Bart has also been concerned about getting typecast as the kind of flamboyantly gay characters he played in The Producers and The Stepford Wives: "I get cast in those roles because I have a tenorial voice and slight build. And it never worried me until I felt that's what people wanted me to do." But he didn't receive any flak from gay men for his interpretations, he says. "There was nothing mean-spirited about what I was doing. These characters were first and foremost clowns. We were spoofing the stereotypes."
Bart loves theatre and film equally but for different reasons: "I love the ephemeral aspect of theatre, and its immediacy. I also like that I — the actor — can control where the audience's eyes go. I like the chance to use my whole body. In film you're usually shot from the torso up. But at the same time, I love the amazing disposable element in film. It's a total investment, and then it's over. But that's perfect for a character actor who loves to move from role to role."
Touring, however, is another story. Bart spent two and a half years on the road in various shows and says he regrets it, not only because he feels his career might have moved ahead more quickly had he stayed in New York but because touring was an act of timidity on his part. "I was in debt, and I just couldn't take the auditioning in New York," he says. "It's funny, because when I got into Charlie Brown, I was viewed as a 'Broadway stalwart.' I had been around, but certainly not very much on Broadway. Whatever happened to the concept of newcomer?"
If he could do it all over, he says, he might skip college altogether to focus on filmmaking: "If I had been closer with my uncle when I was much younger, we might have had a dialogue about it, and perhaps that's what I would have done. I would still like to direct films, though I'm more likely to start in theatre."
But don't mistake that statement for a sign of regret. "There's no place I'd rather be," he says of the theatre. "It's a privilege to be able to make believe and also elevate people's spirits. Theatre is my church."
Has also appeared on Broadway in The Frogs, opposite Nathan Lane, and Triumph of Love, with Betty Buckley and F. Murray Abraham
Earned a Drama Desk Award for You're a Good Man, Charlie Brown and a Drama Desk nomination for The Producers
Has had roles in such films as Hostel: Part II, The Insider, and Disney's Hercules (as the singing voice of Young Hercules) and Lady and the Tramp II (as the singing voice of Scamp)
Upcoming films include American Gangster and Harold & Kumar Escape From Guantanamo Bay
Television credits include Bram and Alice, Law & Order, Law & Order: Special Victims Unit, and the sci-fi miniseries The Lost Room.
Young Frankenstein opens Nov. 8 at the Hilton Theatre, 213 W. 42nd St., NYC. www.youngfrankensteinthemusical.com.