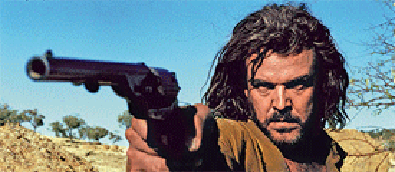 Henry Winterstern and Ruth Vitale met in a fairly standard Los Angeles way: This past August, Vitale, a co-founder of Paramount Classics, stopped by a table at Ago restaurant in West Hollywood, where friends of hers happened to be having dinner with Winterstern, a relatively new arrival to Hollywood who was in the process of merging Capital Entertainment and First Look Media.
Four months later, Winterstern recruited Vitale to head the theatrical division of the company of which he is CEO, newly rechristened First Look Studios--one in a series of moves intended to reinvigorate the firm, which recently celebrated its 25th anniversary.
Winterstern isn't consciously modeling First Look after successful standalone mini-majors such as Miramax or Lionsgate, but he is clear about his intention to build a "360 degree" company, capable of handling in-house production, acquisition, home video distribution, TV and foreign sales and theatrical distribution.
"We're focused on material and getting close to the filmmaker," Winterstern says. "In the early days of Hollywood, that's how this business was done, and I don't have a problem trying to reinvent the wheel."
But reinvention won't be a breeze. In trying to elevate First Look to top-tier-player status, Winterstern will compete with rivals who possess deeper pockets, like the well-financed Weinstein Co.; proven marketing prowess, like Bob Berney's Picturehouse; and stronger distribution capabilities, like the publicly traded Lionsgate.
Paradigm Consulting president Peter Broderick believes that if the reinvented First Look is going to be a success, it will need fresh ideas about distribution or a clear focus on what kinds of films it will make for which audiences. "In this day and age, just looking for good movies is a scary approach," he says. "If you're looking at how a smaller, leaner company can compete with the big studios, it's by saying, 'We're going to make three kinds of movies, and we have three kinds of audiences.'"
Today's First Look barely resembles the company that Robbie and Ellen Little founded in 1980 as Overseas Filmgroup, handling foreign sales for independent films and later becoming known for producing or distributing such projects as the 1995 U.S. release The Secret of Roan Inish, 1996's Oscar-winning Antonia's Line and 1999's Titus.
Since Winterstern merged his fledgling distribution firm Capital Entertainment with First Look last year, he has been engineering a radical makeover. In addition to Vitale, who oversaw the acquisitions of 2000's You Can Count on Me and the 2005 Sundance Film Festival hit Hustle & Flow at Paramount Classics.
Winterstern hired former Miramax and MGM executive Andy Gruenberg to run theatrical distribution and Ken DuBow, formerly president and CEO of Modern Entertainment, as head of sales. In November, he acquired DEJ Prods., Blockbuster Entertainment's production, acquisition and distribution arm, for $25 million; that company, which co-financed Lionsgate's Oscar hopeful Crash and 2003's Monster, came with a library of 225 titles.
But when the smoke clears, will Winterstern's renovations result in a clear identity for First Look, a company that has done a little bit of everything in its quarter-century history? The Canadian mortgage banker only arrived in Hollywood in 1999 and has a short track record of making investments in entertainment companies--and an even shorter list of creative projects that he has initiated.
As Winterstern describes it, his long-term vision is basic: "Grow the business and build the library. There have never been more independent films financed or made and never been fewer distributed. There's all this product with no home; we can be that home."
While Winterstern, a Canadian, is shaping First Look's future, the company's roots are in Italian soil. In 1980, Robbie and Ellen Little moved to Los Angeles after a stint in Rome, where Ellen was finishing her doctoral thesis, and Robbie, a native of Liverpool, was working in foreign film sales. "The original objective was to be a world sales company," Robbie Little says. The first film they repped was 1979's Wild Horse Hank, starring Linda Blair.
The company, then known as Overseas Filmgroup, grew haphazardly. "There wasn't a firm business plan," Robbie Little acknowledges. "Gradually, we realized that we needed to control more of the product flow coming in, so we started helping raise financing to make the films."
Theatrical distribution and home video arms followed, and during the early 1990s, the company began making such films as "(1994's) Blue Tiger, with Virginia Madsen, and (1996's) No Way Back, with Russell Crowe," says William Lischak, who joined Overseas as its chief financial officer and is now First Look's president. "Our strength was genre-oriented, video-friendly product."
But Ellen Little gravitated toward artier fare. With Newmarket Films, the company financed 1998's Mrs. Dalloway and had a hand in Titus, Line and 1994's The Scent of the Green Papaya.
In 1996, Overseas Filmgroup, at the time still wholly owned by the Littles, went public through a reverse merger with a shell company called Entertainment/ Media Acquisition Corp. In 2000, EUE/Screen Gems, a New York-based commercial production company, made a $17 million equity investment in Overseas Filmgroup, and Chris Cooney of EUE took over as chairman and CEO of Overseas, which was soon renamed First Look. Robbie Little became president and co-chairman.
Lischak remembers the years that followed as "a tough period. The TV market collapsed, and DVD was only just starting to take hold. We became aware of the need to find a new model, a new business plan."
First Look's management decided to focus on DVD distribution and invest less in what Lischak refers to as "TV-oriented, softer, artier stuff." At that point, First Look's theatrical distribution operation was disbanded.
Robbie and Ellen Little left First Look in 2003, though Robbie remained on the board of directors until last year and the couple still holds an equity stake in the company.
"We feel proud that the company has survived so long," Robbie Little says. "It's not easy, navigating through all the ups and downs of the entertainment business."
Henry Winterstern began his career in Canada as a mortgage lender and later opened a boutique investment bank. He came to California to make investments in the entertainment industry on behalf of Canada's largest pension fund, through an entity called CDP Capital Entertainment. "I'd always been a real fan of the industry itself," Winterstern says.
He invested in Mosaic Media Group--which produced 2003's Elf and Warner Bros. Pictures' Scooby-Doo films--and Lakeshore Entertainment and purchased a small stake in MGM. In 2001, he joined MGM's board of directors and helped take Dick Clark Prods. private in a $140 million deal. (One of Winterstern's investments, in Signpost Films, turned sour, and that company's assets were rolled into Lakeshore.)
But by 2003, Winterstern's Canadian backers, smarting from the stock market downturn, decided to retrench, asking him to divest their Hollywood holdings. "That left me with all the education in the world and no more pension fund," he says.
By 2004, Winterstern had decided that he wanted to build a company of his own, piece by piece. "This is not a place for passive investment," he says, summarizing what he learned during the first semester of his movie-industry education. "You must be hands-on; you have to roll up your sleeves."
Winterstern began putting together a business plan for a company that would combine production and distribution. "Without distribution, your product is never going to see the light of day," he says.
Winterstern founded Capital Entertainment with his own money and licensed several properties from FremantleMedia--including American Idol, Baywatch, and Family Feud--with the intention of distributing them on DVD. He also founded a production arm, Glass Key, which backed Larry Clark's Wassup Rockers. (That picture, which premiered at September's Toronto International Film Festival, is set to open this month's Slamdance Film Festival.)
With its strength in home video distribution, its track record in foreign sales and its library of more than 400 titles, First Look Media caught Winterstern's eye. The company's stock was traded on lightly regulated "pink sheets," and the executive believed that he could get it listed on a higher-profile, more-liquid exchange. With $20 million in convertible debt from the Prentice Capital Management hedge fund, Winterstern united Capital Entertainment and First Look in August.
"Today, the (major) studios are owned by media conglomerates," Winterstern says. "Because of that, and the amount of capital that needs to be returned to the shareholders, they need this big product. It's (computer-generated imagery)-driven, and it takes a long time to produce and (costs) potentially hundreds of millions of dollars. We can focus on the films that independent filmmakers are making, the films they want to make--those are big enough to return capital for us."
Vitale says the company needs about 40 titles a year to feed its home video distribution engine and is aiming for about eight annual theatrical releases. (Three films already are in First Look's pipeline for 2006.)
"What's our plan? It's to go find good movies," she says. "I would've said the same thing when we started Paramount Classics, and look what we built. It takes a lot of work and perseverance."
Vitale will scout this year at all of the major film festivals, including Sundance, Berlin, Cannes and Toronto.
"You can never be competitive pricewise with the studios," she says. "You can't get into bidding wars, so you have to be scrappier and always look at a picture from a different angle. It doesn't matter the genre--we're going to be looking for the next round of filmmakers who are great. Our business is opportunistic."
Also attempting to duplicate previous personal success is First Look executive vp theatrical distribution Andy Gruenberg, who headed distribution at Miramax when that studio released 1998's Shakespeare in Love and more recently has been a consultant to companies including ThinkFilm.
"At Miramax, they created the idea of the art film that could play in the suburbs," he says. "That's what we're trying to do here: Take these movies that have broad appeal, start in a few markets like New York or Burbank and get an audience for them in the suburbs."
Theatrical distribution has not been a consistent strong suit for First Look, but Gruenberg notes that "Henry is determined to change that. We're developing the muscles: Part of it is infrastructure, and part of it is getting our hands on films that not only seem great to us but seem great to audiences."
Gruenberg mentions such disparate titles as Lionsgate's Saw II and Focus Features' Brokeback Mountain as types of movies he would like to see First Look distribute, using high-profile theatrical releases to build demand for the home video market.
Winterstern says one focus for First Look in 2006 is "building up our physical production abilities," and he is enthusiastic about a script in development for Johnny Stompanato, which centers on the murder of a mobster who was Lana Turner's beau. Catherine Zeta-Jones, Winterstern hints, is interested in playing Turner.
The company also is exploring video-on-demand options and has planned numerous home video releases this year. In addition, First Look's branded-entertainment division, run out of New York by Cooney, recently produced a series of short films to promote the video capabilities of a new line of Samsung cell phones.
"All of these years have been a building process," Lischak says. "We started with foreign sales and then got into home video and theatrical. We needed an opportunity to take the next step, and we have that now with Henry and Prentice Capital."
But, for a company that has hopscotched through a quarter-century, stepping in and out of various businesses, the next step is far from assured.
"Henry loves the business, but you need patience and the ability to deal with rejection," says former MGM chairman and CEO Alex Yemenidjian, now chairman and CEO of Armenco Holdings. "This is an industry that totally ignores you until you have a big hit--then everybody beats a path to your door."
Published Jan. 18, 2006