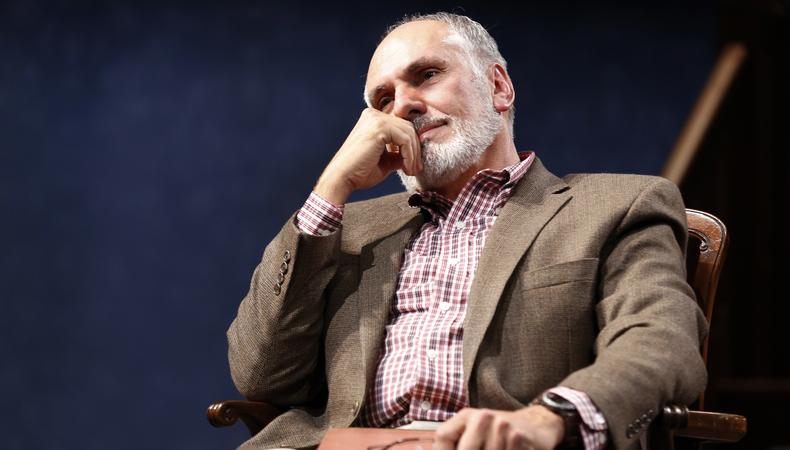 Stephen Belber's new drama "Don't Go Gentle" begins promisingly with a tension-filled meeting between Lawrence (Michael Cristofer), a retired judge, and Tanya (Angela Lewis), a single mom for whom he may do some pro bono work. But as Belber's schematic examination of white guilt, the emotional scars of childhood, and the regrets of old age moves forward, the play only occasionally rises to similar heights. Nevertheless, the performances of Cristofer and Lewis—along with those of Maxx Brawer, as Tanya's teenage son, Rasheed, and Jennifer Mudge and David Wilson Barnes, as Lawrence's adult children, Amelia and Ben—allow the production to carry a palpable albeit modest emotional impact
Belber stacks the deck neatly for the 90-minute drama. Lawrence was a staunch upholder of the Rockefeller Laws during his time on the bench and would have had little doubt about convicting Tanya for having attempted to smuggle marijuana into a federal prison for her boyfriend. Still, even as he was being a hardliner in court, Lawrence was also pulling strings to extricate Ben from legal proceedings and incarceration related to the young man's heroin addiction.
The conveniences of the script extend to Tanya's professional training as a nurse technician, which proves mutually beneficial for her and Lawrence, whom she begins to look after once he has invited her and Rasheed to move into his elegant Buffalo home (rendered with fascinating but unnecessary abstraction by scenic designer Robin Vest). It's hardly surprising that Tanya's presence in the house causes Ben and Amelia to question the late-life transformation of their distant and demanding father (which extends well beyond providing a roof for Tanya and Rasheed) and gives rise to recrimination-filled fireworks.
Belber mitigates the predictability through distinctly uncomfortable yet profoundly telling barbs from the characters, and director Lucie Tiberghien's taut staging and the actors' terrifically nuanced turns consistently command attention. The exceptional work extends from Cristofer's deliciously ambiguous yet never confusing turn as the patriarch, who is attempting to atone for what he now perceives as a misdirected life, to Lewis' gently crafted performance as a woman maturing into a sure self identity and Barnes' work as the simultaneously sympathetic and loathsome Ben.
One particularly compelling scene comes as Tanya learns that Ben has only done a stint in jail, while she served three full months in prison. Barnes infuses Ben's off-handed storytelling with a sly calculation, and in Lewis' hands Tanya's understated, silent reaction to the tale is fascinating and keenly poignant.
Mudge and Brawer also shine in what are the play's least developed roles. Mudge is captivating when frustrated do-gooder Amelia sits at the family's dining-room table during a particularly venomous blowout between Lawrence and Ben. Brawer communicates volumes with eye movements and shifts in body language as the embittered and preternaturally sage Rasheed sits hunched over a handheld video game while the adults around him engage in their own linguistic and emotional game playing.
Presented by MCC Theater at the Lucille Lortel Theatre, 121 Christopher St., NYC. Oct. 14–Nov. 4. (212) 352-3101, (866) 811-4111, www.theatermania.com, or www.mcctheater.org. Casting by Telsey + Company/Will Cantler.
Critic's Grade: B