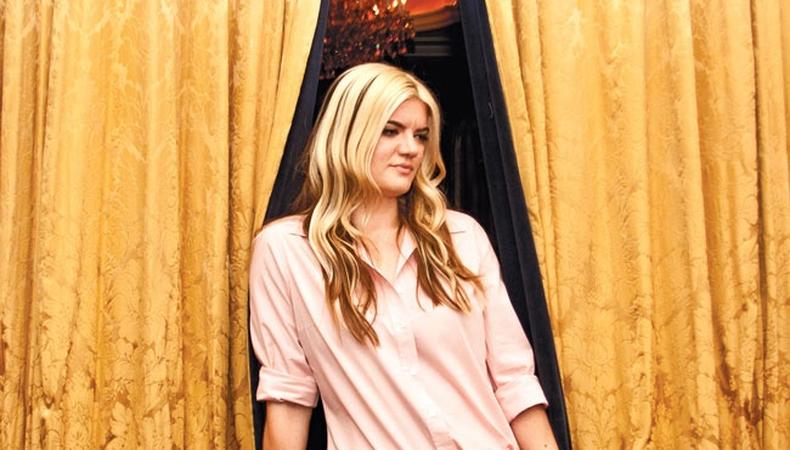 Leslye Headland, whip-smart, foulmouthed, and furiously funny, has the effortless cool that immediately puts strangers at ease. No wonder the first time writer-director of "Bachelorette" has extracted career-redefining performances from leading ladies Kirsten Dunst, Lizzy Caplan, and Isla Fisher, as drug- and hormone-addled bridesmaids falling down the rabbit hole of a New York City night. The proof? "Bachelorette" became the first movie to hit number one on iTunes rentals before a theatrical release.
Sitting in Manhattan's FireBird Restaurant a month before her first movie made history, Headland can't remember ever fighting a case of nerves. That she was adapting her own hit Off-Broadway play relieved some of the pressure, but Headland also trained at Playwrights Horizons Theater School in the directing program, where students had to follow through on projects from pitch to close. "Even though I didn't know how to work a camera or do lighting, I did know how to hire the people to do that," Headland says with a laugh.
The self-confessed "big huge movie nerd" was also focused on the gig itself. "This might be the only time I get to make a movie," she says. "So what kind of movie did I want to make? I wanted to make 'The Apartment.' I wanted to make 'Fast Times at Ridgemont High.' I really wanted to make 'Heathers.' Something that was, for all intents and purposes, a romantic comedy, but with my voice and my characters and to do it the way I wanted to do it."
"Bachelorette" retains the dark humor and singular worldview that Headland has displayed in her plays, with jokes about strippers and bulimia, and one hilarious overdose that results in the movie's funniest set piece, a screwball-comedy-paced sequence that finds Dunst's Regan alternating between maid-of-honor mode and impromptu EMT. "I think that's being a woman," Headland says. "I think being a woman is walking into one room, being composed, having everything done, and then walking into the next room and just disaster, ugliness, death. And then dresses and bouquets! To me, that's more of a woman than 'I've got everything together, but I just haven't found that guy yet!' The superhuman task of being a female is being able to go between those two rooms."
That the A-list cast were game for exploring those two rooms—which doesn't happen often in romantic comedies—is a coup Headland generously attributes to producers Adam McKay and Will Ferrell, and casting director Jennifer Euston.
"I think [the cast] all saw it as a challenge. If you look at these girls, especially in comedies, they're being offered a supporting role as the funny girl or the girlfriend or whatever it is," Headland says. "And so I think all three of them were excited that they would be spearheading a comedy with characters they weren't familiar with."
In some ways, Dunst's type A Regan is the film's most unlikely heroine, a character even Headland says can be "challenging to like," but the actor was always on board with the woman another character describes as "the Hannibal Lecter of women."
"I think it takes an actor with zero ego to play an egomaniac," Headland says. "You have to have no vanity. When we sat down to talk about it, the first words out of her mouth besides 'Hi, I'm Kirsten,' were 'I love her! I love this character!' And this was after the play, where a lot of people were like, 'Bitch from hell!' She really, really got it."
Though she was under no pressure to alter the characters' behavior for her starry cast, Headland confesses that the presence of James Marsden as a groomsman did change one memorable scene. Increasingly attracted to each other's abrasiveness, Regan and Marsden's character find themselves having sex in a restroom.
"Initially it was going to end with her getting a call and basically going back into maid of honor mode and leaving him with blueballs," Headland says. "But once we had James Marsden, I was like, 'You don't just not fuck James Marsden. You see that one through to the end!' "