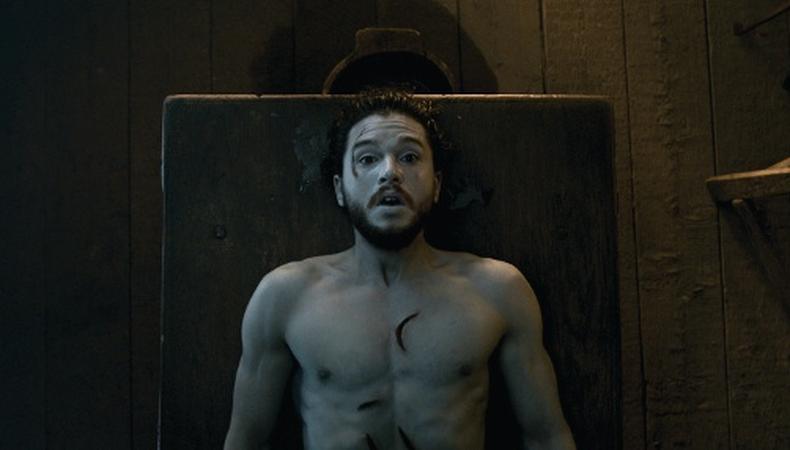 Outstanding Lead Actor in a Drama Series
Rami Malek, "Mr. Robot"
Twitter: @itsramimalek
Hometown: Los Angeles
Representation: William Morris Endeavor
Malek first appeared on our TV screens in a 2004 episode of "Gilmore Girls." Over a decade later, he's delivering one of the most compelling performances on television today. Perhaps it's the intense eyes that make Malek seem so accessible to us as Elliot's audience (writer-creator Sam Esmail's shrewd monologues don't hurt either). But even when Elliot is a mystery unto himself, rattled by capitalistic surroundings that refract through his schizophrenic alter ego, Malek makes his intentions crystal clear. The actor was nominated for a Golden Globe this year for his portrayal of the disturbed hacker and picked up a Critics' Choice Television award. We can't wait to see what he does at the Emmys.
Matthew Rhys, "The Americans"
Twitter: @matthewrhys
Hometown: Cardiff, wales
Representation: William Morris Endeavor
Four seasons in and the Television Academy is finally acknowledging what every fan of "The Americans" already knew: Rhys is a lightning bolt of an actor as Philip Jennings, a recalcitrant Soviet spy scrambling to make all the moving parts of his complicated life fit. After 109 episodes on ABC's "Brothers & Sisters," Rhys has come back into his dramatic own with a vengeance on this FX series opposite his on- and offscreen partner, Keri Russell.
READ: "Matthew Rhys' 1 Character and Multiple Performances"
Outstanding Lead Actress in a Drama Series
Keri Russell, "The Americans"
Instagram: @officialkerirussell
Hometown: Fountain Valley, California
Representation: William Morris Endeavor
Russell's come a long way since her first acting credit, a pushy babysitter in 1992's "Honey I Blew Up the Kid." Many are surprised to know that despite winning a Golden Globe in 1999 for her turn as the titular star of "Felicity," she had yet to receive Emmy recognition until this year. It only took playing multiple characters that transcend the stock femme fatale as stoic KGB agent-turned-American matriarch Elizabeth Jennings to land her a nod.
Outstanding Supporting Actor in a Drama Series
Kit Harington, "Game of Thrones"
Instagram: @kitharingtonn
Hometown: London
Representation: Creative Artists Agency
Harington has been playing Jon Snow for six seasons, but this latest death-defying installment was the first time his performance grabbed the Academy's attention. Harington proved his acting craft built more of the character than a great brooding face, and his sword-wielding work in "Battle of the Bastards" was some of the series' most superb physical work to date.
Outstanding Supporting Actress in a Drama Series
Maisie Williams, "Game of Thrones"
Twitter: @maisie_williams
Hometown: Bristol, england
Representation: William Morris Endeavor
This was a big season for Arya, who finally gave audiences what they'd been waiting for by reclaiming her true name in the House of Black and White after a long journey trying to erase it. Williams proved almost as resourceful onscreen, whether emoting without the use of her eyes or putting the Waif in her proper place on the Hall of Faces. Like Harington, Williams broke out on "GoT," and because work begets work, she's voiced characters on "Robot Chicken," starred in the "Doctor Who" TV series, and now has an Emmy nomination to boot.
Constance Zimmer, "UnREAL"
Twitter: @constancezimmer
Hometown: Seattle
Representation: United Talent Agency
Zimmer has been a presence on our small screens since her guest spots on "Seinfeld," "Beverly Hills, 90210," "Entourage," and "The Newsroom." But it's her starring turn as HBIC Quinn King on "UnREAL," the scripted series about fictional reality competition TV show "Everlasting," that's landed her an Emmy nomination. Zimmer is all power on the show-within-the-show's set, but it's her surprising interactions out of producer mode that add a nuanced layer of vulnerability to the rock-hard shell into which Quinn often retreats.
READ: "9 Questions With…Constance Zimmer"
Outstanding Guest Actor in a Drama Series
Mahershala Ali, "House of Cards"
Instagram: @mahershalaali
Hometown: Oakland, California
Representation: William Morris Endeavor
Ali's first major film release came with David Fincher's "The Curious Case of Benjamin Button," which earned the entire cast a SAG Award nomination in 2009, but "House of Cards" marks the first major recognition for his television work. He brings a heartbreaking but deliberate exhaustion to Remy Danton. Between dealing with the Underwoods and chasing after Jackie (Molly Parker), he's seen enough of Washington's underbelly to know he should leave. We're glad he didn't. As a result, Remy was backed into a corner and we got to watch Ali lace his usually calm demeanor with thrilling flashes of rage. No wonder the Academy put him on their ticket.
Paul Sparks, "House of Cards"
Hometown: Lawton, Oklahoma
Representation: The Gersh Agency
Kevin Spacey's Frank Underwood is defined as much by what he doesn't say to those around him as what he does. And just as the malfeasances lying below the surface of his politically correct veneer would've been lost on someone with a duller sense for it, the role of potential Underwood biographer Thomas Yates could have been a forgettable listener. But Sparks plays him with a grounded realism and a measured recklessness that gives him the emotional balance one needs to go toe to toe with Frank—and with Spacey.
Outstanding Guest Actress in a Drama
Molly Parker, "House of Cards"
Twitter: @themollyparker
Hometown: Maple Ridge, british columbia
Representation: Creative Artists Agency
Before coming into her own as House Whip Jackie Sharp, Parker got her big break on "Deadwood." When Parker spoke to Backstage in 2014 about auditioning to play Jackie, the second season had dropped months prior and she was still just happy her character didn't get killed for opposing the Underwoods. Then came Season 4 and Jackie went even further by going public with Frank and Claire's strong-arming. (Fingers crossed for a fate better than Rachel's!)
READ: "Molly Parker on Opposing the Underwoods on 'House of Cards'"
Want to land an Emmy nomination? Check out our television audition listings!