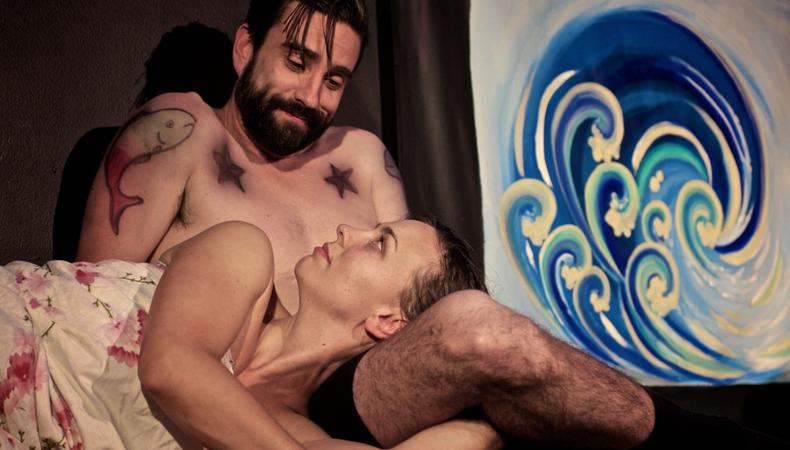 Amid an ocean of snark and a net full of chutzpah, "The Fisherman's Wife" lands in Los Angeles, carrying enough aquatic and erotic similes to beach the Little Mermaid before ravishing her scales off. In its wacky Ensemble Studio Theatre/LA production at Atwater Village Theatre's new Speakeasy space, playwright Steve Yockey's account of marital dysfunction and magical-sea-creature perversion isn't exactly sophisticated, yet it offers neat farcical turns and loopy chortles.
Meet the Minnows, whose barren portside home is suggested by designer John Burton via akimbo risers and painted panels that merge Japanese-painting details with cephalopod anatomy. Title spouse Vanessa (the precise, tickling Sarah McCarron) is reading a Hollywood fanzine as her husband, Cooper (Michael Hanson, a straight-faced stitch), prepares to hit the turbulent waters. His whining need for a farewell in the event that he doesn't return launches a breathless rant from edgily smiling Vanessa, who is "in a terrible mood—forever."
Their breakneck back-and-forth soon reveals that satisfactory fornication is the Minnow's overriding issue. Enter saturnine Thomas Bell (Patrick Flanagan, going for sardonic broke), a "charming, alt.-attractive traveling salesman." His seduction of Vanessa, complete with a scabrous marionette sideshow (designed by Burton and wielded by puppeteers Kevin Comartin and Kevin Riggin) that's a standout highlight, is jump cut with Cooper making a peculiar discovery under the wharf where his boat is docked. Here, Squid and Octopus (Kim Chueh and Gary Patent, working in deadpan tandem), possibly incestuous deep-sea siblings, appear to Cooper as ordinary people in old-fashioned bathing suits; then, without warning, they make him their beachfront bitch. Act 2 brazenly repeats the structure, as traumatized Cooper, who emits Homer Simpson–esque shrieks at the mention of "tentacles," falls for Thomas' curious therapeutic abilities, while rejuvenated Vanessa sets off to avenge her husband's honor. From there on out you're on your own.
Directed by Gates McFadden with unflinching forward propulsion around the cabaret-configured venue, "Wife" resembles a college talent night overseen by Sarah Silverman and Seth McFarlane. The designs feel aptly slapdash, with Derrick McDaniel's lighting and Joseph "Sloe" Slawinski's sound suitably inducing queasiness, although costumer Joe Kennedy might provide Squid and Octopus headgear to correlate with Burton's droll proliferation of undulating tentacles from offstage.
What puts this craziness over are the actors, who achieve a high-water level of mayhem, righteously plowing ahead when the laughs don't come. That indicates the show's liability: Yockey has some bright ideas and a knack for deliberate repetition and well-placed F-bombs, but the relatively shallow content and underused theatrical self-reference warrant another round of rewrites. Still, if "The Fisherman's Wife" seems more like an Adult Swim show than a seafood buffet, area hipsters and Jacques Cousteau fanatics will no doubt take the affable bait.
Produced by Ensemble Studio Theatre/LA at Atwater Village Theatre, 3269 Casitas Ave., L.A. Oct. 25–Nov.24. (323) 644-1929 or www.ensemblestudiotheatrela.org.
Critic's Score: B-