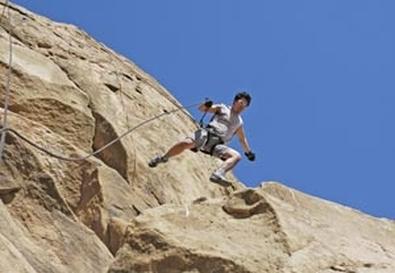 For many actors, maintaining physical fitness is essential to marketability and craft. A gym membership is a fine way to ensure you always have a place to burn calories, but the treadmill and weight machines can get monotonous.
Plus, what actual skills do you gain from hamster-wheel workouts? You might get more bang for your buck by trying your hand at a new skill—or just running up a real hill. Such functional types of exercise—in which you use your mind and whole body as a unit, frequently in approximations of real-life situations—build up your body and your confidence, keeping you in tip-top shape while also mentally keeping you on your toes. As a bonus, the skills you develop can have a direct impact on your performance career. You might even end up putting them on your résumé.
Jason Fracaro took up the Brazilian movement form capoeira two years ago before adding the Japanese defense form aikido to his routine. He found the biggest physical improvement came in his posture, which carried over into his demeanor. When he began training last year at the American Academy of Dramatic Arts in Los Angeles, the balance and flexibility he'd developed transferred easily into his movement classes. And the showy capoeira—a playful mix of music, dance, and acrobatics in which participants try to outdo each other—"forces you to take in what your partner is doing…to listen visually," says Fracaro.
Straight to Work
Scott Dawson is not a ballet dancer, but that didn't stop him from booking the role of a ballet master in an episode of the Fox series "House" earlier this year. He'd trained regularly in sword fighting and other combat styles for several years under Dan Speaker and Jan Bryant at
L.A.'s Academy of Theatrical Combat
. Says Dawson: "My agent pitched me for the role saying, 'He's not a dancer, but he does a lot of sword fighting, so the movement is very similar.' I didn't really have to do any dancing; I just had to look like I could dance." He says his movement training also gave him an "in" to get a manager, Tigertainment Studios' Michael John, a former stuntman Dawson met at the Actors' Network.
New York actor Kendall Rileigh tried out circus arts—including aerial silks, dynamic acrobatics, and trapeze—because "it sounded interesting." It was a natural leap for the former gymnast, who didn't expect it to bleed into her performance career. But, she says, "at least one role I've gotten because I had those skills, and that was Ariel in 'The Tempest' at Theater Ten Ten."
Marine training in rock climbing and rappelling led to acting work for Markell Pool. He has rappelled on film and recently finished a multiepisode industrial for the Army that he booked thanks to his combined military and acting experience. However, rappelling tended to fall under stunts, and he stopped accepting such work when he noticed he "was being treated like a stuntman trying to be an actor as opposed to being an actor who does the occasional stunt." He says his climbing experience has become "more of a conversational piece than anything else."
Confidence Factor
There's more to gain than just physical ability. Jenny Martin has been working
S Factor
classes, a pole-dancing workout, into her fitness routine for the past two years. Though she puts it on her résumé—the same way, she suggests, someone might include tap lessons—she doesn't tend to go out for roles in which the ability to pole dance would come in handy. In addition to strengthening her upper body and core, she says, "I feel like it taught me to carry myself differently, to feel just more confident and not embarrassed about feeling sexy or feminine."
Rileigh says her training improved her "confidence and focus, and most importantly trust, which is something I never thought—[that] sports would impact acting." She adds, "I think they both share a sort of a boldness and a fearlessness. It's also taken me out of my head a little bit more." She currently trains 90 minutes to three hours a week at
Streb Lab for Action Mechanics
in Brooklyn, N.Y.
Martin notes of S Factor, "It's the only class I've ever taken where I don't care about the workout part; I'm just having so much fun that what your body ends up shaping into is a benefit." Rileigh echoes the sentiment: "It's just so much fun! It's like nothing else that I do in my life. It's a time when I can go and have fun and fly and feel like a kid again."
Speaker and Bryant, teaching theatrical combat together for 20 years, confirm such experiences. Speaker says that as students develop their body awareness and trust in their partners and the illusion, "we've seen that confidence factor just skyrocket to the point where they go, like, 'Wow, I could actually really do this professionally.' " Bryant says, "I've seen women come from looking just like they couldn't hurt a fly to looking like they could kick serious ass." As Fracaro posits in praising the benefits of his martial arts training, "Who wants to watch a timid actor?"
Getting Physical
The most immediate benefits you'll experience are, obviously, physical in nature. L.A. resident Pool hones his physique at a popular area hiking spot, Runyon Canyon, running a series of up-and-down hills he calls "the washboard," taking the donation-only yoga classes held at the bottom, and adding in pushups, pull-ups, and crunches—all exercises that use only the body's natural resistance.
From Speaker's perspective: "What better exercise than working out with a big sword? You don't have to mess with weights; just play with swords all day." Dawson says, "I did notice when we were doing a lot of broadsword stuff, I kind of got a little Popeye arms, like, forearms, just 'cause it's a 5-pound sword that you're swinging around." Speaker adds, "Working with weaponry is pretty much a full-body workout, because there's a lot of footwork involved; it works your whole core." Dawson's spouse provides the kicker: "My wife just called out, 'It gives him a great butt!' "
Let the Right One In
What are some options? If you like the water, try surfing, swimming, sailing, kayaking or crew, or water skiing. Outdoor enthusiasts can hike, trail run, ski. Competitive team sports include soccer, volleyball, softball, and roller hockey. For meditative pursuits, consider ice skating, yoga, martial arts, or archery.
Check your area for places to train; most cities have specialized facilities for boxing, gymnastics, and rock climbing, among others. Pool recommends trying a rock gym if climbing piques your interest; it'll have soft pads on the floor and trained staff, and "you can kind of get an idea if you like it or not, 'cause…the difference between the rock gym and the cliff is night and day." With gymnastics and similar activities, you'll definitely want to seek professional supervision and expertise.
Whatever you choose, it's important to open up to new experiences and stay fresh by challenging yourself. "As an adult, you have so been trained to think that your body is sort of an alien object that you have to control as opposed to a place where you live," says Bryant, while Martin notes, "In day-to-day life, women are so self-conscious of how they look and move, but in class it is dark and you are in your own world, free to be as open or closed as you want. To find that freedom is an amazing tool."
Pool wraps up with this thought: "It's absolutely vital for people to take their special skills and market themselves as that: This is what separates me from everyone else."