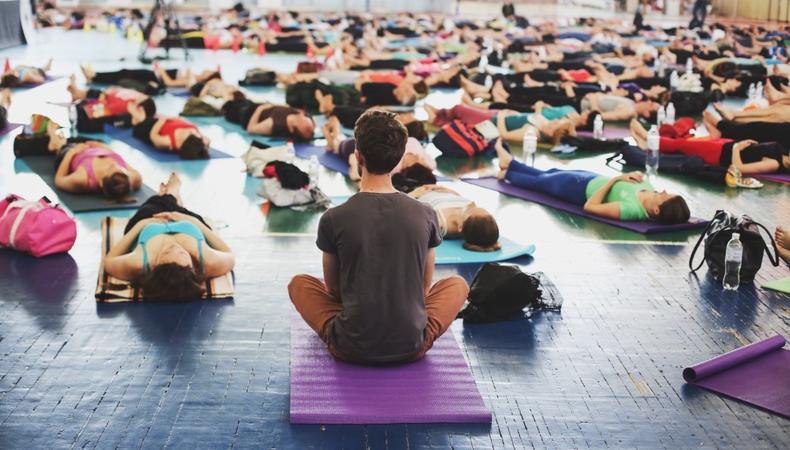 When you're a performer, pounding the pavement is a full-time job even though it doesn't pay the rent. Actors, singers, and dancers everywhere are searching for the perfect gig that will let them work on a flexible schedule so they can make bank and audition regularly. And while waiting tables can be a trip of its own, a huge number of Broadway babies have turned to the fitness industry in the last few years.
It makes total sense: peak hours in the fitness world (early mornings, lunchtime, and evening/weekend classes) are completely opposite of most casting appointments. And when schedules do clash, it's usually relatively easy to sub out a fitness class at the last minute. Plus, what better way to stay in shape for auditions than to teach fitness?
I've been working in the fitness industry for over a decade, weaving in and out for tours, gigs, and growing my family. I started out at big-box gyms and now work for boutique studios like SoulCycle and DailyBurn.com. I'm here to tell you how to break into the biz, grow a following, and thrive in fitness, all while still pursuing your dream of being onstage.
Here's the good news: As a performer, you already have a lot of what people are looking to hire: star quality, a big personality, and (most of the time) above-average musicality. Go you! But there are still a few things you need to do to break into the fitness game:
1. Know your strengths and use them to decide what to teach.
If you're a dancer, there are a slew of cardio dance places out there (AKT In Motion, Dancebody, Body By Simone, Crunch, etc). If you love cycling, you can get your groove on at SoulCycle, Flywheel, and more. There are a ton of places you can find your (semi-permanent) home but for now, just do your research and build your skills. A great way to see what's out there is to use ClassPass. It's available in most major cities now and is incredibly economical!
2. Start thinking like a teacher.
Since you're already taking lots of classes for research, you have plenty of opportunities to notice how people command the room. Pay attention to how your teachers manage class. What's the progression of movement? How do they cue the class? Is the music too loud/not appropriate/totally awesome? You can learn so much by watching others before you move to the next step.
3. Get certified.
Most gyms will require it if they're worth their salt. It will run you a few hundred dollars and take as much time as you need to study for the exam (I studied for about eight weeks), but it gives you tremendous credibility and shows future employers you take people's bodies seriously (which you should; teaching is about them, not you). The most popular organizations for certification are ACE (American Council on Exercise), AFAA (Athletics and Fitness Association of America), and NASM (National Academy of Sports Medicine). If you're going for a cycling, yoga, or other specialized modality, find out what the certification requirements are so you can plan ahead.
4. Find a mentor.
Working with a seasoned professional on all the nuances of teaching/training will give you a huge advantage in a very saturated and competitive market. Much like the arts, fitness is a small, incestuous world. Your mentor can give you a leg up on the networking side of things and help you navigate the business side while also guiding you in finding your own voice as a leader. (I coach newbie instructors on how to teach fitness if you're in the mentor market!)
READ: The Dancer's 5-Minute Workout
So. You know what you want to teach. You have your certification, nailed down a job, and are prepared to kick butt. Not so fast. It's only fair that I give you some cons as well as the pros. This isn't to deter you from pursuing fitness as a side hustle, but rather to inform so you can be prepared and know next steps.
1. Your schedule may be funky.
As a newbie, you'll probably be asked to sub a lot and might not have a dependable schedule for a while. Stick with it, pimp your class to every person you meet, and it will smooth out eventually. This is where you'll need to be most flexible.
2. Everyone pays differently.
Some places pay by the hour, some pay based on the number of students in class. Find out what the deal is so you're not surprised and run the numbers before you say yes. You're doing this to supplement your income between gigs so it has to make financial sense.
3. Some certifications aren't forever.
Most require that you take continuing education credits and recertify every two years, so there upkeep and minor expense are involved. You also have to be certified in CPR/AED, but some establishments provide that training for you for a discount or even free of charge.
4. Social media has to happen.
The more visibility you have, the better. Get into the habit of posting regularly. Post about your classes, your new time slots...whatever it takes. And don't worry if you feel like you're annoying—the average person sees the same thing seven times before they will click on it or take action. This might not feel like a con, but it is added work and has to be consistent!
I hope you feel informed after reading this and that I haven't scared you away from the prospect of working in fitness! It's a wonderful place to be between gigs, full of positivity, encouragement, and spandex. I'm here if you have any questions and wish you the best of luck!
Get all of your survival job and money questions answered by peers and experts on the Backstage Community forums!
The views expressed in this article are solely that of the individual(s) providing them,
and do not necessarily reflect the opinions of Backstage or its staff.