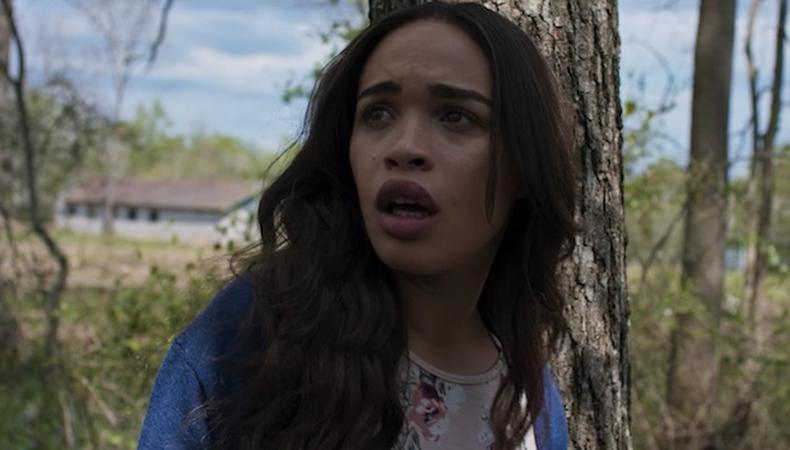 While writing this piece, I am looking at a photo on my phone that I took in Baton Rouge, Louisiana. It is a picture of a little girl. She is about three years old, peeking out from behind the curtains of a motel room window.
I took the photo while we were filming a scene for the movie I wrote, "Hover," outside the room she lives in with her mother, father, older sister, and their dog. I smile toward her, wave, and take the photo. Her older sister is sent out of the room, so I come over for a chat. She says she's in time out. She wants to be an actor and she asks me if that's what I am. I have always felt comfortable saying I am an actor. That has been a part of my identity since I was 15. "Yes, I am," I tell her, but then I pause, hesitating to add that I also wrote the movie we're working on. My first feature film. Writing it was hard, lonely, emotional, and exciting—so why am I hesitating to claim it?
To find the answer to that question, we will have to go back in time: I'm lying on the floor of my one-bedroom apartment in Hollywood, scribbling an outline for a short film into a notebook. I'm exhausted from all of the auditions and screen tests—the meetings and deal memos, sign-in sheets and breakdowns. I'm tired of getting down to the final two actors and missing out (whilst simultaneously unable to pay my rent).
Maybe everything I tried to escape in Australia had caught up with me. I left because of its lack of diversity. Not the country, but in its film and television. I felt out of place. It was a painful realization that changed everything.
At age 19, I visited Los Angeles and found a mecca of opportunity. I flew home feeling inspired. I soon met with my agent to discuss possible meetings, and she told me there was no one to meet with; all the casting directors in Australia knew me and loved me. I'd been on and off TV since I was 15, but there was no work for me.
That conversation felt bad, but it also signified a need for change. I had a choice: stay feeling bad or make a move. I sobbed on my dad's shoulder at the international departure gate. He had to force me through the doors; he knew how much I wanted this.
Years later, I have reached another apex on the floor of my bedroom, writing a part for myself because I had exhausted all other avenues. It would be more work, but it would relieve me of the pressure to acquire my value from the industry. It would be in my own hands. No matter how much I had wanted to emulate actors before me, it wasn't going to happen that way. I had to write it myself.
So why did I hesitate to call myself a writer? I think it's because I didn't feel like I wrote the film. I felt like it wrote me. "Hover" created a world for me to play in when no one else would. Writing the script reinvigorated my love of the work and the craft and the industry. Getting to experience an entire crew setting lights and cameras for an idea I made up was the most rewarding experience of my career thus far. Working opposite actors as they recited the words I had written, making costume decisions, prop decisions, seeing it come to life—it was incredible.
My struggle to find my place is the biggest gift my career has given me. I've learned that the way forward isn't always the way you think. Don't worry about emulating other's paths. Fitting in doesn't encourage creativity. I will always be standing in front of those departure gates. Who knows what my next destination will be?
After a pause, I said, "I wrote this movie too." The little girl's face brightened. "You mean you made up the story and everything?" she asked. "Yep! I made up the story and everything."
Previously of "The Last Man on Earth" and "White Famous," Cleopatra Coleman wrote, stars in, and executive produced Syfy Films' "Hover," available on VOD and Digital HD today, July 3.
Want to break into indie film? Check out Backstage's film audition listings!