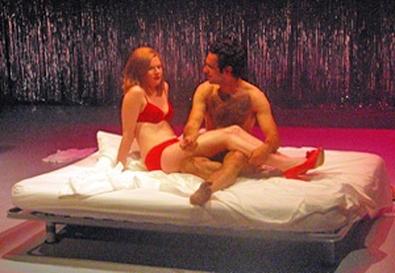 It takes only a cursory listening to Toshiki Okada's play "Five Days in March" to recognize the urbane hipster dialect. Translated from Okada's Japanese script by Aya Ogawa, it is hard to know if this frolicking tale set in the Shibuya neighborhood picked up its disinterestedness in translation or if the cadences of egocentric lollygagging have indeed become a lingua franca for the 21st century. Regardless, this snappy staging by Dan Safer illuminates the allure of Generation Y's disconnected abandon, even if it revels too much in its own postmodern flourishes.
The title refers to a four-night stand between two strangers named Minobe (Will Petre) and Yukki (Kourtney Rutherford), who meet at a club and then spend five passionate days in a hotel. Charmingly, the two parties agree upon this interval of time beforehand, mostly out of financial necessity, and barely notice that the American invasion of Iraq (in 2003) is also going on. Local war protests are mentioned in passing by the tertiary cast members, who relate the tale of the lovers as their friends or sometimes, exhaustingly, as meta actors in a stage production of "Five Days in March." Yet Okada's point isn't entirely lost in this clunky fourth-wall demolition, and Safer's eccentric gesture choreography, in which characters cross their legs or wave in sync, aptly reflects the characters' ability to shut consequential things out by focusing on the routines of their own lives.
Petre and Rutherford work well in the space between detached commentary and their aloof but genuine exchanges with each other. Out of the rest of the cast, the screechy Heather Christian and the wide-eyed Chris Giarmo assert themselves best on the rambling, elliptical script. Christian deserves especially high marks for her peppery rendition of David Bowie's "Life on Mars," which she belts wearing a space suit, dizzily staged against a psychedelic projection of the stars and the red planet.
Presented by La MaMa E.T.C. in association with Witness Relocation at La MaMa E.T.C., 74A E. Fourth St., NYC. May 6–23. Thu.–Sat., 7:30 p.m.; Sun., 2:30 p.m. (No performance Sun., May 16; additional performance Sat., May 22, 2:30 p.m.) (212) 352-3101, (866) 811-4111, www.theatermania.com, or www.lamama.org.