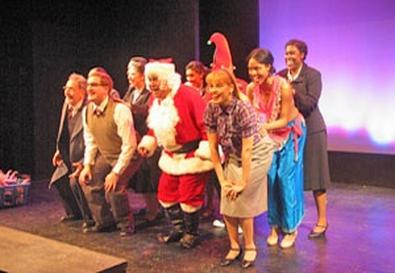 Are we ready for a revival of "Flahooley," or should we settle for a re-release of the original cast recording? This must be one of the finest unheralded Broadway scores, with lyrics by E.Y. Harburg and music by Sammy Fain. As for Harburg and Fred Saidy's book, despite jolly moments, its characters are flaccid, its politics barefaced, and its story runs out of steam. This new adaptation by Keith Lee Grant (from Art Pearlman's edited script) compresses two acts into one 90-minute, intermissionless, good-natured evening and features delightful puppets designed by Daniel Fergus Tamulonis as well as colorful video by Edward Corcino.
While many references are outdated (Nixon, McCarthy), the show's satiric thrusts at the excesses of capitalism ("I'm a businessman; 'free' is not in my vocabulary"), its biting jabs at overzealous government spies and loyalty oaths, and its almost manic glee at dissecting American consumerism ("Jump, little dollar, jump") seem as relevant today as they were in 1951, when "Flahooley" opened—and summarily closed, lasting but 40 performances. Its fast flop was a shock, as out-of-town tryouts had garnered good reviews and the Harburg-Saidy combination had been responsible for two hits, 1944's "Bloomer Girl" and 1947's "Finian's Rainbow." Not even the presence of Barbara Cook and Yma Sumac, making their Broadway debuts, nor the Bil Baird marionettes, nor its superb score could overcome mixed New York notices.
The musical takes place in the fictional town of Capsulanti, home to B.G. Bigelow Inc., the world's biggest toy factory. Employee Sylvester Cloud has created a talking doll named Flahooley (it keeps saying "dirty Red") that promises huge profits until it's knocked off by a competing firm. Meanwhile, an Arab sheik appears with a broken magic lamp in need of repair. Sylvester unleashes the genie trapped inside, who, as he's claustrophobic and doesn't want to return to the lamp's confines, agrees to help Sylvester not only with manufacturing the dolls but also with his love life. The show's amiability lightens its underlying bitterness.
Adapter Grant is also the director and choreographer, adding as much movement as possible within the confines of the theater's small space. The cast is cartoonishly frantic, with the exception of Primy Rivera, who has a blast as both the worried sheik and the genial genie. The three-piece combo, under the musical direction of Michael Roth, adds substantial support.
On hand are irresistible tunes such as "He's Only Wonderful" and "The World Is Your Balloon" and pithy lyrics that urge us all to become puppets ("Why worry if you're bald or hairy/To hell with your pituitary") or wax slyly poetic, as in the genie's "The springtime cometh/Hummingbird hummeth/Little brook rusheth/Merry maiden blusheth/Ice man goeth/For thy beauty bloweth/Spring to me." Nevertheless, though lighthearted and pointed as it aims for an adult's mind and a child's heart, "Flahooley" remains a curiosity.
Presented by the Theater for the New City and the Harlem Repertory Theatre in association with the Yip Harburg Foundation at Theater for the New City, 155 First Ave., NYC. Dec. 20–Jan. 3. Thu., 8 p.m.; Sat. and Sun., 2 and 8 p.m. (Sun., Jan. 3, at 3 p.m. only.) (212) 868-4444 or www.smarttix.com.