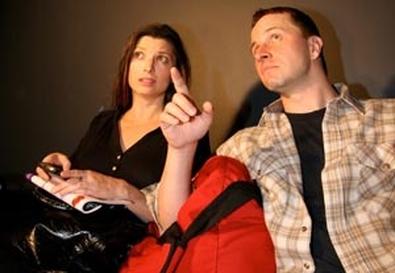 Though short—only 55 minutes—"Flight" offers a potent mix of writer-director Tim Aumiller's trenchant script and a pair of terrific performances.
It's past midnight on Thanksgiving eve, and all flights from Chicago's O'Hare Airport are canceled due to icy weather. In the lounge, Hank (Todd Lawson), a West Virginia contractor, and Paula (Brandy Burre), an amazingly high-strung New Yorker, share a tiny bench. At first Paula strongly resists chatting with Hank. But as Hank tells her a couple of deeply affecting personal stories, Paula slowly opens up to him. Only then does she discover that Hank is quite a bit more complicated than his easy charm originally lead her to believe.
As directed by Aumiller, the two actors are perfectly matched, both to their roles and as foils for each other. Burre gives the more outer-directed performance, and she plays it pitch perfectly. But Lawson steals the show. He plays Hank close to the vest, never tipping his hand, which makes the play's ending all the more satisfying.
Presented by No Hope Productions as part of the New York International Fringe Festival at the Studio
@
the Cherry Lane Theatre, 38 Commerce St
.,
NYC. Aug. 14
–
27. Remaining performances
:
Thu
.,
Aug. 20, 2 p.m
.;
Sat
.,
Aug. 22, 6:15 p.m
.;
Thu
.,
Aug. 27, 5:15 p.m
. (
866
)
468-7619 or www.fringenyc.org
.