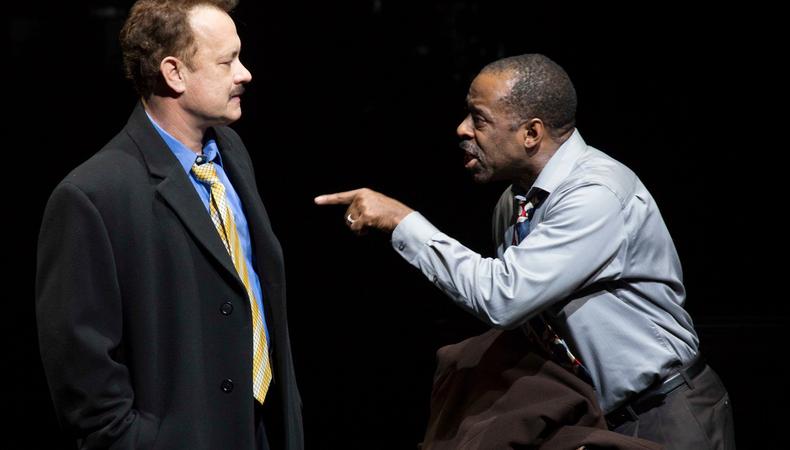 Nora Ephron's posthumously produced "Lucky Guy" is a breezy but thin account of the life and career of New York City reporter and columnist Mike McAlary. Film star Tom Hanks, in his Broadway debut and first stage appearance in more than 30 years, displays potent theatrical technique and dispenses the requisite charisma as the bombastic newspaper flack. Audiences primed for seeing Hanks in the flesh probably won't care about the flimsiness of his vehicle and the reams of rat-a-tat-tat narration that shackle it.
Ephron begins in 1985 with Long Island tabloid Newsday's attempt to establish a Manhattan-based edition. McAlary, in his late 20s, a sportswriter for the New York Post, is hired as a police reporter. His work impresses editor John Cotter, especially a scoop about a police scandal that culminates in one officer's suicide after he tells McAlary too much. When columnist Jimmy Breslin decides to jump ship at the Daily News for Newsday, Cotter suggests McAlary, who idolizes the famed writer, as his replacement. McAlary acquires a flamboyant lawyer, Eddie Hayes, to drive up his price so he can move wife Alice and their two small kids out of a Brooklyn apartment to a large house in Bellport, L.I. McAlary's meteoric success continues as his ego swells, but when he drunkenly crashes his car, his good fortune and Act 1 end. Act 2 details his difficult recovery and eventual return to the News, where he runs into trouble by wrongly asserting that a rape case is bogus, then gets hit with a cancer diagnosis. His career is revived by breaking the story of Abner Louima, a Haitian immigrant brutally sodomized with a mop handle by racist cops. McAlary gets the Pulitzer for it, but cancer gets him at only 41.
Director George C. Wolfe keeps his 18-member cast flying through all the static direct address and effectively captures the macho heterosexuality of this "story about guys, guys with cops, cops with guys." Hanks gives McAlary bluster, size, and as much dimension as he can, though the 56-year-old actor never evokes his character's heedless youth, no doubt a contributing factor to questionable choices. Doing vivid work are Peter Gerety, as the crusty, gleefully alcoholic Cotter; Courtney B. Vance, as the tightly wound Hap Hairston, McAlary's other primary editor; and Christopher McDonald, as the colorfully outsize Hayes. Maura Tierney is a warm, supportive presence as Alice, while stalwarts such as Danny Mastrogiorgio, Peter Scolari, Richard Masur, and Brian Dykstra do their best to enliven stereotype.
Jules Fisher and Peggy Eisenhauer light the show like a noir film, and David Rockwell's set—low-tech in the various pieces that actors move on and off but high-tech when accommodating Batwin + Robin Productions' flavorful projections—serves Wolfe's need for speed. Toni-Leslie James' subtle period costumes complete the picture.
Surprisingly, Ephron seems more taken with the milieu than the man, who comes across as a rather standard-issue every-guy-for-himself narcissist. Still, suffused in her palpable affection for a bygone era, peppered with her trademark wit, and sporting Hanks, "Lucky Guy" should do just fine.
Presented by Colin Callender, Roy Furman, Arielle Tepper Madover, Roger and William Berlind, Stacey Mindich, Robert Cole and Frederick Zollo, David Mirvish, Daryl Roth, James D. Stern/Douglas L. Meyer, and Scott and Brian Zeilinger, in association with Sonia Friedman Productions and the Shubert Organization, at the Broadhurst Theatre, 235 W. 44th St., NYC. April 1–June 16. (212) 239-6200, (800) 447-7400, or www.telecharge.com. Casting by Jordan Thaler/Heidi Griffiths.
Critic's Score: B-