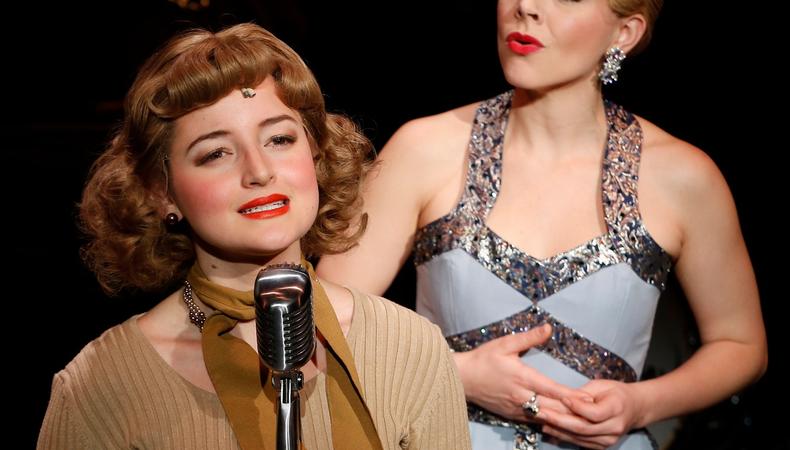 Patti Page should have written an autobiography, and not just because her small-town American origins and rapid rise to the top of show business make a sweet and inspiring story. Her career heyday in the early 1950s provides the perfect centerpiece for an examination of that relatively brief post–big band, pre-rock era in the country's musical progression. But unless Page, now 85, writes that book, this beautifully produced 95-minute musical will have to do. Greg White's script, drawing on interviews with Page, covers most musical aspects of the singer's story, but it falls a bit short as biography.
Born Clara Ann Fowler in Claremore, Okla., one of 11 children of a railroad man, she sang country songs on a Tulsa radio station in her teens. She continued to draw on the country repertoire for her pop hits, including the song for which she will long be remembered, "Tennessee Waltz." Jack Rael, a touring bandleader, discovered her in Tulsa, took her to Chicago in 1948, and signed her with Mercury Records. He became her manager, did just about everything for her except the actual singing, and created "Patti Page." For a time she was the best-selling recording artist of either sex, with 14 million-sellers in the 1950s, including "Mockingbird Hill," "Detour," "Allegheny Moon," and "Old Cape Cod." All are nicely rendered here, among 28 numbers. The eight-piece onstage orchestra, led by Sandra Thompson, contributes mightily to this concert. Corey Martin's period costumes, including such hoots as poodle skirts, New Look street dresses, and elegant over-the-top ball-gown performance clothes, are stunning.
But as we find in a 1965 visit Clara Ann makes to her old radio studio and in a series of flashbacks, she was unhappy being Patti Page and felt that she lost herself in the process—though it's never clear what she would rather have done or been, never mind why she's still performing and recording today. White, who also directed, presents this dichotomy by means of a bifurcated leading lady. Haley Jane Pierce plays Clara Ann Fowler, while Lindsie Vanwinkle portrays the icon she became. This at least solves the problem of singing double-tracked harmony with herself. (Page was the first to record this way.) Four actors are effective in a variety of other roles, with Justin Larman getting the most stage time as Rael. Pierce sounds more like Page when she sings, and Vanwinkle has Page's hand gestures and other stage movements down pat, but neither woman looks particularly like her subject and their height disparity sometimes breaks the illusion that they are two sides of the same person.
Page's problematic marriage to choreographer Charlie O'Curran is mentioned in a perfunctory paragraph about the positive influence he had on her career. Their two adopted children are dismissed in a post-show coda. Page's breakup with Rael after almost 50 years is barely discussed. The fact that he drew 50 percent of her salary for all those years isn't mentioned at all.
Presented by Front Page Productions and Square 1 Theatrics, in association with the University of Central Oklahoma, at 59E59 Theaters, 59 E. 59th St., NYC. Dec. 21–30. (212) 279-4200, www.ticketcentral.com, or www.59e59.org.
Critic's Score: B+