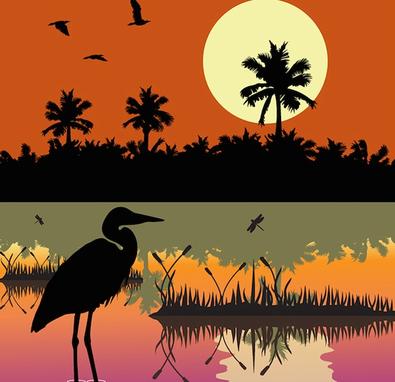 Unless you've dreamed of being a Disney princess your entire career, you probably haven't considered moving out to Florida to practice your craft. But the southeastern state has much more to offer—just take it from these casting directors who call it home.
For Artios winner and Primetime Emmy nominee ("Recount") Lori Wyman, casting in Florida couldn't be more satisfying. Starting at a young age, Wyman worked on "Miami Vice," which she says was a great training ground. With her credits including "Up in the Air," "Graceland," and "Burn Notice," Wyman says she's been extremely fortunate to sustain a working career in North Miami Beach.
Fellow casting director Ellen Jacoby has enjoyed the same, recently doing Miami casting for Jon Favreau's SXSW selection "Chef" and the upcoming "Entourage" film. Though she's a Florida native who went to school in New York, Jacoby says, "it must have been something inside me" that made her move back. "I came down here during the winter up north and I said, Oh no, I don't want to go back up there and walk through the snow and slush."
Weather aside, both Jacoby and Wyman agree the industry in Florida—and the state itself—has changed drastically throughout their careers. "When I opened up my business there were no restaurants, no clubs—nowhere you could take a client for lunch or dinner. With the entertainment industry coming here, everything just blossomed," explains Jacoby.
For actors considering moving to Florida, the established CDs discuss three major differences between Florida and the East and West Coasts that you should know.
The Talent Pool
"We have a lot less people to pick from," says Wyman—the most notable difference between the Florida industry and the New York and L.A. markets. "Now, the reason that something like that is good is because I know who all the good actors are in the state of Florida. I know the top 40 or 50 people in all the different categories."
The Professionalism
Just because you're in Florida doesn't mean professionalism goes out the window, according to Jacoby. "I did casting in L.A. a couple of times and you walked into the waiting room and everyone was quiet and thinking about what they were doing. Sometimes you can walk into a casting here and everyone's gabbing away like it's a coffee shop; we encourage our actors to take it seriously, because eventually you're probably not going to stay here, you're gonna have to go to New York or L.A."
The Representation
The last major difference Wyman wants actors to be aware of is the ability to gain representation in Florida. "There are a lot of actors in New York or L.A. who don't have an agent yet, whereas here you're pretty much guaranteed that you can get an agent if you're a good actor and you have a good résumé and you submit it," she says. "You could be a really great actor and send out your résumé to 20 agents in New York and nobody wants to meet you, whereas here we wouldn't have that."
If you're looking for a less competitive but quality market, Florida might just be the right place to plant your acting roots. "You can make a living in Florida," encourages Wyman, "but you can't sit back and wait for it to come to you."
Inspired by this post? Check out our Miami audition listings!