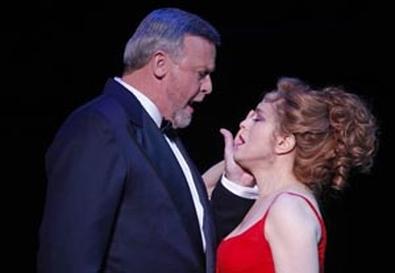 "Follies" is the Holy Grail of the American musical theater. Those who saw Harold Prince and Michael Bennett's legendary original 1971 Broadway production (I am not one) generally insist that nothing will ever equal it. Of course, that doesn't stop people from trying. I've seen no fewer than eight attempts. It is always a pleasure to encounter James Goldman and Stephen Sondheim's woundingly beautiful, vibrantly theatrical meditation on mortality, examining two unhappy marriages in the context of a performers' reunion. But though the Kennedy Center is to be commended for lavishing the necessary funds to present this expansive work properly, director Eric Schaeffer's wham-bam-thank-you-ma'am approach too often keeps complexity at bay. This is a "Follies" functioning at only a fraction of its power.

Schaeffer's insecure overkill is regularly apparent. Practically every important scene seems to be played downstage center. There are too many indiscriminately hovering showgirl ghosts. Costume designer Gregg Barnes' sexy red dress for Sally is far too sophisticated and stylish for this depressive and naive suburban housewife, though Bernadette Peters does look smashing in it. Linda Lavin's undeniably exciting and accomplished "Broadway Baby" is staggeringly inappropriate to what would have been Hattie Walker's period performance style. The gifted Jan Maxwell is allowed to deliver Phyllis' biting contemplation of divorce, "Could I Leave You?," on a steadily rising incline of undifferentiated rage that's as unilluminating as it is impressive. Set designer Derek McLane's transition into the famous "Loveland" sequence is a coup de théâtre that requires Schaeffer to stage a chaotic eight-way confrontation among the principals and their young selves in a straight line at the lip of the stage, a physical configuration as wrong for the moment as any could possibly be. A lone showgirl ghost is allowed to leave the theater and shut its doors behind her. It's a striking final image, but "Follies" does not end in exorcism; the principals' ghosts remain behind. Meaning is consistently sacrificed for transient effect.

The only relationship among the principals that rings true is the friendly regard between Phyllis and Danny Burstein's Buddy. Ron Raines' one-note, nasty Ben would have pulled a Ron Perelman on Phyllis years ago and is sung with stentorian heaviness. Peters is much too pulled-together for Sally, never convincingly on the mental brink, not even during "Losing My Mind," and her careful singing uncomfortably elongates "In Buddy's Eyes" and goes AWOL in soprano chirping during "Too Many Mornings." Peters' occasionally cutesy line readings undermine Burstein's touching Buddy, causing, for example, an inappropriate laugh on his anguished "What the hell do I see in her?," which is now the unfortunate lead-in to the tortured "The Right Girl." Maxwell is always honest and appropriately dry as Phyllis, but she misses the character's rarefied Upper East Side airs. As their young ghostly counterparts, Nick Verina (Ben), Christian Delcroix (Buddy), Kirsten Scott (Phyllis), and Lora Lee Gayer (Sally) struggle to make an impression, not helped by their bland costumes.

Elaine Paige gets the good-time-broad part but not Carlotta's glamour and spends so much time acting the lyric of "I'm Still Here" that she dangerously distorts the song's shape. A halting Régine seems overwhelmed as French chanteuse Solange LaFitte. Faring better are Susan Watson and Terrence Currier's charming Emily and Theodore Whitman, a married dance team; Rosalind Elias' elegantly authentic and well-sung operetta star Heidi Schiller; and especially Terri White's galvanizing Stella Deems, effortlessly blasting out "Who's That Woman?" with snap and style while tapping up a storm.

Warren Carlyle's disappointing choreography fails to find the resonance in that iconic number, however, and also commits the unpardonable sin of making a nondancing star look foolish in "The Story of Lucy and Jessie," stranding an uncomfortable Maxwell in a sea of sliding and popping Jack Cole chorus boys who should be sent back to the 1950s where they belong.

"Follies" rarely has the same script or score from production to production. One thing that hasn't changed, though, is a realistic directorial approach that scraps the surreal, dreamlike quality of Prince and Bennett's staging, something intended to elevate the proceedings into a mythical embodiment of the crumbling American dream. Personally, I'm ready to see someone try that again. But for those who've never made this masterwork's acquaintance, a flawed production is better than none.

Presented by and at the John F. Kennedy Center for the Performing Arts, 2700 F St. NW, Washington, D.C. May 21–June 19. Tue.–Sat., 7:30 p.m.; Wed., Sat., and Sun., 1:30 p.m. (800) 444-1324, (202) 467-4600, or www.kennedy-center.org. Casting by Laura Stanczyk Casting.