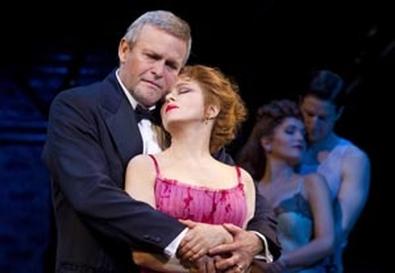 Director Eric Schaeffer deserves credit for working hard to address the numerous shortcomings of his Kennedy Center production of Stephen Sondheim and James Goldman's towering musical classic "Follies." Performances have been retooled, staging and pacing tightened, misconceived choreography redone, misguided casting changed, and a much-criticized red dress has vanished. As a result, the show's potentially vast emotional power, smothered in its
initial Washington, D.C., run
, has begun to emerge. Unfortunately, problems remain. For those well-acquainted with the work, the result is a cruelly tantalizing miss. For audiences unfamiliar with "Follies," this production may prove more satisfying.
The story of two unhappily married middle-aged couples attending a 1971 reunion of Broadway musical performers, "Follies" is an ensemble piece. Schaeffer does star Bernadette Peters no favor by focusing this production too much on her role, the obsessive and delusional housewife Sally Durant Plummer, who's been married to one man while pining for another for 30 years. Peters, who has completely reworked her performance since Washington, is not helped by the cutting, rewriting, and restructuring done to Goldman's original 1971 text, which strips the manic part out of this manic-depressive character. She chooses to play it woeful, weepy, and scared, and though this resourceful, hard-working performer has repressed her trademark cuteness and finally found a persuasive emotional through-line for Sally, the result is a less interesting character. Peters is still uncomfortably challenged in her singing, particularly in her upper register, and she now delivers the iconic "Losing My Mind" with far too much fussy and phony psychological naturalism. As famous politician Ben Stone, the man Sally wants, Ron Raines has lightened up in both his acting and singing to good effect, but the work has a pasted-on quality, never believably organic.
Fortunately, Jan Maxwell and Danny Burstein are dynamite as Phyllis, Ben's socialite wife, and Buddy, Sally's lovesick salesman husband. Maxwell has added a touch of Upper East Side frost and builds Phyllis with precision, pulling back from her former swamping anger in "Could I Leave You?," which is now incisive and harrowing. Burstein was wonderful the first time, and he has found even richer emotional insights. He is devastating in "The Right Girl," even though he must contend with performing the number after a momentum-killing, ill-advised intermission while trying to disguise the fact that he's not a dancer, which Warren Carlyle's rudimentary moves make impossible. The choreographer does better by him, though, in "The God-Why-Don't-You-Love-Me Blues," which Burstein turns into the smashing highlight of the night. Phyllis' "The Story of Lucy and Jessie" is entirely new and somewhat improved, but Maxwell still must work too hard in it, ending with a shouted "Yes!" that makes it sound like Phyllis just scored a touchdown.
Elaine Paige has made the damaging choice of ending "I'm Still Here," TV star Carlotta's paean to her hard-won survival, in a place of resentful anger. Terri White is still terrific belting and tapping her way through "Who's That Woman," but Carlyle's wan choreography is too inconsistent in its use of mirror images and throws away the Proustian moment when past and present converge. Rosalind Elias and Leah Horowitz contribute a haunting "One More Kiss," and Susan Watson charms again as dance-team member Emily Whitman, opposite a new husband, the equally charming Don Correia, in "Rain on the Roof."
Also new to the cast are Jayne Houdyshell, as Broadway belter Hattie, and Mary Beth Peil, as French cabaret artist Solange. Houdyshell hits "Broadway Baby" out of the park just as Linda Lavin did, but Houdyshell does it in a way that's true to character. Peil is a huge improvement over the shell-shocked Régine, but she undermines herself by making Solange a slinky chanteuse rather than the peppy music hall performer that "Ah, Paris!" demands. Schaeffer's restoration of the trio ending to these performance numbers brings a welcome touch of surrealism to the proceedings and lands brilliantly.
Schaeffer is unfortunately locked into set designer Derek McLane's cheesy and inappropriate transition into "Loveland," and I imagine he's also stuck with that ever-morphing script, a neat trick considering that Goldman has been dead for nearly 13 years. (Where did Ben's reference to "Masterpiece Theatre" come from, and why can't it go back there?) Still, Jonathan Tunick's original 28-piece orchestration sounds grand under James Moore's disciplined baton. As I left the Marquis Theatre, I kept telling myself: "Be grateful. It could have been a lot worse."
Presented by the John F. Kennedy Center for the Performing Arts, Nederlander Presentations, Adrienne Arsht, HRH Foundation, and Allan Williams at the Marquis Theatre, 1535 Broadway, NYC. Sept. 12–Jan. 22. Tue., 7 p.m.; Wed.–Sat., 8 p.m.; Wed. and Sat., 2 p.m.; Sun., 3 p.m. (No performances Tue., Sept. 13, and Wed., Sept. 14, 2 p.m.; additional performance Sun., Sept. 18, 8 p.m.) (877) 250-2929 or www.ticketmaster.com. Casting by Laura Stanczyk Casting.