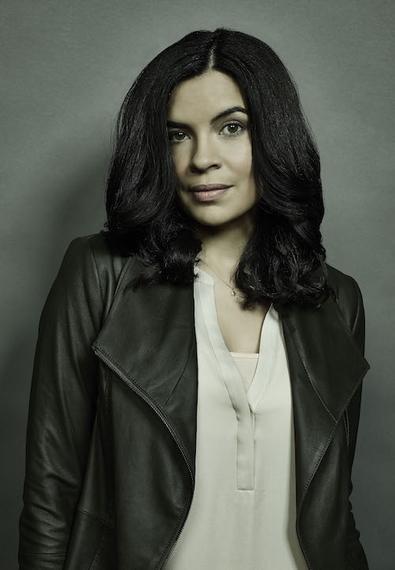 With the return of "The Following" March 2, audiences embraced a new but familiar face: actor Zuleikha Robinson. Known for playing powerhouse women on shows such as "Covert Affairs," "Rome," and "Homeland," Robinson joined Season 3 of Fox's hit show as the kind-hearted love interest to Kevin Bacon's fiery Ryan Hardy. The actor talks to Backstage about her favorite roles, her rapidly rising career, and why "sticking with it" was a decidedly good idea.
On playing the bad guy.
Robinson famously played journalist (and Abu Nazir sympathizer) Roya Hammad on "Homeland," a role that, the actor says, still raises eyebrows with the show's fans. "I guess people don't recognize me very often, so I'll meet people and spend a little time with them and then suddenly it will come up somehow, and I see their faces change. Like, 'Wait a second, you played Roya? Whoa, whoa, who am I talking to right now?' I do like to play the darker characters, I don't really know why."
On falling in love with a role.
From the mysterious Ilana Verdansky on "Lost" to sorceress Amara on ABC's short-lived "Once Upon a Time in Wonderland," Robinson's roles have spanned a variety of genres and time periods. Though the actor has enjoyed every one of them, some, she says, have stuck with her longer than others.
"There are a couple of times in my career where I've had a really hard time letting go of characters. One in particular—on 'Rome'— for some reason…[Gaia] was so different for me. She's such a survivor. I remember one of the last read-throughs I felt like I was going through a break up; I got a little emotional! Some of the other actors looked at me like I had two heads, like, 'What's wrong with you right now?' and I was, like, 'This is really hard!' She wanted to climb to the top, and she didn't care who she stepped on to get there, but then there was this other part of her that was so broken. That's the person I fell in love with."
On taking yourself out of the equation.
Robinson says her career took a big turn after landing "Homeland," an experience that opened her eyes to some truisms about the business. "The audition process for 'Homeland' was really interesting for me. I had just gone through an awful breakup and this was my first audition in a while, [and] I really wasn't ready. I went in to tape it, and I went to my acting coach afterwards, and even she was, like, 'Wow, this was not your best work.' I was devastated because I love the show so much! But it was a miracle that two or three weeks later I got a call to come back in. I was shocked. I couldn't understand how or why they called me back. I remember asking one of the producers afterwards, 'Why did you bring me back in?' I just couldn't understand it at all. And he just said, 'There was something so raw about your performance, even on your tape…' I guess it reinforced that when things are right, they happen for you. You know, we've all struggled. I've fought so hard for things and I haven't gotten them, but this one just worked in my favor.
"Before that part, just like any other actor, I mostly only did one job a year—it was a real struggle. When I got the role in 'Homeland' it really opened something up. Other people respected me more as an actor, doors were opened, and I understood for the first time that it wasn't personal. All that rejection wasn't personal."
On not giving up.
Robinson's career may be soaring high now, but she says it wasn't always that way. Her early years in Los Angeles were marked with rejection. "I had so many meetings with agents, and they always said no" she recalls. "It was challenging for a little while trying to find my legs."
Her breakout role came in 2000's "Time Code," a film that placed her on the map as an actor and kept her heart in the game. "The only time a friend has ever helped me in the industry was how I got my first job—that was through Mike Figgis. I went to boarding school with his son, and I got a random call one day saying, 'Do you want to come be in my dad's film?' And of course I jumped up for joy! From there I was able to get a manager and move forward a little bit.
"At the time I was so sick of the rejection and I thought, I don't want to feel this way anymore. I want to move to Oregon and do theater or something! I had pretty much decided to leave L.A., so getting that call changed everything. It was an amazing project to be a part of, but I was still hesitant. Then an actor, on set, he said, 'I think you should definitely stick with it, because, you know, you're good.' So that became another little marker in my decision to stay.
"Something I've heard a few people say is if you stick with this business long enough, eventually you get a break. It just depends on who you are and what you can take. Clearly I was a masochist! Now I feel like I've turned a corner. I'm getting offers—which is a new thing. I really can't complain about anything right now."
Inspired by this post? Check out our television audition listings!