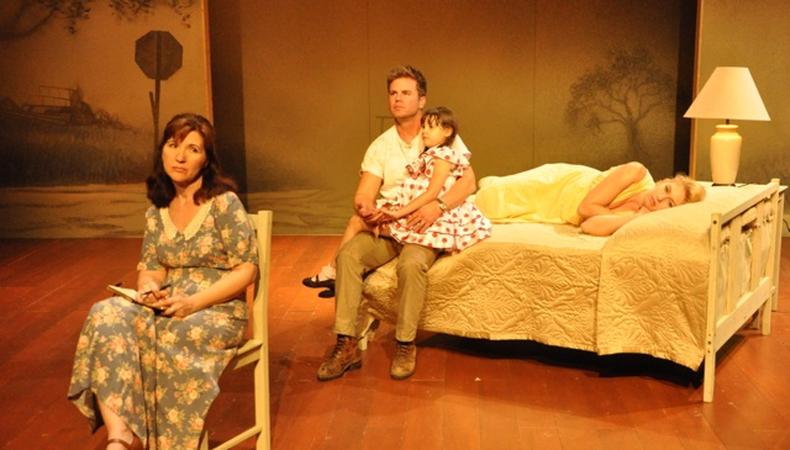 Horton Foote moved with seemingly effortless ease among the worlds of the stage, television, and film, perhaps because he was such a keen observer of human nature, his best work offering close-up views of flawed people struggling to do right by others without forgoing their own desires. A longtime friend of the Foote family, director Scott Paulin has guided several collections of Foote one-acts to New York. In bringing two playlets together under the title "Foote Notes," he's as eager as Foote to deliver intimate portraits, warts and all, of the denizens of the small town of Harrison, Texas, in the mid-1920s and mid-1980s. Director and author are on the same page with both, which ring with the kind of quiet truths about the U.S. South and Southwest that characterize Foote's screenplays for "To Kill a Mockingbird" and "Tender Mercies," as well as countless other works.
Written in 1953, "A Young Lady of Property" features Wilma Thompson (Juliette Goglia) as a teenager whose only memories of her saintly mother are tied up in the house Mom left to her. Dad Lester, she says, broke her mother's heart and is now planning to marry a woman Wilma despises. Wilma and BFF Arabella (Kiley Eberhardt) dream of fleeing to Hollywood and becoming movie stars. Wilma's plans are challenged—and drastically affected—when she discovers that her father is putting the house up for sale and moving the family to Houston. In terms of plot, nothing earthshaking occurs; Foote's strength is in depicting the mesmerizing power that emotional connections have over our lives. Goglia's Wilma is a precocious dervish who's either excited and enthused, talking a mile-a-minute, or sullen and bored, shooting deadly dagger glances. But with her slight build and blond hair worn in ringlets suggesting Alice in Wonderland, Goglia also reveals Wilma's wistful dreams and tearful private thoughts. Paulin surrounds the young actor with distinctive portraits and superb acting, notably Eberhardt's sweet, soft-spoken Arabella, Kevin McCorkle's confounded Lester, Martha Demson's distraught Aunt Gert, and Bryan Bertone's flirty ladies' man Russell.
"The Land of the Astronauts" shows the same town nearly 60 years later. Young wife and mother Lorena Massey (Laetitia Leon) reports to the Harrison police that ne'er-do-well husband Phil, who has long dreamed of becoming an astronaut despite his lack of training and education, has disappeared. When he's recovered, exhausted and discouraged, we realize the basis of his dream: the desire to leave his earthly problems behind. But as the more practical Lorena notes, "You still have to come back." There's a raft of watchable performances. Leon scores with her glowing expressions, guileless demeanor, and undercurrents of sadness, and Matt Little is heroic as the wholesome, decent young deputy who helps reunite the Massey family.
Both plays are populated with characters quirky and eccentric yet wholly lacking in artifice; each is steeped in genuine regional flavor and awash in Foote's accurate ear for colloquial speech. Open Fist Theatre Company's production takes to them with ease and grace, reminding us why the theater arts are so compelling.
Presented by and at the Open Fist Theatre Company, 6209 Santa Monica Blvd., L.A. Nov. 9–Feb. 23. (323) 882-6912 or www.openfist.org.
Critic's Score: A