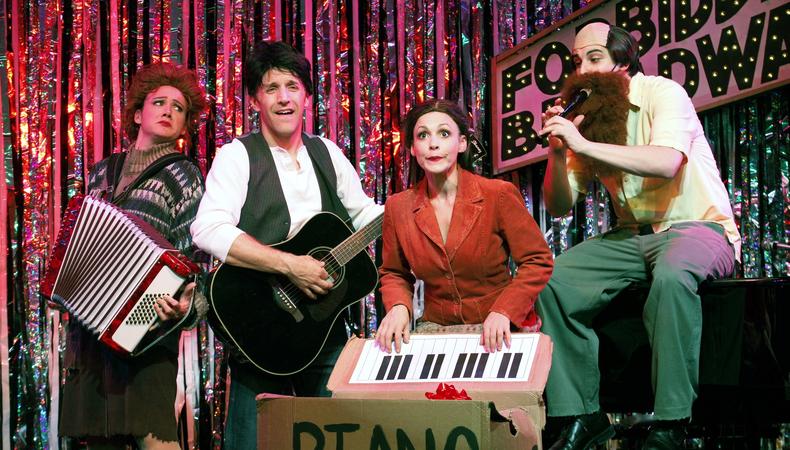 "Forbidden Broadway" is back, and all's once again wrong with the Rialto. Emerging out of the mist like a demented "Brigadoon," the 21st edition of this long-running franchise is called "Alive and Kicking," and when it's over, Broadway is indisputably black and blue. Creator-writer Gerard Allessandrini (he also co-directs with Phillip George) took a three-year sabbatical, and it has paid off. The show is for the most part sharper and funnier than ever, with delightfully wicked new material outnumbering a few oldies but goodies.
The revue lands a haymaker right out of the gate with "Evita 2012," announcing that "dinner theater's back" while thoroughly skewering the pop opera's underskilled stars, Ricky Martin and Elena Roger, the former for his lack of acting ability and the latter for her thin singing. When the brilliant, leather-lunged Jenny Lee Stern soars into a faint, whispery head voice on the release to the song "Buenos Aires," the effect is priceless and oh-so-accurate ("And if ever it goes too high/I distract you and flash my thigh"). Indeed, the first act seems to be all new material, with the exception of the "Mary Poppins" spoof "Feed the 'Burbs," which remains a hoot. High points include a riotous decimation of the treacly "Once" that features Stern's hilariously cross-eyed, deadpan Cristin Milioti, Scott Richard Foster's wonderfully tortured and sensitive Steve Kazee, and a deadly swipe at Steven Hoggett's "movement." Also popping are Marcus Stevens' impish take on Stephen Sondheim as he dashes between troubled revivals of "Into the Woods" and "Follies," Stern's delectable impersonation of Bernadette Peters singing about her vocal troubles in "In Stephen's Ear," and the terrific Natalie Charlé Ellis' takedown of a preening Catherine Zeta-Jones.
In the shorter second act Stern scores multiple times, especially as a vapid, narcissistic Diane Paulus wreaking havoc on "Porgy and Bess" and a robotic Tracie Bennett reducing Judy Garland to a sad caricature. Ellis makes mischief as a diva-esque Audra McDonald clutching her Tony for dear life ("I loves my Tony/Don't let them take it/Just 'cause I can't get through/A nine-month run"). Foster and Stevens shine as the self-congratulatory slacker-dude duo of Trey Parker and Matt Stone, co-authors with Robert Lopez of "The Book of Mormon," though the parody itself, which serves as the Act 2 climax, never quite hits its stride, spending too much time lampooning the musical's extensive use of four-letter words and not enough on its pretensions of edginess. Indeed, the main drawback of this edition is that both acts close on weaker material. In Act 1, the "Ghost" parody feels perfunctory, while Alessandrini's shots at "Newsies" for its relentlessly athletic choreography and cute Disney story feel a tad obvious.
But ultimately that's a minor matter. The combination of Alessandrini's racing wit and nimble lyrics, the inventively on-the-cheap physical production, and the shockingly talented cast (joined occasionally by estimable musical director David Caldwell) makes "Forbidden Broadway: Alive and Kicking!" essential viewing for all theater lovers.
Presented by John Freedson, Harriet Yellin, and Paul Bartz, in association with Paul G. Rice, Carol Ostrow/Paxton Quigley, Robert Driemeyer, Jamie deRoy, Lawrence Poster, and Tweiss Productions, at the 47th Street Theatre, 304 W. 47th St., NYC. Sept. 6–April 28. Tue.–Sat., 8 p.m.; Sun., 7:30 p.m.; Wed. and Sat., 2 p.m. (212) 239-6200, (800) 432-7250, or www.telecharge.com. Casting by Michael Cassara.
Critic's Score: A-