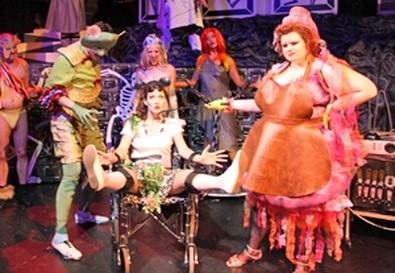 Sacred Fools describes its new musical as "a freefall celebration of weirdness," and it lives up to the name. The piece is adapted by Michael Holmes from the cult movie "
The Forbidden Zone
" and features a loony cast of characters and perhaps the most eclectic score ever to grace a single work:
Oingo Boingo
, Bela Bartok, Cab Calloway, and a Yiddish folk song are cheek by jowl with Stephen Foster, Danny Elfman, and Frederick Hollander, arranged by music director–band leader Ryan Johnson.
Satan (Marz Richards) serves as interlocutor and introduces us to the Hercules Family—including Flash (Joseph Beck), Gramps (Bryan Krasner), and Susan B. "Frenchie" Hercules (Rebecca Larsen), who have purchased an old house. In the basement is a mysterious door, in the shape of a garishly painted mouth, which leads to the 6th Dimension. All those who enter the mouth find themselves passing through an intestinal maze (animation by Andrew Butler and Ben Rock) and defecated past a pair of massive pink buttocks into a strange land presided over by the zaftig Queen Doris (Alyssa Preston), her dwarf lover-consort King Fausto (Scott Smith), and the bouncingly bare-breasted Princess (Erin Holt). Fausto falls for Frenchie, arousing the murderous jealousy of the Queen. Various murders, battles, and decapitations follow, along with the creation of Fausto's Zombie Army. It doesn't altogether make sense, but it's always lively and loony.
Director Scott Leggett keeps things moving at Hellzapoppin' speed on Tifanie McQueen's handsome black-and-white set. The costumes, by Wes Crain, are as madly demented as the script, featuring bare boobs and buns as well as colorful armor for Fausto, a huge green frog named Bust Rod (Jaime Robledo), and Satan's demons, each sporting a crimson pitch-fork and a menacing vagina dentata.
Smith and Preston are vocally impressive as Fausto and Doris, and Krasner's Gramps delivers a stirring Yiddish number called "Gider Brider Itzik." Larsen's Frenchie is an appealing ingénue, with a nice soprano voice, and Matt Valle, as Squeezit, delivers a soulful rendition of "Beautiful Dreamer." Holt is perky and insouciant as the Princess, and Gregory Guy Gordon, as the Pet she leads about on a chain, performs an energetic "Bim, Bam, Boom."
This show isn't everybody's cup of tea, but on the night reviewed, a packed house was eating it up.
Presented by and at the Sacred Fools Theater, 660 N. Heliotrope Drive, Hollywood. May 21–June 28. Fri.–Sat., 8 p.m. (Also Sun., 7 p.m., Jun. 13–20.) (310) 281-8337. www.sacredfools.org.