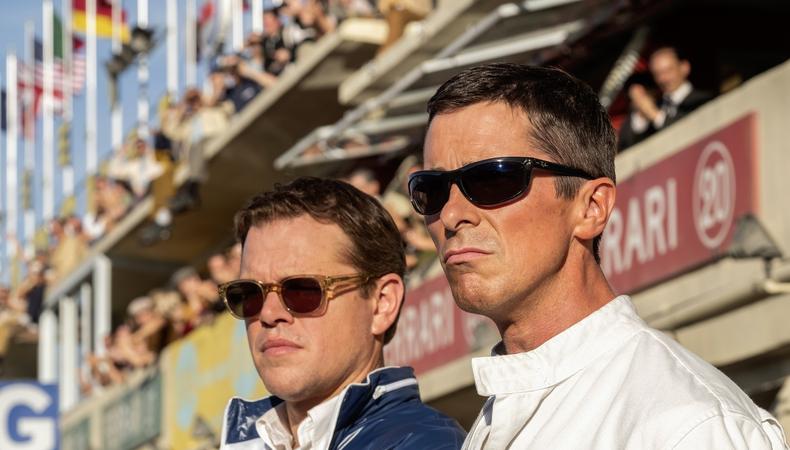 With this Year in Review, we at Backstage have picked through the weeds and found 2019's true gems of the best big- and small-screen ensemble work. And don't worry: We've got you covered with everything else you need to know this awards season right here.
Distributed by: Twentieth Century Fox (through Walt Disney Studios Motion Pictures)
Directed by: James Mangold
Written by: Jez Butterworth, John-Henry Butterworth, Jason Keller
Casting by: Ronna Kress
Cast: Christian Bale, Caitriona Balfe, Jon Bernthal, Matt Damon, Noah Jupe, Tracy Letts, Josh Lucas, Ray McKinnon
What do you get when you combine the powers of one of today's most acclaimed and decorated character actors with one of the most beloved everymen of the big screen? If "Ford v Ferrari" is the barometer, you've got a rousing, real-life buddy dramedy—and two of the best performances of the year.
Oscar winner Christian Bale stars as Ken Miles, the inimitable legendary racecar driver whose hair-trigger temper is only matched by his livewire capabilities behind the wheel. He's unbeatable in the driver's seat. That's the hope, at least, for the Ford Motor Company and Henry Ford II, who begrudgingly employs Miles and former world champion-turned-car salesman Carroll Shelby, played by a never-better Matt Damon, to build a world-class racecar and beat Ferrari on the international stage in the 24 Hours of Le Mans race in 1966.
"Ford v Ferrari" may well make you forget that you've seen and heard this underdog racing story before—even if you've never heard the tale of Miles and his iconic victory. (The Brit was posthumously inducted into the Motorsports Hall of Fame of America in 2001.) And that's largely thanks to Bales and Damon, whose unfettered chemistry is so natural—Bale's working-class English brogue balanced by Damon's twangy Southern all-business gentleman—that it's a wonder they haven't worked together before. Their thrilling collaboration with director James Mangold (Oscar-nominated for "Logan") and screenwriter Jez Butterworth (a Tony winner this year for "The Ferryman") may be a first, but we'd bet it's not their last.
And that's to say nothing of the first-rate ensemble cast at their back. Theater heavyweight Tracy Letts has been having a bit of a big-screen moment these last few years, with standout turns in "The Post," "Lady Bird," and the upcoming "Little Women," and he's put to his best use yet here as the snarling, thin-skinned Ford, calling the shots from his tower only to soil himself (literally) seeing how the real work is actually done at 200mph. His sobbing "I had no idea" while sitting in the passenger seat with Shelby after a race around the track is the comedic highlight of a film surprisingly brimming with them.
Joining him is Jon Bernthal, best known for action-heavy outings like Netflix's "The Punisher," who's given surprising warmth and emotional levity as Lee Iacocca, a Ford marketing executive with a heart. Josh Lucas as his counter—the smarmy, back-stabbing, dollar-sign-is-the-bottom-line Leo Beebe—is hatefully watchable. Plus, it makes his ultimate humiliation at the hands of Miles and Shelby all the more satisfying.
Even Noah Jupe (of "A Quiet Place" and this year's "Honey Boy") as Miles' young son Peter has his time to shine, breaking your heart twice over. And Caitriona Balfe (best known for her breakout role on Starz's "Outlander") imbues Mollie, the wife and mother pining for Miles' safety at home, with grit and headstrong allure. A particular highlight is when she spots her ne'er-do-well husband and Shelby, tempers rising under pressure from Ford, as they begin sparring on the sidewalk outside their home. She just pulls up a chair in her front lawn and watches, an amused audience—not unlike that of "Ford v Ferrari" itself.
This story originally appeared in the Nov. 13 issue of Backstage Magazine. Subscribe here.
Want more? Stay in the loop with everything you need to know this awards season right here!