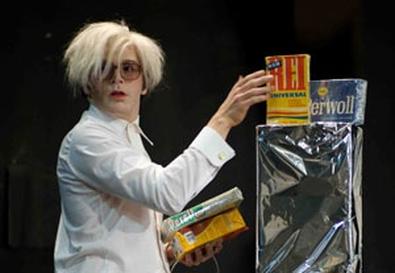 To many, Andy Warhol was a weirdo. Visually, his translucent skin, jittery hands, and premature gray hair—dyed in his 20s—all confounded people. To artists and their admirers, however, Warhol was the master of pop art, celebrating consumerism and commercialism in his work. The Undergroundzero Festival's captivating "Forever Art," a nearly solo show—another, uncredited actor plays two minor characters—incorporates and attempts to distill both personas. Despite the language barrier—the presentation is in German with English subtitles—the show manages to do exactly that.
"Forever Art," whose author is also uncredited, engages from the beginning. Warhol, played masterfully by John Wesley Zielmann, is a commanding force, thanks to Zielmann's utilization of compartmentalized movements that often elicit a feeling that teeters between humor and sorrow. With the exception of a wild contemporary dance number, in which Zielmann repeatedly pounds his chest as if he were trying desperately to loosen phlegm, he is ever methodical in his presence. He relays Warhol's story thoughtfully, using multimedia components, props, and occasional outbursts of joy and anger.
Though Warhol's sentiments on each subject, particularly his unhappiness with the media's portrayal of him, are usually conveyed well, the subtitles, in conjunction with Johanna Zielinski's staging, sometimes threaten our understanding, as they don't play in tandem with Zielmann's speech, often running slowly behind the actor. Furthermore, they are so full of grammatical and translational errors that we beg for a proofreader. Zielinski's staging, often placing Zielmann on the opposite side of the subtitles, forces us to dart back and forth between actor and lines. We are asked to work far harder than necessary to comprehend.
Those caveats aside, "Forever Art" nevertheless successfully balances the light and dark in Warhol's life and career. It should satisfy both the aficionado and the uninitiated.
Presented by Theater Bielefeld, Germany, as part of the Undergroundzero Festival at Performance Space 122, 150 First Ave., NYC. July 21–25. Remaining performances: Thu., July 22, 7:30 p.m.; Fri., July 23, 9:30 p.m.; Sat., July 24, 5:30 p.m.; Sun., July 25, 3:30 p.m. (212) 352-3101, (866) 811-4111, www.theatermania.com, or www.ps122.org.