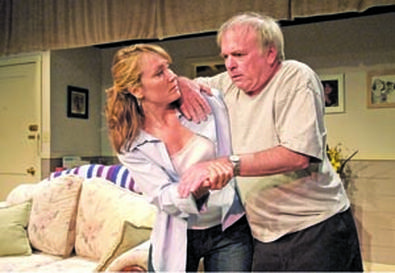 One of our recently recognized familial and societal problems is Alzheimer's, an uncompassionate disease that attacks the brain before playing havoc with the body. Playwright Patricia Parker tackles the effects of the discovery of early Alzheimer's on Andrew Baker (Shelly Kurtz), a feisty poet and a cheery pistol of a man. Andrew and his conservative Catholic wife, Dolores (Trudy Forbes), have had a long and successful marriage, despite that their daughter, Sarah (Lisa Clifton), a dedicated physician, has thrown a spanner into her mother's ethic by announcing her upcoming marriage to her life partner. Mama does not approve. When Andrew starts to have physical and memory problems, he seeks Dolores' help in taking control of his own life before the disease saps that life of its vigor and his brain of its superior artistry. Deeply against any such measures by conviction, and unable to bring Sarah, whom Dolores neither welcomes in her house nor speaks to, into her confidence, Dolores blindly fights the reality of Andrew's worsening condition. In the heartbreaking circumstances, there is no winner.
There's a lot of passion here in the face of desperation. Kurtz is a sprightly performer with an elfin appeal, the kind of guy you gotta love. Occasionally, director Kiff Scholl, sterling and well-controlled for the most part, lets the comedy get in the way of the heartache. "Dying is easy, comedy is hard" goes the old theatrical expression. These three actors must deal with both, and they do so nobly and well, though Clifton's heartbroken descent into sadness needs to be articulated more strongly; too much of her otherwise lovely performance needs more vocal volume, even in this small theater.
Parker obviously knows her subject well. Heart-wrenching as it is, this is total drama, as well as a helping hand in promoting a better understanding of Alzheimer's.
Presented by and at the Lounge Theatre, 6201 Santa Monica Blvd
.,
Hollywood
.
Aug. 1
–
Sept. 6. Fri
.–
Sat
.,
8 p
.
m
.;
Sun
.,
2 p
.
m
. (
323
)
960-7780. www
.
plays411
.
com/remember
.