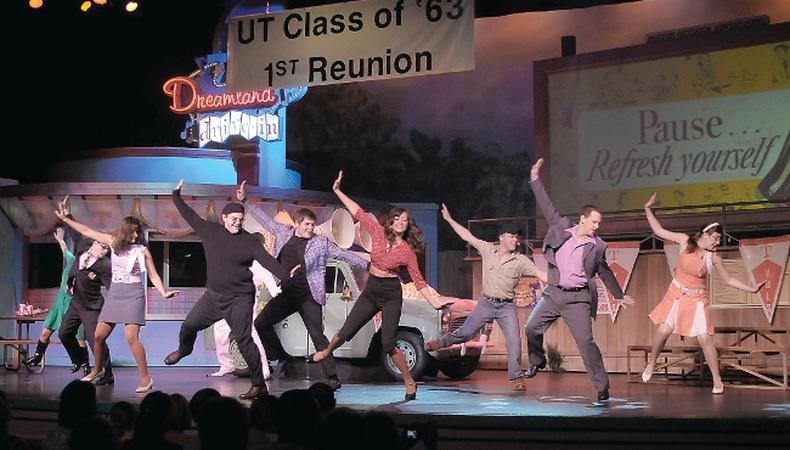 As proven by a recent viral video of "Beauty and the Beast" villain Gaston leading a push-up contest, theme parks are as good an environment as any to hone actorly skills. For students and summer job–seekers alike, seasonal employment at parks across the U.S. means an opportunity to gain valuable experience as a performer. There's definitely hard work involved—rigorous singing and dancing, improvisation with countless children, or even the dreaded full-body costumes—but a summer spent acting in some of the country's favorite vacation spots won't be a summer wasted.
"An amusement park in the summer is an incredible training experience," says Charles Bradshaw, vice president of entertainment at Cedar Point in Sandusky, Ohio. "The fact that they're working seven or eight hours a day, six days a week, gives an opportunity to exercise their muscles, to do the acting work, singing, dancing, whatever." It's the repetition, he says, the constant exposure to interactive performativity and collaborative camaraderie, that creates an ideal training ground for aspiring and established performers alike.
Six Flags Great Adventure in Jackson Township, N.J., the largest theme park in the world, welcomes employees from far and wide for a number of positions designed to keep them engaged in that valuable repetition. Public relations supervisor Kaitlyn Turi says February is when the park starts "looking for dancers with backgrounds [in] musical theater and jazz, actors and models to play superheroes on the street, and people great with children." Less traditional talents, she is quick to add, are always a plus. "We encourage specialty skills: jugglers, stilt walkers, street drummers, anyone with a special skill they want to show off." Six Flags parks pepper the entire country, but the New Jersey location is home to a safari park that requires hosts who are passionate about both animal conservation and improvisation.
For theme parks everywhere, the ability to improvise is usually crucial. Since a job as a host or character actor involves constant, direct interaction with guests, summer employees receive a crash course in off-the-cuff enthusiasm. At Legoland in Carlsbad, Calif., and other parks, entire children's shows rely on the skills of improvisers, magicians, comedians, or some combination of the three. Students and other potential summer employees need to demonstrate what Bradshaw calls "environmental chops, and the desire to interact consistently in character with our park guests and enjoy that time to just be part of that atmosphere. Right now we're hiring two train bandits, a deputy, an Annie Oakley type, saloon girls, a blacksmith, and a schoolmarm busybody," he adds.
Musicians, singers, dancers, singers who dance, and dancers who sing are also welcome. Parks such as Dollywood in Pigeon Forge, Tenn., need theater types to helm musical revues or scripted minishows. Stage manager and auditions coordinator Roger White looks for performers who may be "interested in doing a couple of shows and making their résumés look better, and moving on to somewhere else." Dollywood's summertime musicals play host to high school and college students, but more seasoned actors also gravitate to the park's award-winning directors and choreographers.
Theme parks may not be the first thing that comes to mind when contemplating steady work that doubles as acting training. But what better place to be constantly on your feet, telling a story, and having a great time? "A lot of students are told summer stock is the only place to go for summer employment," says Bradshaw. "But I really see an amusement park as somewhere where the repetition and live audience, day in and day out, is a great opportunity. It's amazing, when they come out of the summer, how much stronger they are."
Inspired by this post? Check out our audition listings!