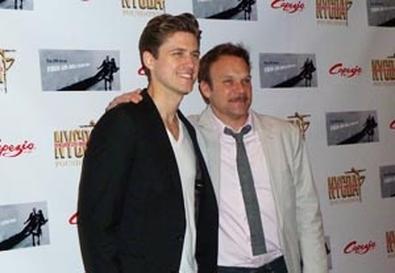 Sutton Foster and Norbert Leo Butz took home the awards for best female and male dancer on Broadway at the 29th annual Fred and Adele Astaire Awards, presented at the Skirball Center for the Performing Arts at New York University on Sunday.
"Every night when I'm singing and tap-dancing on a Broadway stage, it's a dream come true," Foster said in her acceptance speech, noting that she relishes being thought of as a dancer even though she's been dancing since she was 4. "I've never been happier in my life."
The awards honor dance and choreography on Broadway and in film, and this year saw the most nominees ever, with nine apiece in the female dancer and Broadway choreographer categories. Susan Stroman won the award for best Broadway choreographer for her work on "The Scottsboro Boys," and Graeme Murphy and Janet Vernon won the award for best film choreographer for their work on "Mao's Last Dancer."
The evening's presentation focused on the next generation of dance stars, and throughout the night young performers showcased their talents. Cesar Corrales performed "Electricity" from the musical "Billy Elliot" to uproarious applause, and the show concluded with a synchronized, heart-pumping number by the young dance troupe David Sanders Dance Dynamics.
The evening also included the presentation of the first Adele Astaire Scholarship, a $10,000 award funded by the New York City Dance Alliance for a promising young dancer. Alliance founder and executive director Joe Lanteri presented the award to 17-year-old Corey Snide, who demonstrated his impeccable tap dance skills, which he will hone at the Juilliard School beginning in the fall.
In keeping with the night's theme, hosts Lee Roy Reams and Bebe Neuwirth joked about their early starts in dancing. "I was definitely a song-and-dance toddler," Reams quipped, while Neuwirth claimed that she danced from the womb.
Fred Astaire's daughter, Ava Astaire McKenzie, and the awards' producer, Patricia Watt, daughter of lifetime achievement award namesake Douglas Watt, also welcomed the attendees. McKenzie revealed that her father originally wore a top hat so he would be taller than his older sister Adele, whom he followed to dance classes at a young age.
Broadway choreographer Stroman was humbled by her award. "Thank you for remembering 'The Scottsboro Boys,'" she said graciously. Stroman dedicated the award to the show's lyricist, Fred Ebb, who died in 2004 while working on the show. Stroman demonstrated Ebb's favorite dance step, "the push-away," which she incorporated into the show. "He would be so tickled," she said.
In a touching tribute to stage and film dance star Jacques d'Amboise, who received the Douglas Watt Lifetime Achievement Award, a group of young dancers from the National Dance Institute, which d'Amboise founded, took the stage to honor their teacher and mentor.
Fourteen-year-old Brandon Parks, making sure to mention that he will attend New York's Fiorello H. LaGuardia High School of Music & Art and Performing Arts in the fall as a dance major, reflected on what d'Amboise has taught him about dance and life.
"He taught me to give 125%," Parks said. "Not just in rehearsal, but in everything else."
D'Amboise was touched by the performance and by his children Charlotte and Christopher d'Amboise's reflections on dancing down the streets with their father and learning to seamlessly execute leaps, their father's favorite move.
"The father is always the last to know everything," Jacques d'Amboise said, claiming he was unaware of what the night would hold. In a nod to the dance training he's given and received over the years, he left the stage with some sound advice.
"Don't look down."