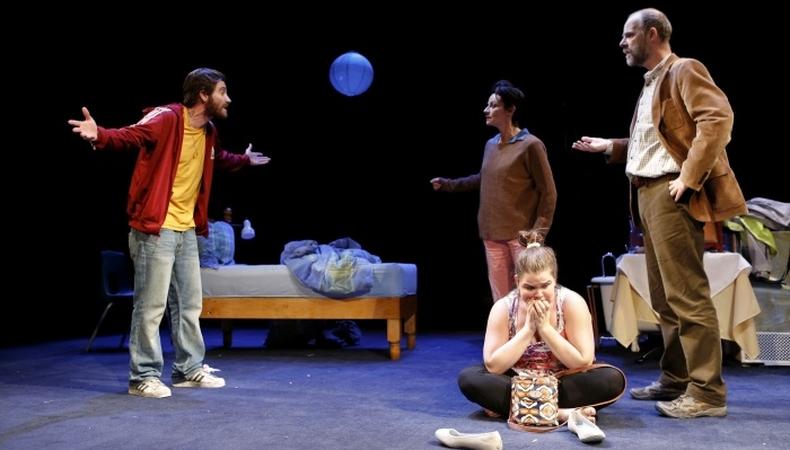 It's clear that Nick Payne has a keen understanding of the minefield that is the human heart. His "If There Is I Haven't Found It Yet" offers a rigorously unsentimental yet deeply empathetic portrait of a loving family in crisis. Director Michael Longhurst's inventive abstract staging supports Payne beautifully, and the terrific Jake Gyllenhaal, sporting a flawless working-class regional English accent in his American stage debut, eschews a star turn to take his place in a top-flight four-person ensemble. It all makes for a riveting evening of theater.

In the deceptively simple story, 15-year-old Anna, overweight and friendless, is being bullied at school. Her self-absorbed father, George—an expert on the subject of carbon footprints who's writing a tome intended to save the planet—barely notices. Her worried but distracted mother, Fiona—a dramatics teacher at Anna's school—doesn't know what to do, especially as she is one of the reasons for the bullying. Then George's brother, Terry—a rootless man-child who disappears for long stretches without communication—shows up out of the blue. He sees the danger the family is in and tries to help by reaching out to Anna. But the friendship that blossoms is a prickly one, and Terry's immature behavior and anger issues cause their own set of problems. Anna ultimately resumes her downward slide, with huge repercussions for all.

Payne's ear for speech is impressively acute, with the four disparate ways the characters speak revealing volumes about who they are, and the gifted company is flawlessly attuned to the rhythms. Gyllenhaal's Terry is a profane rush of fractured syntax and dropped words and phrases, yet the actor makes every intention and meaning startlingly clear. He's quite adept at negotiating Terry's sudden shifts of temper and provides an intriguing mix of self-righteousness and lack of confidence. Brían F. O'Byrne is a pompous yet sympathetic George, whose halting, deliberate words and upper-class accent mark him as his own carefully constructed invention. Terry and George couldn't be more different from each other, but in the hands of Gyllenhaal and O'Byrne they are completely believable siblings.

Michelle Gomez stresses Fiona's strength, capability, and frustration, all qualities underscored by her clipped, precise diction and habit of speaking in well-formed sentences. Annie Funke has a symphony of silences as Anna—sullen, glowering, tentative, judgmental—when she isn't pouring out rapid-fire teen-speak or landing a terse observation. Funke excels at simultaneously highlighting Anna's vulnerability and fortitude.

Set designer Beowulf Boritt's jumble of furniture center stage is gradually depleted as the characters grab piece after piece in succeeding scenes, which is an inspired visual metaphor for the family's disarray. Boritt also combines with Longhurst to pull off one of of the most successful and emotionally resonant coups de théâtre I've seen in some time.

Payne has had six plays produced in the last three years and won a 2009 George Devine Award as most promising playwright. He's currently writing one on commission from the Royal Court Theatre and Manhattan Theatre Club. I'm there.
Presented by Roundabout Theatre Company at the Laura Pels Theatre, 111 W. 46th St., NYC. Sept. 20–Dec. 23. (212) 719-1300 or www.roundabouttheatre.org. Casting by Jim Carnahan.
Critic's Score: A