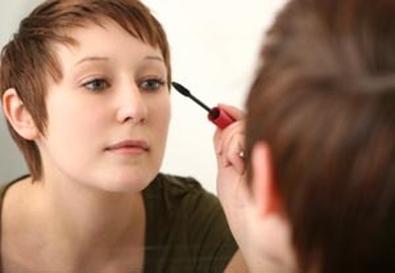 1. Prepare the Night Before
As Hamlet says, "The readiness is all." One of the best ways to be sure you get all the shots you need is to be superprepared. This encompasses taking care of your skin and hair the night before, choosing the right wardrobe, and having each look ready to go before the shoot even starts. If you're prepared with an idea of how you want to look, the photographer doesn't have to play the role of stylist as well.
But even though you should prepare, you should also be ready to improvise and go with the flow. Many of the best headshots come from an easygoing collaborative relationship between photographer and subject.
The night before the shoot, make sure to get plenty of rest. The best makeup artists in the world have trouble covering up the tell-tale signs of a late night. Don't start any crazy new beauty routines or try any new products to which you might be allergic. Also, complete your normal routine with your hair. Getting your hair cut early may work fabulously, but not always. I'm sure everyone has had that sinking feeling after a haircut that doesn't seem quite right.
Ladies, wear your hair as you would to an audition. Natural-looking is much better than overteased, oversprayed, and overdone (unless that's the look you're going for).
Guys, if you have facial hair, shave as you normally would. If sometimes you have a bit of facial hair and sometimes you're clean-shaven, leave it scruffy for the first part of the shoot, and bring a razor to clean it up for the second part. This is a supereasy way to get two drastically different looks out of a single shoot.
As for wardrobe, bring a variety of different looks. Some photographers offer packages that include four to five clothing changes. Solid colors with attractive but not too revealing necklines work best.
Men should bring a couple of simple sweaters and/or nice-looking crew-neck options and some button-down options. Ladies should bring a few options with sleeves and a few without. Both men and women should focus on necklines that frame the face—V-necks, for example. Layers are good too.
For both sexes, safe color choices include dark solids. Jewel tones, if not too fussy, can work well for ladies. If you have something you love and want to wear it, by all means bring it.
Your photographer should have a good idea of what clothes will look best in what location. For instance, outdoors would be a more casual, commercial look, and indoors would call for more dramatic or theatrical attire. Make sure that what you bring is clean, pressed, and looking new. Fabrics that are old, worn, or fading will only draw attention away from your beautiful face.
2. Relax and Trust the Photographer
It's the day of your shoot. If you have picked a good photographer and have prepared to the best of your abilities, you know you're in good hands. Relax, have fun, and don't worry if each frame isn't perfect.
The photographer will shoot hundreds of photos—and remember, it's in his or her best interest to make these photos gorgeous. A lot of photographers work by referrals, so your photographer will be doing his or her best. He or she wants to give you a great experience and some great shots, and a good photographer should turn out photos that you're able to use for a few years.
Skilled, experienced photographers are good at seeing you for you—and bringing the version of you that you want out on film. So be honest. If you really want something special or different in your photos or if you were unhappy with a previous headshot experience for any reason, tell your photographer about it.
Your photographer should do his or her best to get the shots you want, but the photographer can't read your mind. Also, remember that your photographer is a professional, so if he or she has a different idea for what might look best for you or what type of shot you might be able to use, go with it. If you trust your photographer, your shots will be all that much better.
3. Choose Your Photos Wisely
So now you have up to 500 photos and you have to pick that one shot that's going to be your calling card in the industry. Usually your photographer will choose some favorites to help you narrow it down.
It is rare that you'll be given every photo to review, but if you want them, don't hesitate to ask. Your photographer should be able to pick a variety of shots that he or she thinks show you at your best. Some photographers will give you the entire session to view.
With several choices in hand—a few of the best shots from each setup—you should get a second (or third or fourth) opinion on which shot to have printed. Feel free to ask friends, your agent, your family, etc. Their favorite shots may be based on gut reaction rather than carefully weighing the options, but that's valid.
Many casting directors may not spend more than a few seconds looking at your photo. You want it to jump off the page and grab their attention. Do your eyes shine? Do you look approachable? Is the photo technically good? (For instance, is it cropped well and does the lighting flatter you?) Take all these questions into account before making your final choice.
If you have a few shots that you simply cannot choose between, it might be a good idea to get them retouched and print them at 8-by-10 inches to see what they look like at that size. Are there any flaws that can't be easily fixed by retouching? Does the larger size make the close-up a little too close? It's hard to tell exactly what you're looking at until it's been retouched and you're seeing a hard copy rather than looking at it on a computer screen.
4. Retouching
:
It's Not a Crime, But Don't Go Overboard
Everyone does it. Everyone. It's a very rare headshot that needs no retouching, and even if you think you look perfect, there are certain things that the right retouch artist can do in postproduction that will give your picture that little bit of extra oomph that might just book you the job of your dreams.
The point of retouching is to bring out the best version of you, not to make you look vastly different. Remember, casting directors want the picture to look like you. A retouch artist should be able to get rid of blemishes, tone down any under-eye circles, and brighten the whites of your eyes and your teeth, but still leave the photograph looking natural and untouched.
Most professional photo printers offer retouching services, or your photographer will either know where to get it done or do it himself. (There may be a fee attached to this service, as it does take some time to make a photo perfect.) Even though there is usually a charge for retouching, do it. Don't spend a few hundred dollars getting great photos and then be stingy with the extra 20 or 30 bucks it'll take to go the extra mile.
Remember, however, even though all photos get retouched, there is such a thing as getting too much done. Don't ask your photographer or retouch artist to change the color of your shirt, paint fake muscles on you, make you skinnier or fatter, or anything else that would change the overall picture. This is why you should be prepared at your shoot—because retouching can only go so far.
After you've gotten your photo retouched, print away. Get at least 100 copies—you'll need them. When you go on an audition, staple your résumé to the back of your photo and trim the résumé to fit. (Headshots are printed at 8-by-10 inches, and most paper is 8-1/2-by-11 inches.)
Be proud of your photo. You put a lot of work into it—and, hopefully, it represents you perfectly. Follow these easy steps and you'll be sure to have pictures you love for the rest of your life.
Joshua Spafford is the owner and chief photographer of Starboard Photos in New York City. He has a 20-year background as a theater director and actor, with training from the Royal Academy of Dramatic Art. He has worked with or directed Oscar, Tony, Pulitzer, and Obie winners. His photography has been featured in the New York Daily News, The Washington Post, and more. He loves nothing more than photographing actors. For more information, visit www.starboardphotos.com.