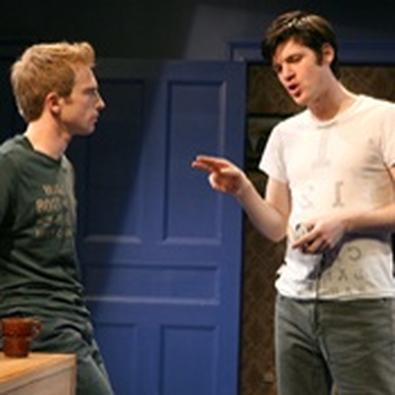 Itamar Moses' The Four of Us gripped me until its final two scenes, whereupon I grew angry and distraught, mourning another unrealized climb toward dramatic greatness. But for now, let's go back to the past -- to the top of the play.
Sitting in a restaurant are two seemingly tight friends: novelist Benjamin (the excellent Gideon Banner) and playwright David (the empathetic Michael Esper). Their lunch is the product of an old deal: Should Benjamin sell his novel, David will treat him to Indian food; should a play of David's be produced, "Japanese-Caribbean fusion" will be on the menu and Benjamin's dime.
But underneath their chummy dialogue is tension: Not only has Benjamin achieved his goal first; he'll earn $2 million for his first book and is soon to enter the usual whirlwind of readings, tours, film deals, celebrities, and women. By contrast, David has just returned from counseling at the musicians' camp where he first met Benjamin years ago, plus he's prepping for grad school and getting serious with his girlfriend. Nothing wrong with that, surely -- and David offers Benjamin all the pleasantries you'd ask any true friend to give another -- but the envy smells.
Benjamin doesn't rub it in. Indeed, blithely disconnected from pop culture, he unsuccessfully invites David to pitch himself as a writer to a well-known actor aiming to adapt the novel for film. Soon Benjamin's on tour and rave reviews roll in; Moses has written a poignant scene in which David leaves increasingly desperate, disappointed voicemails for Benjamin while Benjamin answers clichĂŠd inquiries from attendees at book signings. In a later scene, it's Benjamin leaving messages for David while David lambastes attendees at a third-rate production of a play of his in Indiana.
From here, Moses can only go backward -- to anatomize a friendship riding off the rails. There's a scene in Prague, where the young men bunk for a semester, Benjamin burying himself in writing a first novel, David enjoying women and romance. Despite an odd interlude involving a stuffed bear that suggests sexual tension between the characters, the scene cleverly allows the actors to burnish the characters' underpinnings. As Benjamin, Banner is so unflappable as to be nearly saturnine. Less self-possessed and self-disciplined, Esper's David is a sandcastle of emotional vulnerability.
Now to Moses' final two scenes. David materializes in the lobby of a New York theatre -- in a display of personal purgation, he's crafted a play dumping his dirty laundry with Benjamin for all to see -- and naturally meets Benjamin. Like David's disingenuous congratulations to Benjamin at the play's beginning, the scene itself is pro forma: We know a confrontation will occur between them, but, as written, the scene does not illuminate. In the play's final scene we're shuttled back 10 years to the mountaintop where their friendship began. Aside from Benjamin briefly dissolving in violent tears -- superbly played by Banner -- it's also an unneeded, if sweet, scene.
Even amidst Russell H. Champa's dramatic shafts of light, director Pam MacKinnon's naturalistic staging never flags. If anything, it's amplified by her sense of detail on David Zinn's four-door set. In the scene in which Benjamin answers questions in a bookstore, read the titles facing out from the shelves -- Nick Hornby's Slam, Anthony Shadid's Night Draws Near, Kyle Smith's Love Monkey -- symbols of what's happened to Benjamin and David, of what's cleaved their bond. Indeed, by splitting each of his two characters in two, the author creates The Four of Us -- even if two, for most of the play, would have sufficed.
Presented by Manhattan Theatre Club
at New York City Center Stage II, 131 W. 55th St., NYC.
March 25- May 18. Tue.- Sat., 7:30 p.m.; Wed., Sat., and Sun., 2:30 p.m. (No performance Wed., March 26, 2:30 p.m.)
(212) 581-1212 or www.manhattantheatreclub.com.
Casting by Nancy Piccione.