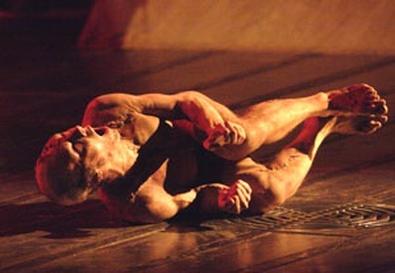 Through its broadcasts to cinemas, the National Theatre of Great Britain continues to provide bracing and innovative interpretations of classic texts to audiences around the world. Earlier this season, it presented a "Hamlet" for the modern paranoid age.
Now we can partake of director Danny Boyle and playwright Nick Dear's intellectual yet still hair-raising version of "Frankenstein." When you mention that title, most of us think of Boris Karloff as the brutish, infantile monster of the 1933 Universal horror film classic. Perhaps Colin Clive as the film's titular mad scientist, histrionically screaming, "It's alive! It's alive!," also comes to mind. Boyle and Dear have eschewed those popular freak-show images and returned to Mary Shelley's original novel, examining the moral questions raised by the idea of man creating life.
Unlike Karloff's mute beast, Shelley's monster has a voice and an intellect. Articulate and logical, he's able to quote Milton and challenge his creator on points of ethics and responsibility. In a startling innovation, Dear tells the story mostly from the artificial man's point of view rather than that of his maker.
Thus, the play begins with the monster's birth: He emerges from a cocoonlike cloth womb underneath a chandelier of electric light bulbs. There follow fragmentary scenes: Frankenstein's rejection of the creature because of his hideous visage, the monster escaping from the laboratory, cruel encounters with humanity, a developing friendship with a blind man (not the hermit of the movie) that ends in tragedy, and a final reunion with the scientist, when the monster forces him to make and animate a female companion.
Boyle's expressionist-influenced and visually stunning staging combines with designer Mark Tildesley's stark, nightmarish set and Bruno Poet's alternately lush and spooky lighting to make the show both an edge-of-your-seat thriller and an intellectually challenging drama. My only quarrel with Dear's script is with its tendency to stretch out the dialogue. The playwright has given the creature too much to say, which somewhat saps the tension from Boyle's taut direction.
Fortunately, all those words are spoken by a sterling cast, headed by Benedict Cumberbatch and Jonny Lee Miller, alternating in the lead roles of fiction's most famous scientist and his greatest experiment. At the screening attended, Cumberbatch was an electric creature, figuratively and literally. His opening scene, in which the creature painstakingly discovers how to stand upright and walk in several silent, scintillating minutes, was a stunning piece of physical acting.
Cumberbatch followed up this blazing beginning with a searing performance, utterly convincing as an intelligent entity struggling to comprehend the inconsistencies of "normal" men. Miller was grippingly intense as the genius losing his grip and battling to retain control of his creation, though he sounded as if he were battling a sore throat as well. (The actors will switch roles for upcoming screenings.)
The supporting roles do not offer as much opportunity to shine, but Naomie Harris illuminated the gentle soul of Elizabeth, Victor Frankenstein's fiancée; Andreea Padurariu was haunting as the female creature; and John Stahl and Mark Armstrong provided welcome comic relief as a pair of Scottish rustics.
These marvelous screenings appear to be catching on with American companies. Broadcasts of Roundabout Theatre Company's "The Importance of Being Earnest" and the Tony-winning musical "Memphis" will soon be available to movie audiences. Let's hope this is the start of a trend.
Presented by National Theatre Live on movie screens nationwide. March 17–May 7. Upcoming screenings in the New York City area: Thu., March 24, and Sun., March 27, 7 p.m., NYU Skirball Center for the Arts, NYC; Thu., March 31, 7 p.m., and Sun., April 3, 2 p.m., City Cinemas 123, NYC; Thu., March 24, 2 and 7 p.m., Brooklyn Academy of Music, Brooklyn, N.Y.; Thu., March 31, 2 and 7 p.m., Kew Gardens Cinemas, Queens, N.Y. In the Los Angeles area: Tue., March 22, 7 p.m., Mann Chinese 6 Theatre, Hollywood; Thu., March 24, 7:30 p.m., and Thu., April 21, 7 p.m., Downtown Independent Theatre, Los Angeles. For a list of additional remaining screenings, visit www.ntlive.com.