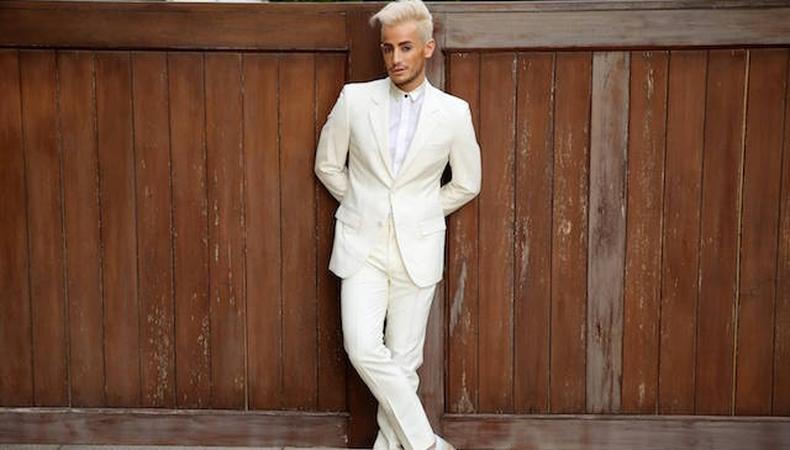 Broadway vet and multi-hyphenate entertainer Frankie Grande returns to New York City this Saturday, June 11, for a one-night-only outing of his hit traveling show, "Livin' La Vida Grande." While the show has seen various incarnations over the years, its setting at Lower Manhattan's historic space, The Box, is sure to put a little bite into Grande's musical proceedings. We chatted with the "Style Code Live" host about his anticipated homecoming and theatrical roots.
On his history with The Box.
"I was emcee at The Box for several months. I have a long-standing history with The Box, so this is very much like Frankie Comes Home, which is why I'm super excited about this production. It's going to be different from all the other ones because I'm going to get to incorporate so many elements of The Box into my show and kind of have it be this Frankie-Box hybrid. It's such a beautiful space and I'm so looking forward to it.... The Box elements will certainly change things up. It will definitely be a little bit more cheeky, shall we say! I would say a little bit more frisky. It's not going to be crazy, it's not going to be out of control, but it's definitely going to have a little bit of that bite that The Box has. It will bring out a little bit more of that side of Frankie. You're going to get a little bit more of the 'adult' at this show."
On his 'Grandtourage.'
"My favorite thing now is that different posts to Snapchat—I'll go on Twitter, like, 20 minutes later, and there'll be 40 edits of it. 'This is the black and white version; this is the black and white and color version.' That's just so nuts to me that there are people literally just waiting to see what I'm going to post so they can create something for the Grandtourage to enjoy. And I do, too! Sometimes I repost their stuff. I have a whole folder of fan art—it's so cool. I try very hard to live my life in an exemplary way, which is, you know, 'Shine bright like Frankie.' When people throw shade, shine brighter. That's my whole thing: Always be yourself. Be true to yourself, no matter what that is. And the fact that that message has inspired so many people to live their lives, tell their truths, and also inspired them to become friends with others... I love that so much. It makes me so happy."
On Broadway performers' tenacity.
"Broadway performers are the best trained people on the planet. There's, like, 300 people on Broadway in a given season out of the, what, 300,000 that audition? I somewhere read a fact that 1 percent of the people that audition for Broadway shows are actually on Broadway. It's the top of the top. And it's so obvious when you're in a TV setting, because I feel like I can show up, do the show, go home—don't need rehearsal, don't need prep time, don't need anything. And there's so much prep time that goes into TV, and I'm, like, 'Man, I could've done six Broadway shows in the time that it took to shoot this one 30-minute episode.' It's hysterical to me."
On acting advice.
"Never give up, first and foremost. That's the best advice, because you're going to be told 'no' so many more times than you're going to be told 'yes.' Have fun is my other biggest thing. Have a good time. When you're in that audition room, you are the king of the castle—it is your time. Even if Bernie Telsey is on the other side of the table staring at you in the face, it is him giving his time to you. It's your time to take over that space and do what you gotta do. So don't be nervous, don't be scared. Have a good time. And if it's not meant to be, it's not meant to be."
On returning to the stage.
"Every day of my life, I wish I was on Broadway. It's my favorite place. It's my heart, it's my soul. That's why 'Livin' La Vida Grande' is so important to me because I kind of feel like it keeps me a sane person. I get to perform all my favorite Broadway songs. I get to sing all my favorite pop songs. I get to be clever. I get to be funny. I get to have a live audience that I can talk to and interact with. I miss Broadway so much. So yeah, I look forward to going back as soon as humanly possible."
Inspired by this post? Check out our New York City audition listings!
Want some acting advice? Watch below.