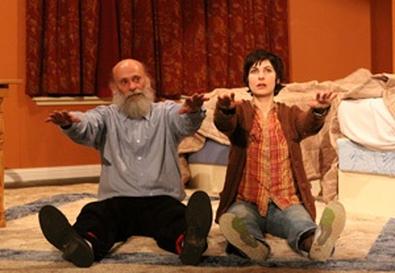 For a comedy exploring themes of spiritual resilience and human levitation, Barbara Lindsay's play remains depressingly earthbound, a leaden attempt at juxtaposing whimsy and poignancy, hampered by meandering dialogue and overwrought portrayals of grating characters.
The first act seemingly takes forever to establish the story's exact premise, as the two main characters butt heads during a verbose exchange in a hotel room in an unspecified California burg. Blustery would-be impresario Stoney (Greg Albanese) is pure carnival huckster as he rambles on about how he and his neurotic cohort Marshall, nicknamed Free (Michael Earl Reid), should present and sell their initially unspecified show. Basket case Free, who immediately cowers between the mattress and bedsprings following his first entrance, says he doesn't want to teach his skill to anyone. Eventually, we learn that the ability he speaks of is defying gravity to rise off the ground, which Stoney wants to parlay into a lucrative livelihood. Meanwhile, Stoney's ersatz–Mary Poppins pal longs to stop performing his freak stunt altogether. The other characters are a bossy maid (Jane McPherson), a boisterous discontented housewife (Dagney Kerr) who wants to learn to levitate, and her confused husband (Donaco Smyth).
Director Wendy Worthington elicits broadly farcical performances that primarily slip into stridency, undermining the play's eleventh-hour attempts at earning empathy. The bickering between Stoney and the whiny Free becomes redundant once we grasp the point that Stoney is functioning as a crass businessman who is insensitive to the feelings of his reluctant partner. Reid's depictions of panic and childlike helplessness rapidly become tedious. Kerr's hyperkenetic portrayal obscures the supposed sadness of her marital disappointments. From her first entrance, Kerr cavorts like Lucille Ball on speed, not convincing us that the material calls for such a goofball. McPherson dutifully fills the requirements of her cynical but uninteresting character, and Smyth is efficient in his relatively brief role as a wimpy spouse.
The metaphor of levitation to suggest a means of letting go of one's self-limitations is too obvious. The characters' lessons about friendship and the true meaning of life feel like less than an epiphany in this overbearing yet undercooked morality tale.
Presented by Neo Ensemble Theatre at [Inside] the Ford, 2580 Cahuenga Blvd. East, Hollywood. Jan. 22–Feb. 27. Thu.–Sat., 8 p.m.; Sun., 2 and 7 p.m. (323) 461-3673. www.fordtheatres.org.