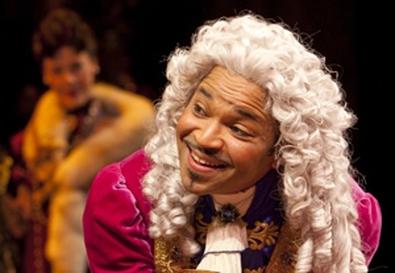 In the issue of the Lincoln Center Theater Review that accompanies John Guare's new play "A Free Man of Color," a joint interview with Guare and director George C. Wolfe is headlined "An Exhilarating Collision." The title is entirely apt. The collaboration is exhilarating because both men are among the top artists in their respective disciplines and are bringing formidable skills to fascinating subject matter. But the result of a collision is usually painful and messy, and that's certainly the case at the Vivian Beaumont, despite the lavish and loving production.
This sprawling epic is part Restoration comedy in rhymed verse, part history lesson, part political drama, part starry spectacle, part metatheatrical Brechtian polemic, and wholly confused. At its center is Jacques Cornet, a freed slave in Spanish-owned New Orleans at the dawn of the 19th century. Cornet managed to purchase his freedom and was made his white father's heir, becoming extremely rich and infuriating his disinherited legitimate white half-brother. Cornet's obsessions include his dazzling wardrobe, buying endless maps in hope of finding a western waterway that will open up the continent, and bedding every beautiful woman in sight. His story is juxtaposed with the events that caused President Thomas Jefferson to make the Louisiana Purchase. In order for that to happen, the Spanish king has to trade the domain to France, Toussaint Louverture has to lead a slave revolt in what is now Haiti, the French have to fail in putting it down, and Jefferson, scared of the effect on the South, has to make his famous purchase to keep the French and the Haitians out. When New Orleans becomes American, however, the freewheeling society in which we are told "race is a celebration" and where Cornet has flourished is abruptly altered. Cornet loses everything and is sold back into slavery.
Guare's inventive but scattered script resists Wolfe's vibrant but busy staging at almost every turn. One idea that does work is the late turn into seriousness in Act 2. Form mirrors content as the giddy Restoration style gives way when Cornet's fortunes speedily decline. Unfortunately, Guare belabors the point, with too many final attempts by Cornet to control the play he is writing (and we are seeing) by making the political figures of his time spare him. Ultimately, it undermines the tragic finish.
The 26-person cast includes Hollywood names (Jeffrey Wright, Mos, Justina Machado, Paul Dano), theater notables (Peter Bartlett, Veanne Cox, Sara Gettelfinger, John McMartin, Reg Rogers), and more, but few of these fine performers are able to make a strong impression. As Cornet, Wright offers formidable stage presence and marathon endurance skills, but he doesn't seem to the manner born playing the dandy. Too frequently he sails through Guare's elaborate speeches with superb diction but insufficient variety. Mos is a welcome understated presence as Cornet's wry personal slave and suitably heroic as Louverture. Dano glows with intensity as Meriwether Lewis, unhappy as Jefferson's secretary and obsessed with mapping "the white spaces." We've seen Cox's whorehouse madam and priggish lady scientist before, but she makes something special out of Robert Livingston, the aging envoy Jefferson sends to France. Outstanding is McMartin's cheerfully amoral, heedlessly spendthrift Jefferson. The veteran actor brings to his scenes a sharp focus too often absent elsewhere.
David Rockwell's restless, impressive sets; Ann Hould-Ward's rich, detailed costumes; Jules Fisher and Peggy Eisenhauer's alternately garish and haunting lights; and Jeanine Tesori's evocative original music combine for a stunningly theatrical presentation. One assumes they create an overall vision of Wolfe's. What a shame that he and Guare couldn't realize the play in equally successful terms.
Presented by Lincoln Center Theater at the Vivian Beaumont Theater, 150 W. 65th St., NYC. Nov. 18–Jan. 9. Tue., 7 p.m.; Wed.–Sat., 8 p.m.; Wed. and Sat., 2 p.m.; Sun., 3 p.m. (Additional performance Fri., Nov. 26, 2 p.m., and Mon., Dec. 20, 8 p.m.; no performance Thu., Nov. 25, and Fri., Dec. 24.) (212) 239-6200, (800) 432-7250, or www.telecharge.com. Casting by Daniel Swee.