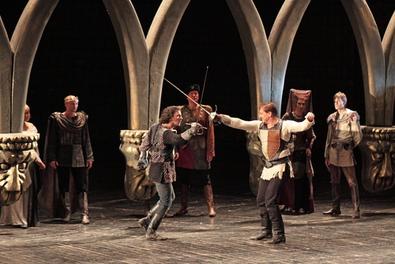 Summer is coming to an end, but there's still time catch an open-air showing of some of the Bard's most popular works. Check out these outdoor Shakespeare performances from all over the country and the prominent theater companies producing them. Bonus: They're all completely free!
Shakespeare in the Park (NYC)
This annual celebrity-studded event from New York's Public Theater is the father of all outdoor Shakespeare festivals. Offering free performances in Central Park throughout the summer, the festival gives New Yorkers a chance to see some their favorite actors live under the stars. Performances are held in an amphitheater built for the purpose; the Delecorte Theater was constructed in 1961 after a court battle with the park, and opened with a performance of "The Merchant of Venice" starring George C. Scott and James Earl Jones. This year's line-up included "Much Ado About Nothing" featuring Hamish Linklater and Lily Rabe, and John Lithgow in "King Lear," still playing through Aug. 17. Planners beware: Free tickets are distributed at noon the day of the performance, and eager audience members often start lining up in the wee hours of the morning.
Harlem Summer Shakespeare (NYC)
Central Park is not the only place to find free Shakespeare in New York. Pulse Ensemble Theatre is currently celebrating the 10th anniversary of their summer Shakespeare performances in West Harlem's Riverside State Park. This year they are making Shakespeare accessible to new audiences with a "visually contemporary" production of "Romeo and Juliet," presented as a Shakespearean episode of TV's "Law and Order."
The Classical Theatre of Harlem (NYC)
Another uptown option is The Classical Theatre of Harlem, presenting lively Shakespearean performances at Marcus Garvey Park. Though this year's "Romeo n Juliet" is closed for the summer, they will be back next year with another free (and fun!) production of "CTH Under the Stars."
New York Classical Theatre (NYC)
Having just wrapped their 15th season, New York Classical Theatre is committed to presenting free and accessible performances in non-traditional spaces. Productions travel to Central Park, Battery Park, and Brookfield Place, and spectators are encouraged to move around with the action. Next summer, be sure to look out for their popular pre-performance workshops led by cast members—also free of charge!
Shakespeare in the Parking Lot (NYC)
These annual productions from The Drilling Company are a slight departure from your typical grassy field or amphitheater. Performances take place in—you guessed it—a parking lot, and have been engaging audiences on the Lower East Side since 1995. Artistic Director Hamilton Clancy describes the parking lot as "an urban wrinkle." This active venue—(actors occasionally have to pause as cars drive away)—engages audiences with the grit and life of Shakespeare's text, all while enjoying a unique night out.
Shakespeare Theatre Company Free For All (Washington, D.C.)
STC's yearly free Shakespeare performances have been entertaining D.C. audiences since the summer of 1991. Performed at the scenic Carter Barron Amphitheater, the Free For All brings world-class Shakespeare to a diverse audience of families, first-timers and regular theatergoers. This year's production of "The Winter's Tale," a remount of STC's critically acclaimed 2013 production, is playing through Aug. 31.
Shakespeare in Clark Park (Philadelphia, Penn.)
Philadelphia theatergoers have been flocking to these free performances in scenic Clark Park since 2005. Audience members are encouraged to bring a blanket and a picnic and enjoy Shakespeare's plays in a peaceful natural setting. This year's production of "Henry IV" incorporated audience participation and multiple venues—including "The Pub," a pre-show glimpse into the lives of the characters at nearby Gojjo Bar and Restaurant.
Pittsburgh Shakespeare in the Parks (Pittsburgh, Penn.)
This yearly festival offers Steel City audiences the chance to catch free outdoor performances through the end of autumn. Artistic Director Jennifer Tober formed the company in 2005 after being inspired by the natural amphitheater at the bottom of Squirrel Hill's Frick Park. PSIP currently offers free shows all over Pittsburgh; this year's production of "As You Like It" opens on Sept. 6, and will run through the end of the month at four different neighborhood parks.
Cincinnati Shakespeare Company's Free Shakespeare in the Park (Cincinnati, Ohio)
An annual tradition since 2006, Cincinnati Shakespeare offers free touring performances at over 20 locations across the area. Last year's tour reached a record breaking 7,000 Cincinnati-area audience members; this year, check out "Macbeth" and "A Midsummer Night's Dream" playing in rep through Aug. 29.
Chicago Shakespeare in the Park Free For All (Chicago)
This 3-year-old event from Chicago Shakespeare Theater brings free performances to over a dozen parks all over the city, offering lively and accessible theater to the whole Chicago community. This year's family friendly production of "A Midsummer Night's Dream" plays through August 17, wrapping up its 18-park run at Ridge Park, South Shore Cultural Center, and Eckhart Park. Chicagoans should be sure to look out for special performances featuring local music and dance troupes!
Connecticut Free Shakespeare (Connecticut)
Founded in 2000 by Dandelion Productions, CFS is committed to producing free and accessible classical works with 21st century flair. Performances take place in multiple venues throughout the Bridgeport area, with their most recent production of "As You Like It" playing at Stratford Shakespeare Festival and Downtown Bridgeport's McLevy Green.
Shakespeare on the Common (Boston)
Commonwealth Shakespeare Company has been producing this Bostonian performance series for the past 18 years, bringing free Shakespeare to the oldest city park in the United States. Performances are held at the Parkman Bandstand on historic Boston Common, and attract diverse audiences from all over the city.
The Colonial Theatre Shakespeare Festival (Westerly, R.I.)
Named the "Official Shakespeare Festival of Rhode Island" by the Rhode Island House of Representatives, this 23-year-old outdoor festival entertains almost 20,000 Rhode Island and Connecticut residents annually. This year fans of the Bard can catch "The Complete Works of William Shakespeare (Abridged)," with performances through Aug. 17 at Wilcox Park in downtown Westerly.
Heart of America Shakespeare Festival's Free Will (Kansas City, Mo.)
This free summer Festival was created in 1993 after a conversation with The Public's Joseph Papp-inspired founder Marilyn Strauss to bring "Shakespeare in the Park" to Kansas City. This year's production of "The Winter's Tale" marked Free Will's 22nd season of performances in Southmoreland Park, and featured pre-show parody performances alongside expertly curated "Show Talk" discussions.
Austin Shakespeare Festival's Shakespeare in Zilker Park (Austin)
Austin Shakespeare Festival marked the 30th anniversary of Shakespeare in Zilker Park with their production of "As You Like It" last spring. In keeping with the company's commitment to affordable theater and community involvement, productions are family-friendly and always free of charge.
Portland Actors Ensemble Shakespeare-in-the-Parks (Portland)
This west coast theater company is committed to bringing financially accessible theater to the entire Portland community. As one of Portland's longest-running theater companies, the ensemble has been producing free summer shows since 1970. Their 45th annual season included "Antony and Cleopatra" alongside "A Midsummer Night's Dream," still playing through Sept. 1 at various outdoor locations.
Shakespeare by the Sea (Los Angeles)
Founded in 1998 by Producing Artistic Director Lisa Coffi, SBTS offers free Shakespeare in rep to over 20 communities all over Los Angeles and the South Bay. A beloved tradition for many Southern California families, the festival has reached over 350,000 audience members in its 17 seasons. This year's productions of "Hamlet" and "A Midsummer Night's Dream" play through Aug. 16 at various parks across Los Angeles, Orange, and Ventura Counties.
Independent Shakespeare Company Griffith Park Festival (Los Angeles)
This popular festival from L.A.'s Independent Shakespeare Company moved to Griffith Park in 2010, after seven summers in East Hollywood's Barnsdall Park. Growing from their 2003 audience of 14 people (and a dog) to over 43,000 this year alone, the festival includes free Shakespeare in rep, pre-show performances and workshops, and the "Salon Series," conversations about Shakespearean themes in contemporary society. Los Angeles audiences can catch "Twelfth Night" and "The Taming of the Shrew" through Aug. 31, and special events through Sept. 6.
Inspired by this post? Check out our audition listings!