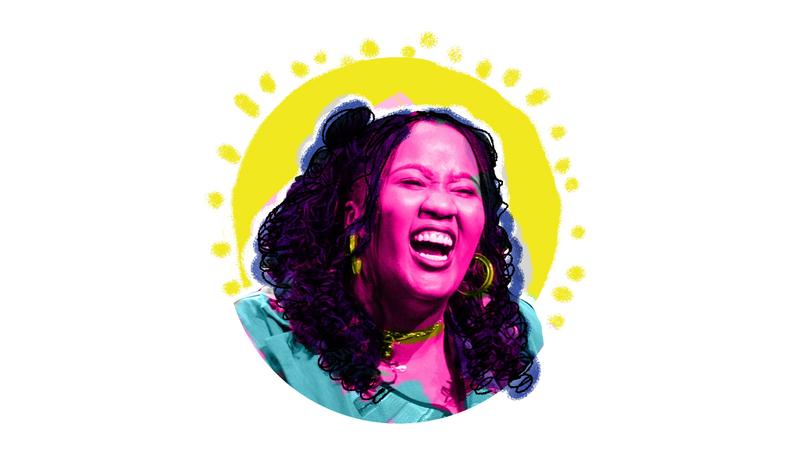 Aneesa Folds can trace the start of her career back to the simple fact that she "just didn't want to do anything else." As it turns out, that decisiveness was a good thing: After years of training, regional productions, and flubbed auditions for "Wicked," Folds has finally made her Broadway debut in Lin-Manuel Miranda's "Freestyle Love Supreme."
Curious about the rehearsal process for a performance that's completely freestyled? The perils of wearing glasses to an acting class? What Folds, Miranda, and you have in common? Read on!
Do you have a history with Backstage?
I've looked at [the] jobs with my dad growing up, for as long as I could remember. He'd be like, "You have to sign up for the Backstage magazine! That's where you'll find the jobs." And I listen to the podcast. Hopefully, I'm famous enough one day to be on it.
What was the moment you decided you wanted to be an actor?
You know, I don't think I was as good at anything else. I just didn't want to do anything else. Growing up, I used to do a bunch of summer programs—my mom put me in science programs over the summer, stuff to keep us busy. We did these sports programs a couple of years in a row and eventually I was like, "I don't want to do this. I don't want to play tennis." And my mom was like, "Ok, so what do you want to do?" And I said, "Well, I like singing." [We] found a program called Wingspan Arts Theater Conservatory. I was really shy and it brought me out of my shell.
What's a big mistake you made early in your career?
Listening to bad advice. I had a teacher one time tell me I [couldn't] be an actor with glasses. I'd show up to his acting class and he'd say, "You can't wear glasses here." And I was like, "Ok, um, I guess I'll have to learn to put my contacts in even though I'm scared of touching my eye." And so I learned to put my contacts in and then I got an ulcer in my eye. And I was really shy so instead of coming to class with glasses on, I'd wear contacts in one eye and I couldn't see with the other.
[Also], not trusting in myself and my abilities. I never would have thought this would happen, even going into musical theater, I wasn't sure if it was something someone who looked like me could do. And then I saw "In the Heights" and was like, "Oh wait. There are a bunch of people of different races on stage, they're rapping, and it's about where I'm from...I know these people. Maybe I should audition for schools and see what happens." And so I did.
What advice would you give your younger self?
Keep going. And know that just because you didn't get something, it doesn't necessarily have to do with you. In this business, there [are] so many minuscule things...it's not always about you. And I always get down on myself. "Maybe I'm not worth this. Maybe the reason I'm not getting this is because I'm not good at it." But it's just not true; what's for you is for you. There were so many obstacles in the way of me [booking] "Freestyle Love Supreme" but because it was for me, it didn't pass me. And I know that now.
What's your worst audition horror story?
Oof. I went in for "Wicked" once and I literally walked in the room and they said, "GO!" Now I know I can say, "I need a second, please." But I had to sing, "Like some terrible green blizzard / Throughout the land she flies," full voice. And I'd had a long day, I'd just come from rehearsal. I walked in there and I started to sing but what came out of my mouth was [gibberish]. So they said, "Hah ok, do it again." And it happened again—I couldn't say the words so I scatted it again. So I had to do it a third time. And then during my talking sides, they were having their own conversation.
READ: How to Get Cast on Broadway
How do you typically prepare for an audition?
Wake up, warm up, meditate. Sometimes I'll record myself singing the material and listen to it on the way there just so I have an idea [of] what I want to do and how to make it my own. And now I'm learning in my old age that once you audition, you work hard for it and then you release it because you can't obsess about these things, they can go either way. Which is definitely easier said than done but learning to release is good.
What was the audition process like for "Freestyle Love Supreme"?
I started in the Academy, I was a big fan of the show and a big fan of these guys. I missed the Ars Nova run, which made me really sad, found out they were having a class, so I signed up—and forgot about it. I was leaving in the middle of the eight-week class to do "Suessical" in Missouri but Chris [Sullivan] said, "No we really want you so we'll figure it out." So I did the class and it was amazing, learned a lot; I'd never freestyled in a setting like that before.
Then I left the city to do "Freaky Friday" at North Shore Music Theater and the first day of rehearsal, I got an email from Telsey saying, "We'd like you to hold these days and come audition," which was kinda stressful because the days they wanted me to audition were big days at the theater. I ended up taking a 4 a.m. train to get to New York. In the room were Chris Jackson, James Iglehart, Tommy Kail, Shockwave. And we just had microphones—not your traditional audition setting at all—and we rapped. I remember being so terrified and so stressed. But once I got in there, it was second-nature.
I had to take a flight to get back to Massachusetts in time for [my show]. Got to the airport, my plane was delayed for three hours. Get to Boston, take an $80 cab to get to the theater putting on my wig prep in the back, eyelashes, everything. Get to the theater and I was able to walk on stage for my first entrance which meant, to me, this is the universe saying everything is going to be ok, everything is happening for a reason. What's for you is for you is for you...It was a very anxiety-inducing process but I knew that I couldn't have gone through all of that for nothing.
Do you remember your first day on the job for "Freestyle Love Supreme"?
Three of my best friends were like, "We're going to come to take pictures of you in front of the theater." They dropped me off at the studios and they were crying like they're my mom or something. It was crazy, walking in the 42nd Street studios because I'd dreamed of rehearsing in those spaces.
Walking into that space and seeing that our stage manager was an African American man and our assistant stage manager was an African American woman—in this industry, there are not many of those so that was really nice to see. And I know of Cody [Renard Richard, stage manager] because the community is really small. So if there are any black creatives, they're well-known. It's an honor to work with him.
How do you rehearse for freestyle?
I thought we were going to have regular rehearsals. You know, for a Broadway show you rehearse for a month—nope! We rehearsed for a week. We warmed-up and played games, then we got into the loose structure of what the show is. We started off with the mic checks, and then we played games—the creatives threw words at us and we got lessons, doing it over and over again. We played some improv games, some spacial awareness games, trust games. It was a very quick process! You just gotta do it, that's how you learn with these things.
What's it like working with Lin-Manuel Miranda?
I posted a photo of me at the stage door for "In the Heights" and then the latest picture we took together so it's crazy to work with him.
When I first met him, he came up to me and was like, "I'm so happy you're here and it's so wonderful to meet you, I've heard so much about you." It was pretty surreal meeting him but he's just a normal, humble human being.
The first day we got there, for him to say, "I'm so nervous!" was just eye-opening to me. It doesn't matter who you are or what you do; this thing we're doing, you go on stage and you're naked. It's new every time. Anybody can be nervous. It's reassuring to work with him and have him help me trust in myself more.
Folds is a graduate of the Freestyle Love Supreme Academy. For more information and to apply, visit www.freestylelovesupreme.com/academy. "Freestyle Love Supreme" is currently running at the Booth Theatre through Jan. 5.