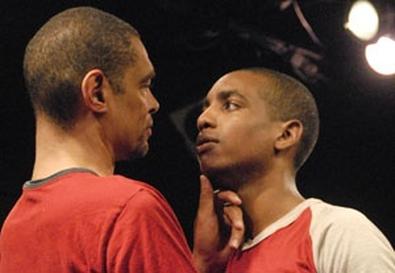 Summer is the season for theater festivals in New York City, and there is such an explosion that it's impossible for Back Stage to cover them all, much less every offering in every one. Having enjoyed the promising "Passing Ceremonies" in last year's Fresh Fruit Festival, I decided to go back this year, spending a Saturday afternoon at the Cherry Lane Studio Theatre to see three pieces in this LGBT-themed series. Unfortunately, I arrived to discover that instead of seeing the first performance of a one-man show about the actor Montgomery Clift (something I was particularly interested in), a schedule change nobody told me about meant that I would instead kick the day off with the last performance of Manuel Igrejas' "Hassan & Sylvia." While I was glad for a chance to see Igrejas' play, whose description I had found interesting but whose scheduling wasn't good for me, here at Back Stage we generally don't review shows after they've closed. This time, however, there was little choice in the matter.
While all three plays have their problems, they were happily varied in content. They also served as a reminder of the breadth and depth off NYC's acting pool (though a nod must also go to the all-California cast of "Sarah Was Mine," all three of whom are making their NYC stage debuts). Appearing Off-Off-Broadway in a tiny theater for very little money, and backed by extremely minimal production resources, the actors nevertheless turned in polished, professional work, with a few genuinely standout performances. Watching them was one of the afternoon's real pleasures.
"Hassan & Sylvia" isn't really about either title character. Instead, the protagonist is 33-year-old Carlos Quinn, who has recently lost his 50-something lover of 15 years, Vincenzo, to a sudden heart attack. Nudged out of his self-imposed isolation to see a gay friend's cabaret act at the Townhouse, the Spanish-Irish Carlos meets the unlikely title pair. Hassan is a charismatic gay Moroccan party planner, and the mysterious Sylvia is his constant companion. Hassan is smitten with Carlos and pursues him, offering a seductive high-end lifestyle. Carlos is enticed but wary, and so the dance is played out. Igrejas writes believable characters and intriguing situations, but he relies too much upon monologues, which start to feel structurally repetitive. Igrejas does mix it up a bit with the employment of a narrator, who can control the action and occasionally comments upon it in amusing metatheatrical moments, which director David Hilder confidently delivers. But the central problem is that Hassan just isn't as interesting as he needs to be. Still, the play holds our attention, and Carlos' final monologue is quite moving, particularly as rendered by
John Wernke
, who turned in a strong performance as the complicated boy-man, sweet, sexy, smart, and touchingly bewildered. The striking
Karin de la Penha
made Sylvia cool and composed, wry and reflective, in an assured turn, and
Casey Burden
showed terrific range as Carlos' singing friend and a butch chauffeur.
"Sarah Was Mine" plumbs a subject not often explored these days, that of a gay man so full of self-loathing that he marries a woman and tries to go straight. It's clear from the program notes that playwright Joseph Fletcher's story, set in the late 1970s and early 1980s, is highly autobiographical. It's also clear what a labor of love the project has been for those involved. After directing the play's premiere this past January at the
Mysterium Theatre
in Orange, Calif., Fletcher died of AIDS complications, without knowing his play had been accepted into the festival. Fletcher's sister, Pam Smith; the original three-person cast; and Fletcher's mentor, Michael Hoctor, who reproduces Fletcher's direction, managed to raise the funds to get the show to NYC. If Fletcher's grasp of craft is somewhat shaky, particularly in the too-predictable scene/blackout/scene/blackout structure, he creates two very human characters in David, a young gay man from California beginning a career as architect in swinging Manhattan, and Karen, David's best friend since kindergarten, whose bad luck with men sends her after him and a new life of her own in the big city. As their co-dependent, almost desperate friendship morphs into marriage, you sit there wanting to scream, "Stop!" The tragedy that results is both inevitable and saddening.
Paul Anthony Hanegan
and
Mary Lauren
give committed, deeply felt performances, easily convincing us that they've known each other a lifetime. Robert A. Dominguez shows charisma and ingenuity in playing all of the other characters.
"Whore Works," perhaps inevitably, due to its subject matter, is the most provocative of the three plays. Author-actor
Juan Michael Porter II
's bio says simply that he "spent two years researching this play." He may be playing himself, but if he is, he's doing a damn good job of it, in this series of encounters between a young black rent boy and his various African-American johns. Each scene rings with truth, and the roles men play related to their sexuality are fascinatingly explored. My biggest complaint is that though it feels like Porter has something overarching to say, it isn't clear what that is, so the whole never quite coheres. Director Patricia R. Floyd's smart, focused staging includes a good deal of nudity and simulation of sex, but their use is never gratuitous. Porter, clearly a trained dancer, uses dance imaginatively to reveal character. As all the johns,
Bryan Webster
, excellent in last year's "Passing Ceremonies," shows again what a commanding actor he can be, in a fearless and at times shockingly vulnerable performance, though occasionally his work is perhaps a bit too large for the tiny space.
At $18 a pop, it's affordable to check out a festival like Fresh Fruit without feeling cheated if the work isn't entirely successful. There are also film, jazz, poetry, comedy, and cabaret offerings. If you're interested in LGBT-themed subjects and good acting, you're likely to come away satisfied. After all, fresh fruit is good for you.
"Hassan & Sylvia" presented by Emaginer, "Sarah Was Mine" presented by Pam Smith, "Whore Works" presented by Sugar Valley Theatricals in association with Real Love, all as part of the Fresh Fruit Festival at the Cherry Lane Studio Theatre, 38 Commerce St., NYC. "Hassan & Sylvia": July 14–17. "Sarah Was Mine": July17–20. Remaining performances: Mon., July 19, 6 p.m.; Tue., July 20, 8 p.m. "Whore Works": July 17–24. Remaining performances: Sun., July 18, 9 p.m.; Fri., July 23, 10 p.m.; Sat., July 24, 6:30 p.m. (212) 352-3101, (866) 811-4111,
www.theatermania.com
., or
www.freshfruitfestival.com
.