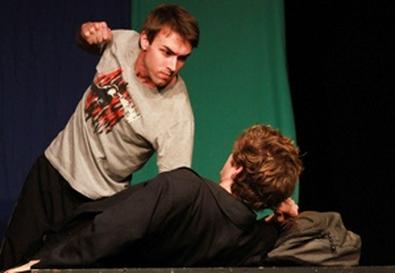 "I like you." "Why?" Not a deathless exchange, yet as rendered with multileveled subtext by Sarah Smick, as Nicole, and Matthew Grondin, as Garrett, in Gregory Crafts' "Friends Like These," it pierces and resonates. She's the most popular cheerleader in high school, with a useless jock boyfriend (Jay Rincon). He's a geek with a troubled past. Their burgeoning mutual attraction will not end well. Crafts poses the question, How could a Columbine happen? Then he proceeds to answer it lucidly and grippingly, if imperfectly.
On the debit side, these kids are awfully articulate for high schoolers, and Garrett's other pals are merely types, though well-acted ones: the well-meaning best friend (Ryan J. Hill) and the resentful outsider (Jennifer Erin Bailey). Still, Crafts eloquently captures the petty jealousies, pointless cruelties, and heightened self-consciousness of painful adolescence.
He is especially lucky with his two leads. Grondin negotiates a long, difficult monologue near the end with expertise far beyond his years, and to watch the conflicting emotions play across Smick's pretty face is a show in itself.
Presented by Theatre Unleashed as part of the New York International Fringe Festival at the Cherry Pit, 155 Bank St., NYC. Aug. 24–28. Remaining performances: Wed., Aug. 25, 10:15 p.m.; Thu., Aug. 26, 4:45 p.m.; Fri., Aug. 27, 7:45 pm.; Sat., Aug. 28, 4:45 p.m. (866) 468 7169 or www.fringenyc.org.