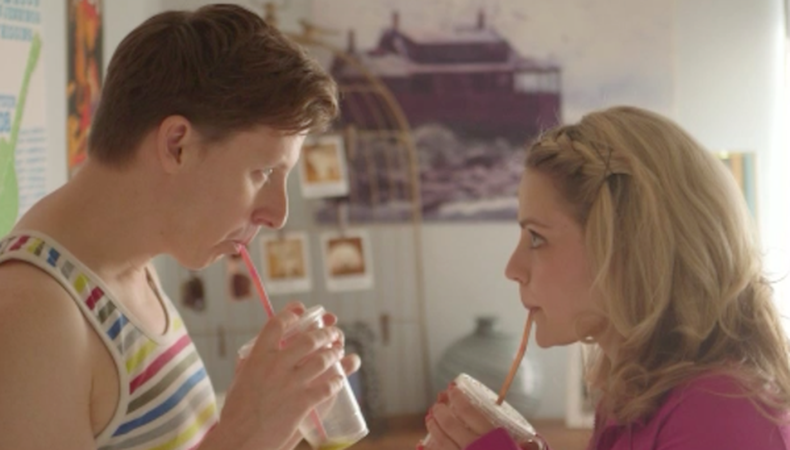 Creating a successful scripted comedy series should, in theory, be an organic process that relies on the cast's innate chemistry in order to generate compelling story lines and sustain viewer interest. When it comes to Web series, that process is constrained by the average Internet viewer's inherently short attention span. Effectively communicating a natural connection between two actors doesn't just need to happen quickly, but it still has to appear as genuine and spontaneous as if it took months of rehearsals to achieve.
Fortunately for actors Edward Kiniry-Ostro and Sal Neslusan, who star as Stu and Syd in the sketch-comedy inspired "Roomiess," that elusive bond came built in.
"Sal and I have been close since the day we met," says Kiniry-Ostro, who plays Stu. "While we're not actually roommates, we think we'd be pretty good ones."
In addition to being friends for a few years, Kiniry-Ostro and Neslusan are also the Web series' creators, writers, and executive producers. The two decided to embark on a project together last February, when Kiniry-Ostro wrapped production on his first short film "Hold up Heart" and Neslusan finished producing her debut Web series, "Professional Friend." Their good friend Katy Colloton's had co-created popular Web series "Teachers," which in turn inspired the two to create their own. (Colloton plays Kristin in the eighth episode).
"While we are definitely not Stu and Syd, we amped up some of our own personal traits," Kiniry-Ostro says. "We also decided to keep all the scenes contained in one space, so we thought, Why not make them roommates? From there, we started thinking about all the situations in which Syd and Stu would be in their rooms."
The new YouTube series shot on location in Los Angeles in Kiniry-Ostro's apartment with a cast and crew of 10. There are 10 separate two-minute episodes and nine short bits chronicling a vast array of goofy moments between the eponymous BFFs who live together while struggling to make ends meet. Kiniry-Ostro describes the creative process as a relaxed exchange with elements of a traditional TV production.
"We would pitch an idea and if we were into it, one of us would write a draft. We'd pass it off to the other for rewrites, and so over the course of three months, we were just writing multiple drafts," he says. "We had a couple of table reads with some friends where we would get notes and then get back to it. Once we felt like we were locked, we moved on to production."
It's obvious that "Roomiess" comes from the actors' own existing rapport as fast friends and fellow performers who see the same sort of subtle humor lurking behind everyday situations, from inappropriate cuddling and irrational jealousies to caffeine overdoses and awkward sex talks. It's a hard-earned camaraderie, says Kiniry-Ostro, tongue in cheek. "We're over at each other's place, like, all the time, so maybe we should just move in."
Like this story? See more of our Now Streaming articles here!